Passover is around the corner! That means matzoh ball soup, charoset, hard boiled eggs, horseradish, tzimmes, and a whole lot of other Passover staples if you happen to be attending or hosting a seder this year. In fact, planning what to eat at a seder is almost never difficult – there are so many traditional Passover dishes! What can be hard for most of us, however, is figuring out what to eat after the Seder, when you are sick of the staples yet still have almost a week left of restricted eating.
Since I'm gluten-free year round and happen to also follow Sephardic Passover (this means beans and grains are A-okay), the basic change to my diet is restricting oats. Which isn't super difficult. However, many of my friends follow Ashkenazi Passover, which is much more restrictive – no grains or legumes at all (though quinoa is okay), no poppy seeds, sunflower seeds, or sesame seeds…the list goes on for a while. And it can be difficult if you are vegetarian.
So, instead of giving you yet another version of Matzoh Ball Soup (though I have a pretty great idea for one and will probably post it next year), I've decided to list for you all of the delicious and wonderful things you can eat right from this blog even if you follow a strict Ashkenazi style Pesach. (If you follow Sephardic Passover, you can pretty much eat anything on this blog that doesn't contain oats!)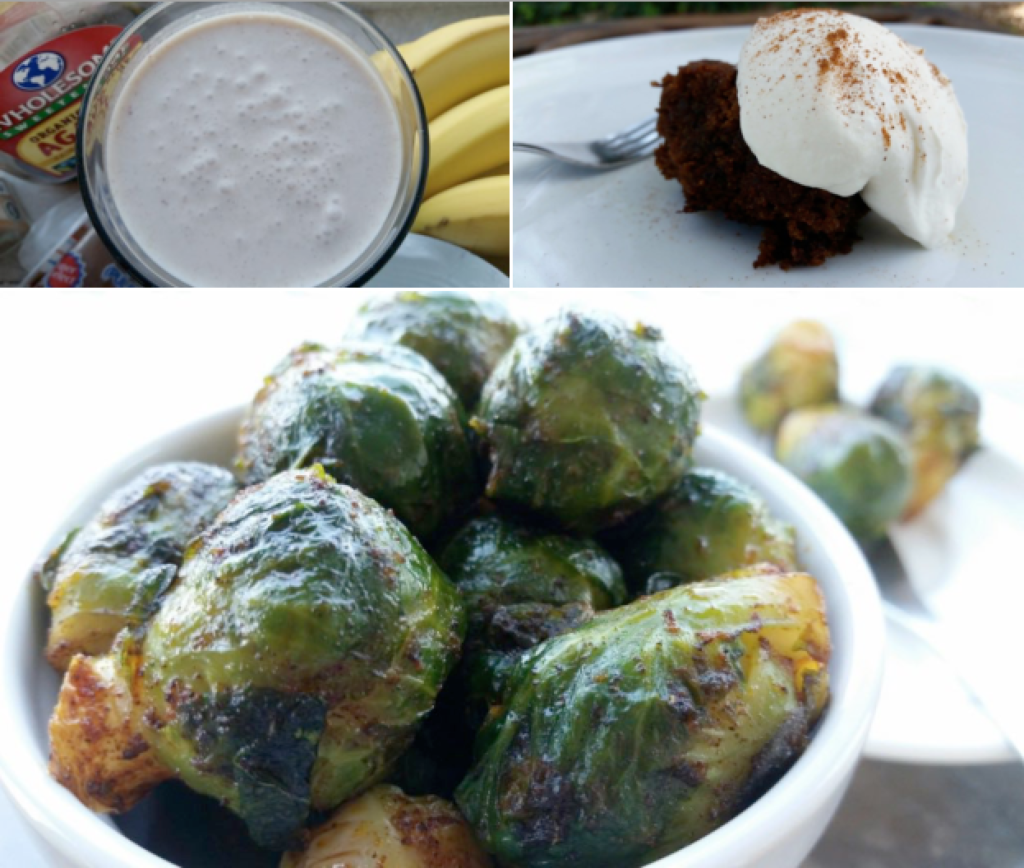 16 Passover Recipes
DF = Dairy-Free     V = Vegan     NF = Nut-Free      EF = Egg-Free
*All recipes are gluten-free and vegetarian*
Breakfasts:
Irish Flag Skillet (EF, NF)
Fingerling potatoes, kale, and caramelized onions, all baked in a skillet and topped with swiss cheese. What more could you ask for in a hearty breakfast?
Baked Eggs with Lambsquarters and Harissa (DF, NF)
Elegant and unique. About 1000 times better than Matzoh Brei! 
Yam Coconut Breakfast Pudding (EF, NF, DF, V)
Sweet and creamy with a hint of ginger.
Lunch/Dinner:
Quinoa-Vegetable Lettuce Wraps (NF, EF)
These delicious wraps feature quinoa and vegetables in a Mexican tomato gravy. 
Mini Portobello Pizzas (DF, V, EG, NF)
A low carb (and juicier) take on a traditional pizza – the portobello is the crust! For Passover, skip the lentil variation!
Carrot Latkes with Green Apple Sour Cream (NF)
Latkes are delicious year-round, especially carrot ones! Topped with a green apple and lemon zest infused cream, these guys are sure to make you forget you have six more days of Matzoh! 
Breadless Eggplant Sandwiches (DF, EF, NF, V)
Graffiti eggplants are the "bread" in these succulent sandwiches. For Passover, skip the mustard and use an aioli or pesto instead.
Crispy Beet Fritters with Leek Cream (DF or NF)
Serve these guys over a mixed green salad for the perfect lunch – simple, classy, and elegant. 
Sides:
Wine-Braised Carrots with Butter and Chives (EF, NF)
Sometimes its the simplest recipes that yield the best results. These carrots taste divine and they are incredibly easy to make! Be sure to use a Kosher for Passover wine!
Buttery Brussels (DF, EF, NF, V)
This is one of my favorite ways to eat brussels. You won't believe it – but there's actually no butter in them at all!
Desserts:
Raw Hamantaschen (EF, V, DF)
Wrong holiday? Nope!  My mom actually told me she is planning to make these for our seder since they were such a home run when she made them last. Who says hamantaschen are only for Purim?
Coffee-Scented Gingerbread with Amaretto Cream (DF)
Rich and delicious. Be sure to use a Kosher-for-Passover brand of amaretto!
Crisp on the outside, soft and chewy on the inside. These buttery cookies are perfect with or without a pot of tea! Just be sure your rose syrup does not contain corn syrup.
Drinks
Leche de Tamarindo (EF, NF, DF, V)
If we had this in the desert, we'd have been a whole lot happier! Creamy coconut and tamarind conspire to bring you to smoothie dream land.
Middle Eastern Shake (EF, NF)
Dates, banana, and a hint of rose. For Passover, be sure your rose syrup does not contain corn syrup!
Ginger-Turmeric Tonic (EF, NF, DF, V)
Warming and fiery. Awesome for digesting all that heavy seder food!