When it comes to shakes, I'm a pretty picky eater … er… drinker? In my opinion, a good shake must be creamy, smooth, rich, luscious, full-bodied, sweet but not sweet enough to cause a sugar rush, and most importantly, NOT ICY. I can't tell you how many times I've experienced severe buyer's remorse after shelling out good $$ (shakes are expensive!!) only to realize my "cacao banana power shake" (or some variation thereof) is half ice and half store-bought almond milk with maybe a couple teaspoons of cocoa powder and a tiny piece of banana. Sadness! Anger! Ice! So. Much. Ice.
While I'll occasionally throw one or two cubes of ice in a shake I make myself (usually because I have a cat shaped ice cube tray and the kitty ice cubes are so darn cute that I can put aside my ice hatred and remember that all things can be good in moderation) I generally find that if all my ingredients are cold, shakes do not need ice at all. And I much prefer them creamy and rich to cold and watery. This Middle Eastern Shake is no exception – it could probably be eaten as a pudding if you're into that. Personally, I prefer to consume it in shake form (I mean, for one thing, you get more of it: it is so much more socially acceptable to consume a full glass of shake than a full glass of pudding.)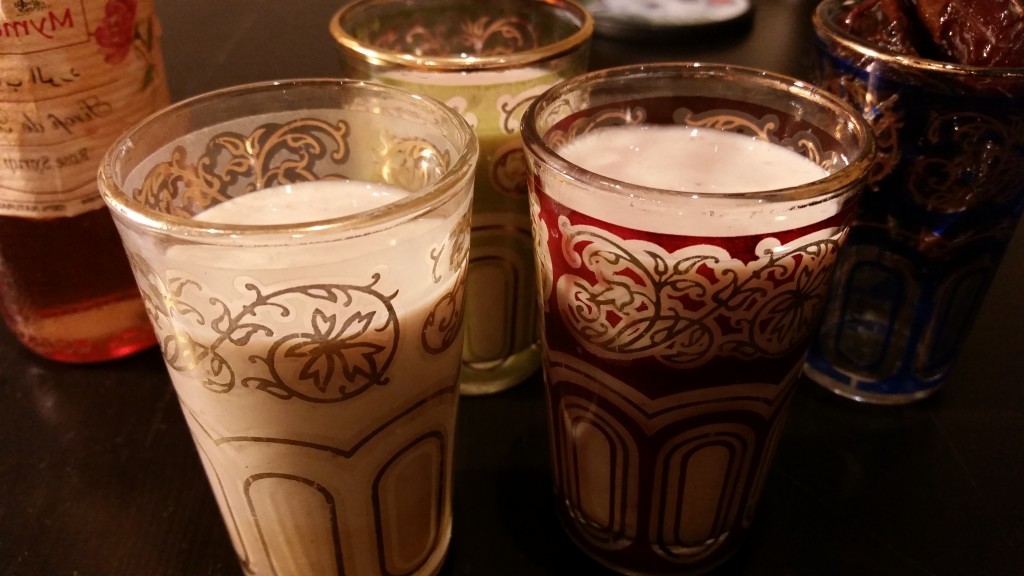 Dates, yogurt, banana, and rose syrup come together to give you a cold, rich, creamy masterpiece with floral undertones and a high protein content!  If you've ever had a Rose Lassi, this is sort of similar but with a Middle Eastern twist. It is seriously delicious!
A couple notes about the recipe:
-Many rose syrups use artificial flavors and colors instead of just using actual rose petals. I use the brand Mymouné because it's made from rose petals, sugar, and lemon juice – nothing else! It's also incredibly tasty. (I am not in any way being compensated by Mymouné – I'm way too new at blogging for that to happen!)
-Remember to pit your dates!  Your blender will thank you. (We've all been there…)
-This recipe serves 1, though you can share it if you must.
Middle Eastern Shake
2 bananas, peeled and chilled
1 cup full fat yogurt
4 medjool dates, pitted
¾ teaspoon rose syrup
Cinnamon (for sprinkling on top)
Directions:
Combine all ingredients (except the cinnamon) in a high powered blender and blend until smooth.