Happy St. Patty's Day, everyone! I hope you are all gearing up for some Jameson and Guinness (well, skip the Guinness if you're gluten-free like me!) It's a beautiful day in New York City, so I, for one, am planning to do my celebrating outdoors.
If I decide to celebrate, that is. In all honesty – while I am partial to Irish whiskey (who isn't?) –  St. Patty's Day is not my favorite holiday. This probably started about six years ago, when I had the extreme misfortune of working in Times Square during the St. Patty's Day madness. If you're a native New Yorker (or someone who has lived here for a while), you probably agree with me that Times Square is almost never a pleasant place to be. But while most of us can stomach walking through it on the way to something better (which is really anywhere but Times Square)  – on St. Patty's Day, it's really best to avoid it at all costs. At least that was the case six years ago, when I was working in the Paramount Building, right smack dab in the center of it all.
Venturing out on my lunch break at 1 PM – mind you, this wouldn't have been quite as upsetting if it had happened later in the day – I was met with a mob of green-clad, drunken, obnoxious frat boys. This frat must have swallowed a pinch of magic leprechaun dust or something, because it was expanding exponentially as I attempted to make my way to the deli a block away. Now I have nothing against frat boys; I mean, I went to Oberlin, so … (For those of you who aren't picking up on my sarcasm, Oberlin is a hippy dippy liberal arts college where you'd be hard pressed to find a frat boy even if he held the key to unlocking the pot of gold at the end of the rainbow. You can find plenty of hipsters, though!) But…I do have something against exponentially expanding swarms of frat boys who are already drunk at 1 PM and have completely taken over Times Square. Suffice it to say it was NOT a pleasant journey to the deli and back. And it definitely took me out of the St. Patty's Day spirit for quite a while.
I have, however, held on to some St. Patty's day traditions. I'm currently wearing green (I will never say no to some good luck!) and I enjoyed a delicious skillet for breakfast this morning inspired by the colors of the Irish flag. It's got caramelized onions, fingerling potatoes, and swiss cheese for the white component; some tender red kale for the green component (red kale for the green component? In case you're confused, red kale has purple stems and greenish/purplish leaves but it's basically a dark green once it's cooked); and for the orange component, some cute carrot chunks that pop out at you every once in a while with a nice bite of sweetness. And yes, I know Irish cheddar would have been more St. Patty's Day appropriate, but the swiss is REALLY, REALLY good here. Trust me.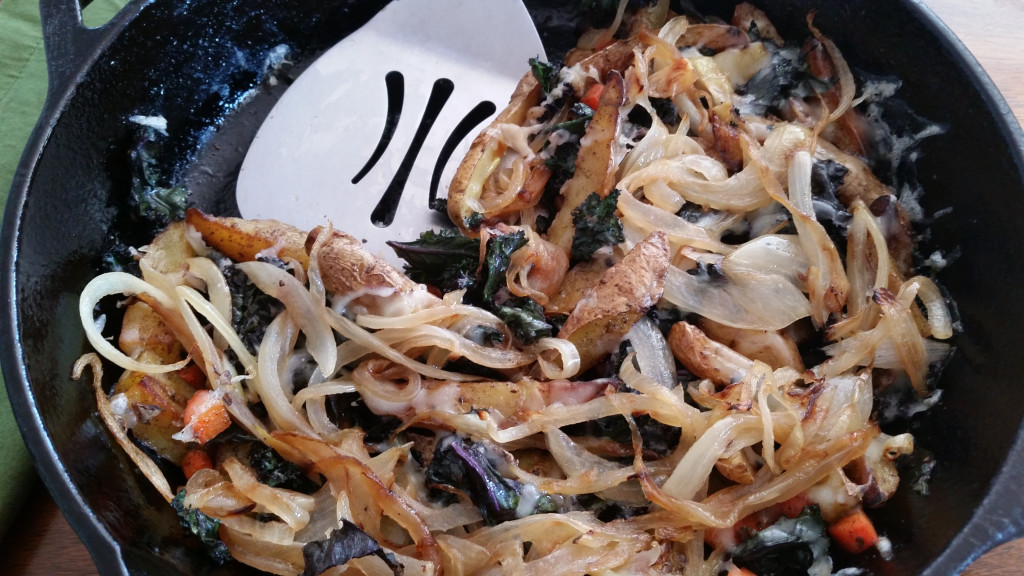 In fact, the whole dish is pretty damn delicious, in my humble opinion. It's zesty and savory with a hint of spiciness from the hot paprika (you can sub sweet paprika and add a pinch of cayenne if you don't have hot paprika on hand) and a delicious richness from the swiss. The kale is tender, yet chewy, with a bit of crispness from the oven. And the potatoes — mmm. You could make the potatoes on their own and be quite happy. Especially if you mix in the caramelized onions. And fry a couple eggs on the side. So do that sometime soon. But today, make this skillet.
A couple notes about the recipe:

-I used a cast iron skillet with a 10.25 inch diameter to make this, so my quantities are tailored to that size. You can use any size skillet but you may want to increase or decrease your quantities so that everything fits nicely. Most importantly, the potatoes should more or less fit in a single layer in your pan so that they cook evenly.

-I used fingerling potatoes and red kale to make this because they are both tender varieties that cook fairly quickly. Green kale, especially, can be much tougher. You can feel free to use whatever you prefer/have on hand, but keep in mind that tender varieties of kale will work better for this dish if you don't want to end up with something too chewy.
-I let my skillet sit for a while after it came out of the oven (had to photograph that sucker!) and it was still quite delicious by the time I got around to eating it, at room temperature. I've also enjoyed this dish straight out of the oven, of course.
-I'm a huge onion lover (can you tell by my blog name?), especially caramelized onions. However, if you're not like me, you can definitely use less onion than is called for in this recipe.
-This dish serves two people.
Irish Flag Skillet
½ a large Spanish onion, sauté sliced
3 tablespoons olive oil
12 ounces fingerling potatoes, peels left on and cut into wedges
¾ teaspoon Old Bay Seasoning
¼ teaspoon hot paprika (or sub regular paprika and add a couple pinches of cayenne)
¼ teaspoon celtic sea salt, plus some pinches here and there
½ teaspoon dried sage
⅓ cup carrot chunks (about 1 small carrot)
3 cups moderately packed chopped red kale (see note)
Scant ½ cup grated swiss cheese
Directions:
Preheat the oven to 450°F.
Heat 1 tablespoon of the oil in a cast iron skillet that is around 10.25 inches across (see note). Add the onion, and cook for about 5 minutes, stirring occasionally. When the onion begins to soften and brown, add a pinch of salt, and cook about 5 minutes more, until browned and nicely caramelized. Remove from skillet.
Heat the remaining 2 tablespoons of olive oil in the same skillet. Add the potatoes, and let cook for about 5 minutes, stirring only occasionally so they have a chance to start crisping up. Add the salt and spices; then continue cooking until the potatoes are browned, crisped, and completely cooked through, about 5-10 more minutes. (Stir frequently so you don't burn the spices and be sure to taste a couple potatoes to make sure they are cooked properly!)
Add the carrots along with a bit more oil, if needed. Cook 1-2 minutes until the carrots are tender yet crunchy. Next, slowly add the kale with another small pinch of salt (you may need to wait until it wilts down slightly before you can add all of it) and cook for 3-4 minutes, until the kale is nice and tender. Finally, mix in the onion, sprinkle the cheese over the top, and pop the skillet in the oven for 3-5 minutes, until the cheese is melted and the kale is every so slightly crisp.
Enjoy!