Alright – I may be getting ahead of myself with this recipe – it screams summer. But summer is coming!! It really is!! And as the days get longer and the sun shines brighter, I've been craving some lighter meals. In my opinion, lettuce wraps are one of the most refreshing and delicious ways to satisfy that craving. And, luckily for me, I am able to get really delicious local, greenhouse-grown lettuce to form the base of my wraps (so don't judge me too harshly for throwing in a summer-style recipe when it's still spring :p)
Plus…the filling for these wraps is nice and warm and rich and savory and delicious and spicy and …(I could go on for a while here.) What I'm trying to say is that –– if you look past the fact that zucchini is definitely not in season this time of year –– this dish is actually the perfect prelude to summer. It's light and fresh, but still warming, hearty, and satisfying.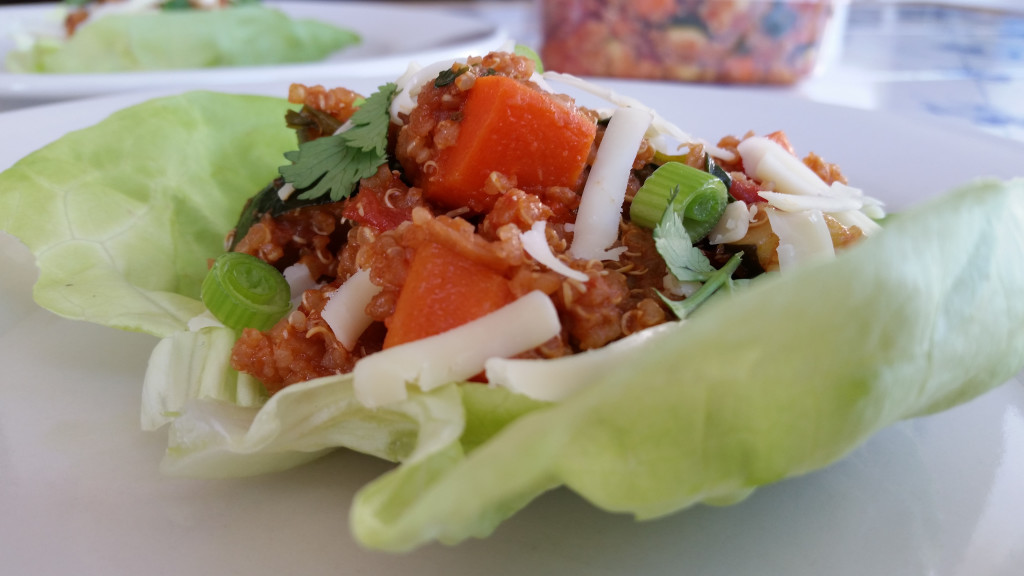 It's also very customizable. If you want some extra protein, throw in some black beans. If you're vegan or dairy-free, use your favorite vegan cheese or leave off the cheese entirely. If you aren't a fan of lettuce wraps, use this filling in a taco, burrito, or wrap. It's a great way to use up leftover quinoa!
A couple notes about the recipe:
-This recipe yields about 3½ cups of quinoa-vegetable filling, which, depending on  the size of your lettuce, should make 8-10 lettuce wraps.
-These wraps are a tad spicy because of the cayenne pepper – if you don't like any heat, you can leave it out or throw in some mild chili powder instead. If you like a lot of heat, feel free to amp it up with some spicy chili powder in addition to the cayenne.

-I recommend choosing a medium to large dice for your veggies because it'll give you some nice chunks of carrot and zucchini to bite into.
-If you don't have leftover quinoa on hand, follow these directions to make some. Note that you will end up with more than the 1½ cups required for this recipe, so don't forget to measure out the correct amount once you are done cooking!
Quinoa-Vegetable Lettuce Wraps (Mexican-Style!)
2 tablespoons olive oil
1 cup diced red onion (about ½ a large red onion)
2 small garlic cloves, minced
¾ cup carrot chunks (1 large carrot)
1 ½ cups zucchini chunks (1 medium/large zucchini)
1 teaspoon ground cumin
½ teaspoon dried oregano
½ teaspoon ground paprika
Scant ¼ teaspoon ground cayenne pepper
¼ teaspoon celtic sea salt, plus an extra sprinkle
1½ cups whole peeled plum tomatoes and juice (About ½ of a 28-oz can – I used about 4 tomatoes, the rest was juice.)
A generous 1½ cups cooked quinoa (see note)
Heaping ⅓ cup chopped cilantro, plus extra for topping
Grated cheddar and chopped scallions, for topping
Your favorite lettuce (I used greenhouse-grown butterhead)
Directions:
Heat the olive oil in a medium skillet over medium heat. Add the onion and sauté for about 5 minutes, until it has started to soften and brown slightly; then add the garlic and cook about 1 minute more. Throw in the carrots with a sprinkle of salt and give them a little head start (about 3 minutes cooking time) before adding the zucchini.  Sauté everything for 1-2 more minutes, just to brown the zucchini slightly (the vegetables will not be cooked through at this point.)
Add the spices and salt, mix well to coat the vegetables, and – after about a minute – add the tomatoes. Stir, breaking up the whole pieces of tomatoes with a spoon; then let cook at a generous simmer for 3-5 minutes, until the mixture has thickened slightly. Finally, stir in the quinoa and continue to let the mixture cook until it is a nice consistency and no longer watery, 3-5 minutes more. Stir in the cilantro during the last minute of cooking time. Taste and adjust seasoning, if necessary.
Spoon onto lettuce leaves; then top with scallions, fresh cilantro, and grated cheddar.