Food blogging has definitely made me a lot more aware of the plethora of special occasions that seem to pop up almost every other week! Somehow, I would feel remiss if I didn't celebrate at least a few of them with a delicious special-occasion-appropriate recipe.
After the Super Bowl, for which I created this delicious superfood bowl, I was thinking the next special occasion recipe would be a gluten-free matzoh ball soup for Passover. Yup, I had completely forgotten about Valentine's Day (luckily I squeaked by with these amazing grain-free sandwich cookies), St. Patty's Day (last week's Irish Flag Skillet), and Purim, which brings me to today. Who knew there were so many holidays in late winter/early spring? And I'm not even counting those of the "national cookie day" variety.
Anyway, the Jewish holiday of Purim begins tonight. Growing up, this holiday was always one of my favorites – it involved the telling of the Purim story (often re-enacted in a play) and the vanquishing of the story's villain, Haman. It also involved cookie making and cookie eating, probably a big part of why this holiday is such a big hit with kids (that and the obligatory noise making whenever the name of the villain is mentioned during the Purim story!)
Hamantaschen cookies, pictured above, get their name and shape from said villain, who was reputed to wear a three-cornered hat. Growing up, my family would always make these cookies and it took forever! First, we'd have to make the dough. Then, we'd have to roll it up into logs, wrap it, and freeze it. Next, we'd have to let it soften slightly. Then, we'd have to form the cookies, which was not an easy process. It didn't help that the dough had a severe Goldilocks complex – it was always either too cold or too warm to work with! We were constantly refreezing, resoftening, etc. And, to add insult to injury, the dough itself wasn't even that great once it was baked into cookie form. Hamantaschen are definitely all about the filling.
Jam, poppy seeds, nuts, apricots…so many delicious fillings! The favorite, though, was always the date filling that my mother made. In fact, never mind the cookies –  we were happy eating the filling by the spoonful!
That's why I'm so excited about the raw hamantaschen I created this year. The cookies themselves are made out of traditional filling ingredients like dates, coconut, and nuts, which in my opinion is an improvement in taste over commonly made hamantaschen doughs. They are also sooo much quicker and easier to make! There is no dough rolling, freezing, or softening. The dough comes together in the food processor. And the whole process (including measuring, pitting the dates, shaping the cookies, etc.) takes about 15 minutes. The best part? These cookies are gluten-free, fruit-sweetened, grain-free, raw, and vegan! How's that for some Purim love?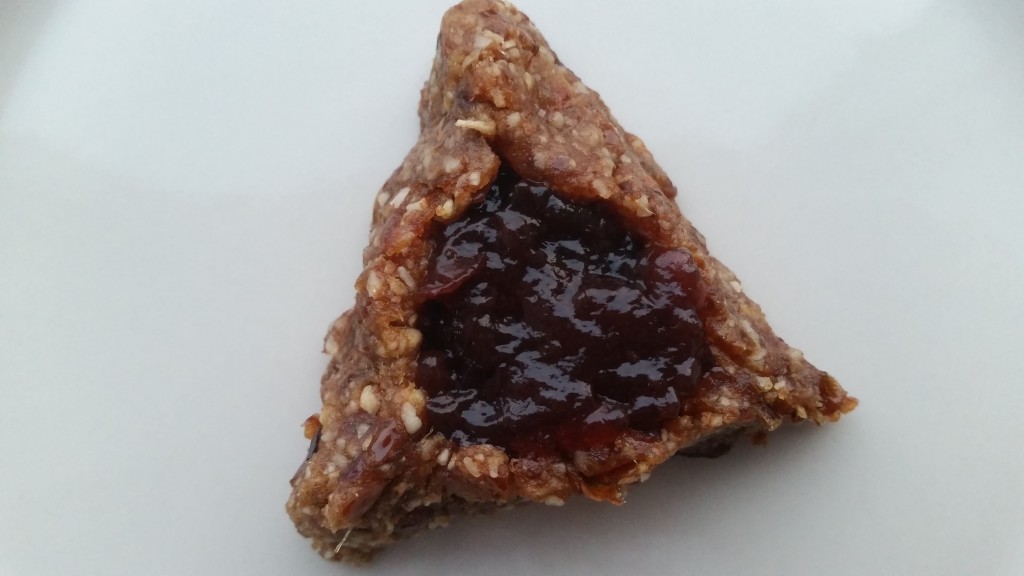 A couple notes about the recipe:
-If you want your hamantaschen to be completely raw, be sure to choose a raw filling! You can use my three-ingredient raw chocolate filling below, follow these instructions to make your own raw jam (not exactly seasonal), or soak some raw dried fruit to make a fruit filling. If you don't care about creating something completely raw, please feel free to fill these babies with your filling of choice (I personally love Fiordifrutta brand jams in these, as they – like the cookies – are completely fruit-sweetened and do not contain any added sugar.)
-My three-ingredient raw chocolate filling does contain honey, so it is neither strictly vegan nor fruit-sweetened.  Feel free to sub with agave or maple syrup if your concern is keeping these vegan. If you want your hamantaschen to be completely fruit-sweetened, use a jam that does not contain added sugar, like the aforementioned Fiordifrutta.
-This recipe will yield 8 cookies.
Raw Hamantaschen
⅔ cup raw pecans
⅓ cup shredded unsweetened coconut
¼ tsp cinnamon
pinch of salt
12 medjool dates, pitted (about 1 cup pitted dates)
Directions:
Place the pecans, coconut, cinnamon, and salt in the bowl of your food processor. Pulse the mixture several times, until it resembles coarse crumbs. Add the dates and pulse several more times, until the mixture becomes a sticky dough. Form the hamantaschen by dividing the dough into 8 equal parts. For each cookie, pinch the sides of the dough so that a triangle with an indentation in the middle is formed. Fill with your choice of filling(s), then enjoy as is or place in the fridge to harden slightly.
Store the cookies in an airtight container in the fridge. They can also be frozen.
Three-Ingredient
Chocolate Filling (Raw)
¼ cup raw nut butter of choice (I used a blend of cashew and pecan)
2 tablespoons raw cacao powder
1 tablespoon raw honey (or sub with a vegan sweetener)
Directions:
Place the nut butter in a small bowl. Add the cacao and honey and mix until a smooth consistency is reached.