If asparagus and swiss chard had a baby in an untouched woodsy forest somewhere, the result would be lambsquarters. At least, that's the fairy tale version. The real version is pretty cool too: this wild plant, which can be found growing in most parts of the world, is in fact related to spinach and beets. While modern gardeners may curse it (lambsquarters can take over a garden like nothing else!), it happens to be exceptionally delicious. In fact, according to Penn State Extension — a division of the College of Agricultural Sciences — people have probably been eating lambsquarters since prehistoric times!
Besides tasting like the woodsy baby of asparagus and swiss chard, this so-called weed also has a ton of nutritional moxie: experts agree that it outperforms spinach with regards to iron and protein. Forager Steve Brill, colloquially-known as "Wildman," describes lambsquarters as "one of the best sources of beta-carotene, calcium, potassium, and iron in the world; also a great source of trace minerals, B-complex vitamins, vitamin C, and fiber." And check out what the Maine Organic Farmers and Gardeners Association has to say about lambsquarters here. (By the way, if you happen to live in the New York area and haven't been on one of Steve's foraging walks, you should definitely check them out! They are awesome!)
Believe it or not, I first came across lambsquarters — not traipsing around looking for wild plants — but at the Union Square Greenmarket. Lani's farm  was sampling them one day. I quickly fell in love with their unique, rich, woodsy flavor and now I buy them whenever I can. They are absolutely delicious sautéed with olive oil, garlic, salt, and pepper and so quick and easy to prepare!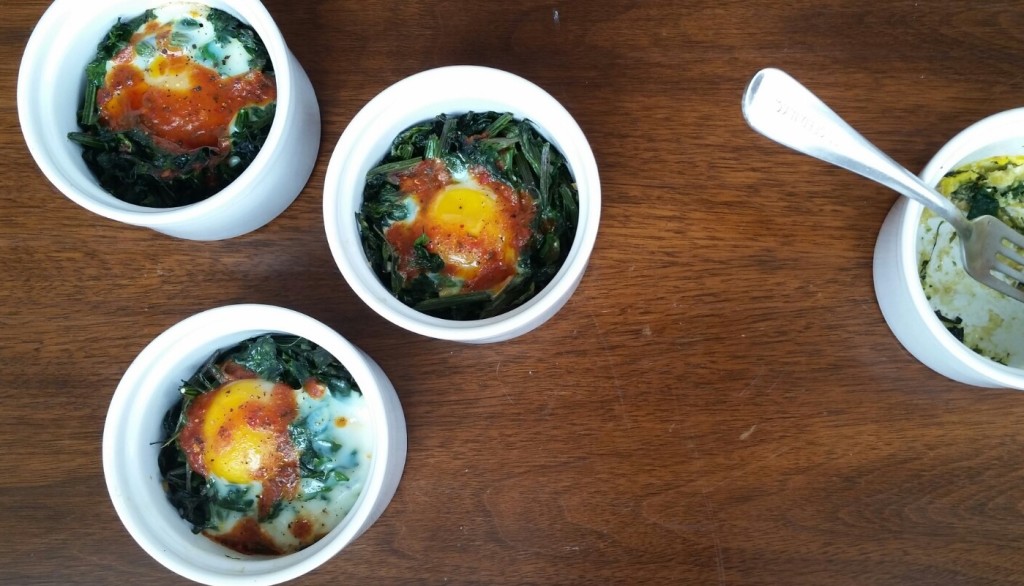 Waking up to the rain pouring down this morning, I was struck by a simple – yet intriguing – idea: baked eggs on a bed of sautéed lambsquarters. The creaminess of the egg with the woodsy richness of the lambsquarters definitely sounded like a breakfast that had to happen. Traditionally, baked eggs are topped with a teaspoon or two of cream – the liquid helps them bake up nice and tenderly. Since I don't really like exceedingly rich breakfasts, I opted to use some harissa paste mixed with water for the liquid component thinking that the spicy tartness would cut through the richness of the eggs and greens perfectly, giving the dish just the right amount of brightness. And I was right! You definitely won't miss cream or butter in this dish since baking the sautéed lambsquarters  renders them even richer and woodsier than before.
A couple notes about the recipe:
-I used Cava brand harissa paste for this recipe, which is more tomato-y and less smoky than other brands of harissa. If you don't have harissa on hand, or you're not a harissa fan, feel free to sub a tomato sauce, spicy or not. If you do use tomato sauce, you won't need to mix it with water unless it's super thick.
-If you can't find lambsquarters, you could make this with spinach or chard. However, it won't be as rich or as woodsy. If you want to try this with chard or spinach, I recommend adding some goat cheese, mascarpone, or other similar component to make up for the less intense greens.
-I baked these in 10.5 oz ceramic ramekins. You can obviously use whatever sized ramekins you have – you will just need to adjust the portions and possibly the baking time, depending. I like that the 10.5 oz ramekins gave me four portions, and that each portion came with a hefty amount of greens. I also like leaving a good amount of white space at the top of each ramekin because they look so pretty that way.
Baked Eggs with Lambsquarters and Harissa
3 tablespoons extra virgin olive oil + extra for ramekins
3 cloves garlic, minced
1 bunch lambsquarters (approx. 11 oz), washed and roughly chopped
4 large eggs
2 teaspoons harissa paste mixed with 2 tablespoons warm water (consistency should resemble tomato sauce)
Equipment: Four 10.5-oz ceramic ramekins
Directions:
Preheat the oven to 350°.
Heat the oil in a large skillet over medium heat. Add the garlic, wait for it to sizzle, and then cook for 30 seconds – 1 minute, stirring a bit. Add the chopped lambsquarters and cook for 3-4 minutes, stirring occasionally, until tender. (Like spinach, lambsquarters will shrink down quite a bit during cooking). Midway through the cooking process, season with salt and pepper, to taste.
Place 1 teaspoon of extra virgin olive oil in the bottom of each ramekin, and tilt the ramekin so the bottom is completely coated. Divide the lambsquarters evenly among the four ramekins. (Quarter those lambsquarters :p) There should still be about 1.5 inches of space remaining at the top of each ramekin. Make a small indentation in the center of the lambsquarters. This shouldn't be very deep; it should be just deep enough so that when you crack an egg into the center, the egg will remain in the center and won't roll off to one side. Drizzle 1 teaspoon of the harissa mixture over the top of each egg. (Reserve the remainder for a future dish or serve it alongside the eggs after baking). Finish with a drizzle of extra virgin olive oil.
Bake for about 15 minutes, until the white is set but the yolk is still runny. Because the ramekins will get super hot, the eggs will continue to cook once they come out of the oven, so you should take them out a teensy bit before they hit your preferred level of doneness. Once removed, let them stand for a couple of minutes to cool down and finish cooking.