I don't know about you, but when late August hits, I start to get a little sad. Summer is quickly waning, and if you're me, you still haven't made time to do all of the summery stuff you'd planned! In the New York City area, that means taking advantage of the free outdoor concerts, movies, boat rides, etc. It means braving a long public transit ride to get to something that vaguely resembles a beach. And to many it means getting out of the metro area all together – planning that one, glorious, summer vacation.
This post is a tribute to the vacations I planned, but didn't take.
In fact, this summer was stacking up to be incredible. One of our friends was getting married in India, another was getting married in Mexico. India and Mexico in one summer? Hell yeah! Unfortunately, the timing of the two weddings was identical. Add  in a new apartment for both of us and a new job for one of us, and we quickly realized a big vacation just wasn't in the cards this summer. I'm hoping we'll brave that long public transit ride and get to one of the super crowded beaches New Yorkers flock to before the summer ends. But for now, I've decided to channel the tropics whenever I can. And what better way to start than with a fruit that happens to be pretty ubiquitous in both India and Mexico?
Tamarind is a pod-shaped fruit with a tangy flavor that is grown in most tropical areas of the world. If you've ever had tamarind chutney (the brown, sweet chutney often served in Indian restaurants), you are already somewhat familiar with its unique taste. Tamarind is thought to have many health benefits, including anti-inflammatory compounds, antioxidants, iron and B vitamins, and dietary fiber to improve your digestive system!
Leche de Tamarindo translates to — quite literally — tamarind milk. Sounds better in Spanish, right? Be that as it may, it tastes amazing whatever language you may happen to speak and wherever you may happen to be spending your summer.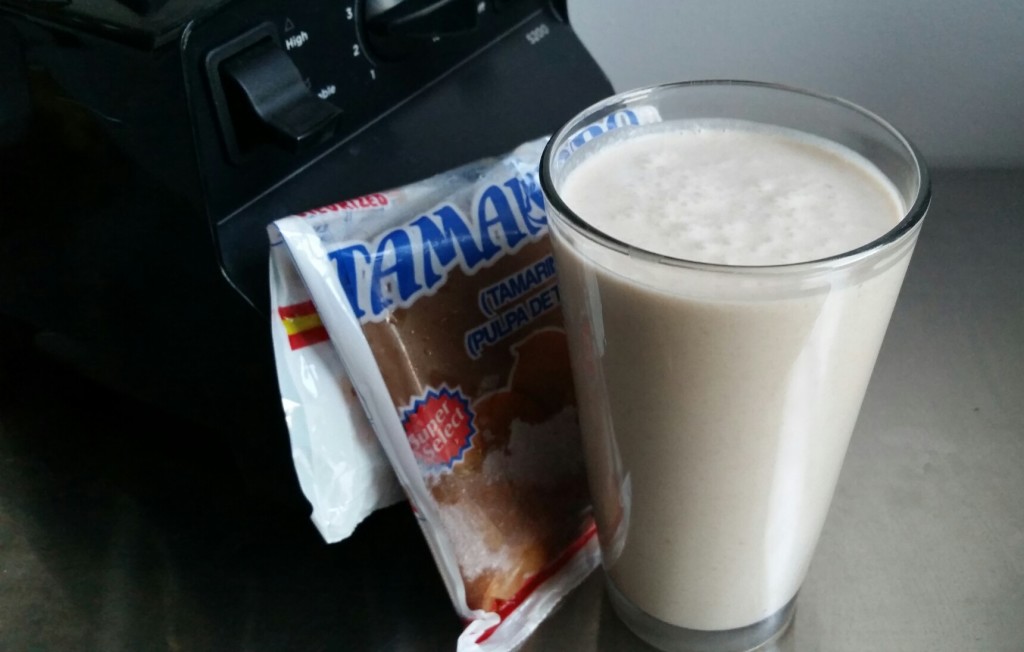 While I've experimented with using tamarind paste in shakes before, with great success, this is the first time I've used the actual pulp. I'm fortunate enough to live very close to a supermarket that carries a bunch of Latin American products, so when I saw frozen tamarind pulp, I knew I had to buy it. The package suggested blending the pulp with milk and sugar, so I decided to use coconut milk and agave. I also threw in a banana for added sweetness and to make it just a bit creamier. Finally, a bit of cinnamon went in to temper the tartness of the tamarind and coconut. When I opened the blender — perfection! There sat my leche de tamarindo – a cold, creamy, tropical vacation in a glass.
After creating this drink, I googled "leche de tamarindo" to see if it really existed. I am happy to report that it does. The Mexican recipe I found called for tamarind pulp, ice, sugar, and condensed milk, which I'm sure would taste amazing but which would probably give me a bit of a tummy ache. (Milk and I don't get along too well.) I guess the nice thing about tropical vacations created at home is that you can control exactly what goes into them! So thanks to coconut milk and agave for helping me get to the tropics without the stomachache :p
A couple notes about the recipe:
-Since there's a whole can of full fat coconut milk in here, I would definitely recommend sharing this shake with at least one other person. You could get 3 or 4 servings out of this recipe if you use modestly sized drinking vessels.
-The frozen tamarind pulp I purchased has one ingredient: "frozen tamarind pulp." Make sure yours doesn't have any added sugars, colors, flavors, etc. if you care about such things (I do!)
Leche de Tamarindo
5 oz frozen, unsweetened tamarind pulp (about 1 heaping cup pulp pieces)
1 banana
1 can (13.5 oz) full fat coconut milk
2 tablespoons agave nectar
½ teaspoon cinnamon
Directions:
Combine all ingredients in a high speed blender and blend until smooth. Enjoy!