I'm not sure what it is about Thanksgiving season that has me creating vegan twists on the classics left and right – but here's another vegan recipe for your Thanksgiving table. Or any table, for that matter. I don't know about you, but brussels are one of my all-time favorite vegetables year-round and this is one of my favorite ways to prepare them!
Before I describe this recipe, let me just rant about brussels for a second. Has anyone noticed that they've gone from being everyone's least favorite vegetable to something frequently found (and ordered) at chic bars and small-plates places? What happened? I think the answer has to do with the fact that brussels can be just about the absolute worst tasting thing in the world or they can be the best bite you've ever had, depending on how they're prepared. And they are finally being prepared properly more often than improperly! Sure, you still get your occasional mushy, sulphuric, boiled-to-death old-school brussels, and sometimes you'll get the super undercooked and tummy-ache fueling version, but more often than not, you get something much more akin to truffle fries, if truffle fries were made out of cabbage.
I have a bunch of favorite ways to prepare brussels – from boiling them until tender and then adding copious amounts of olive oil and parmesan, to roasting them in chili glazes. But my absolute favorite is the boil and sauté method. The brussels get nice and tender (which makes them easier to digest and brings out the sweeter side of their flavor profile), and then they are quickly pan-fried/sautéed in oil or butter and delicious spices for a fabulous crispy exterior and a supremely addictive flavor.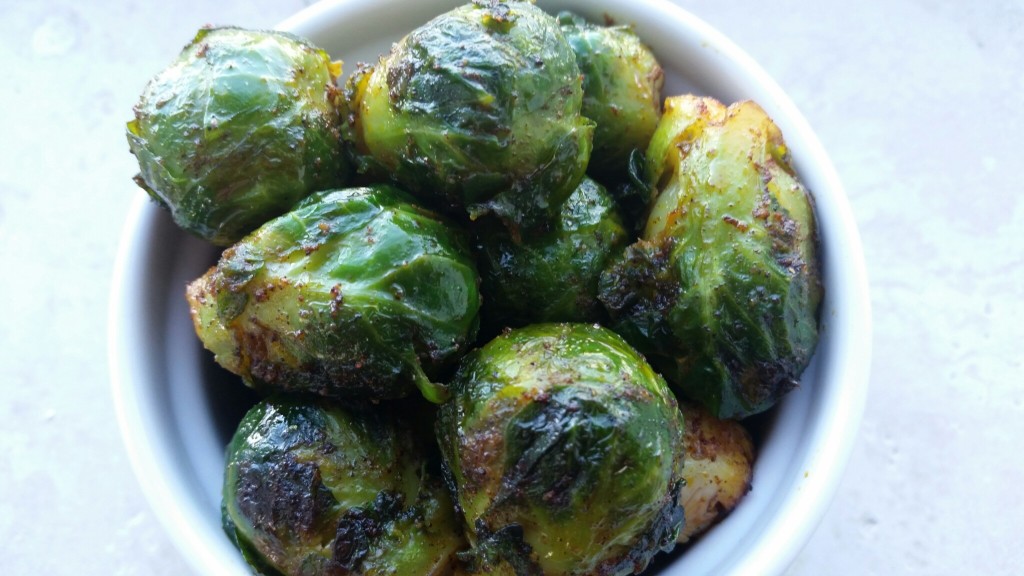 In this recipe, I use red palm oil which gives the brussels a rich, buttery taste while keeping the dish vegan. If the"buttery" part of the dish is less important to you, and you just want some killer brussels, you can pretty much use any neutral flavored oil with a high smoke point. Just make sure to season the brussels with plenty of hot paprika, garlic powder, and sea salt. They are sure to convert even the staunchest skeptics!
A couple notes about the recipe:
-Be sure to dry your brussels before transferring them to the hot oil. If they are too wet, they won't crisp up properly. (They'll also cause the oil to splatter like crazy, which can be painful!)
-These are best eaten fresh and hot, right after frying. But they are also delicious at room temperature and can easily be reheated in the oven, if you're thinking Thanksgiving. (Just make sure to snag a couple fresh ones first – you deserve 'em!)
Buttery Brussels
1 pound brussel sprouts (about 3

½

cups)
2 tablespoons red palm oil
1 teaspoon Hungarian hot paprika
¼ teaspoon garlic powder
¼ teaspoon celtic sea salt
Directions:
Bring a large pot of salted water to a rolling boil. In two batches, boil the brussel sprouts for about 8 minutes (depending on size) until they are cooked through but still crunchy. Let drain in a colander, then use a kitchen towel to dry them off.
Heat the red palm oil in a large skillet over medium/high heat until very hot. (You should see little ripples in the oil). Add the brussels – they will immediately sizzle. Let them sit without stirring for about a minute to help them brown and get crispy on the outside. Sprinkle the hot paprika, garlic powder, and salt over the brussels and continue to cook for a couple minutes until nice and browned. Shake the pan every once in a while so nothing burns. Remove from heat and serve.