The weather these past few days has been so lovely that it was particularly difficult to wake up this morning and realize February is back. Yup, it is cold, grey, and wet. I also woke up with a sore throat, which added insult to injury.
On days like this, I'm really glad I keep fresh ginger and turmeric in the house at all times – a bit of fiery, warming tonic was just what I needed to overcome the gloom, nip the sore throat in the bud, and look ahead to sunny skies and carefree days.
Whether you've been overdoing it on sugar and sweets as much as I have lately, or you just need a bit of extra immune support, or you are super duper healthy and feel amazing, I recommend this tonic to you. Ginger and turmeric are both extremely medicinal and can do wonders for your body! Both are anti-inflammatory (turmeric, especially, has an often-cited compound called curcumin that does everything from inhibiting cancer cell growth to relieving pain in people with joint issues), amazing for maintaining overall well-being and health, and great for your digestive system. If you are interested in learning more about the health benefits of turmeric and ginger, I definitely encourage you to do your own research – there are way too many different health benefits to do them all justice in this short post!
Besides doing wonders for your health, I also find this tonic to be incredibly delicious. It's wonderfully warming and intensely spicy – if you're the type who always asks for extra ginger in your chai or juice, this drink is for you. You will feel the Bern! (Er…burn. I meant burn. I am not in any way affiliated with Bernie Sanders' campaign. I will be voting for him, though :p)
I should mention that if you aren't a fan of ginger or spice, this drink is probably not for you. You may want to return to some green tea, despite its far inferior light green color. (This tonic has the most beautiful dark reddish tint to it!)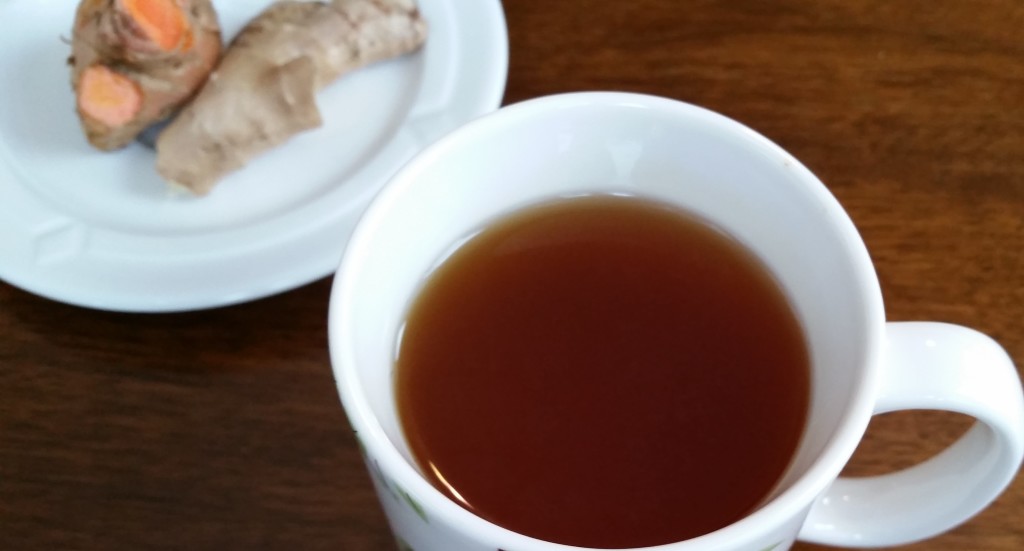 A couple notes about the recipe:
-The internet is crawling with ginger-turmeric drink recipes. This one is heavily inspired by Dr. Weil's Golden Milk recipe, which uses similar quantities of turmeric and ginger. I've made a couple changes: water instead of milk, chopped root instead of grated (less labor), slightly different ratio of turmeric, ginger, and liquid; ground pepper instead of whole peppercorns, savory instead of sweet. However I want to be clear that –– unlike most of the recipes on this website –– I did not create this one out of thin air. It's just something I really enjoy making that I wanted to share with you guys!
-The black pepper in this recipe gives the drink an added kick and also helps with the absorption of the anti-inflammatory compound curcumin.
-This recipe will make one standard-sized mug of tonic. You can also boil the strained mixture again if you want a second cup later in the day – just boil it a little longer because it will be weaker than your first one.
Ginger-Turmeric Tonic
1 tablespoon chopped ginger root
2 teaspoons chopped turmeric root
1½ cups water
a couple turns from a coarse black pepper grinder (you want it to be coarse so you can strain it out later)
pinch of celtic sea salt
Combine all ingredients in a saucepan and bring to a generous simmer. Lower the heat so the mixture does not reach a rapid boil; then let simmer for about five minutes, or until desired potency is reached. Strain and enjoy!