One of the many juice chains in the NYC area has this Korean Yam pudding that I really like. It's smooth, creamy, sweet but not too sweet, has a subtle hint of ginger – I'm a fan. I'm not really a fan of the price tag though, since one small pudding cup will run you close to 7 bucks once tax is added. The solution? Make my own!
Creating something similar proved pretty easy. I got it right on the first try, and tested it again just to make sure. While the juice chain uses agave to add sweetness, I chose to use raw honey in my version. (To make this vegan, just sub agave or maple syrup.) I also just used a regular Garnet yam instead of a Korean yam. And I'm not sure how the juice place makes their pudding, but I chose to simmer my yams rather than bake them so that their sweetness isn't overpowering.
What I love about this pudding (aside from the taste and texture) is its versatility. My recipe is fairly light on the ginger – it's more of a subtle hint than a main component. But if you're feeling gingery, feel free to take it up a notch. You could also add cinnamon and nutmeg for a pumpkin-pie style pudding, increase the sweetener for something a bit more decadent, or top these with cashew or coconut cream for a real treat.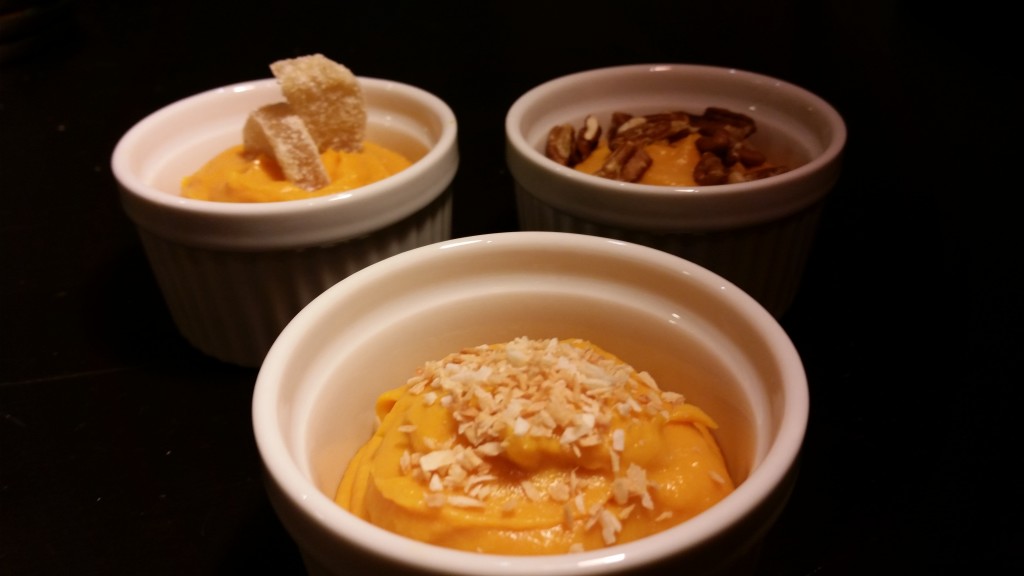 I chose to keep it simple, because I like the taste, texture, and subtlety of this pudding as is. (Plus, I'm a big fan of short ingredient lists – only 4 ingredients in this one, baby!) I did, however, top these guys with toasted coconut, candied ginger, and chopped nuts. Delicious!
A couple notes about the recipe:
-I made this with a Garnet yam but feel free to make it with any yam or sweet potato variety. You might just need to adjust the amount of sweetener, depending on the sweetness of the yam/sweet potato you choose.
-You don't have to chop the ginger in this recipe, since you're throwing everything in a blender. However, since ginger root can be all different shapes, I included an equivalent quantity of chopped ginger to give you a more accurate estimate.
-This recipe yields 1 cup of pudding. It serves 1-2, depending on how much pudding you like to eat in one sitting :p
 Yam-Coconut Breakfast Pudding
1 large yam or sweet potato, peeled and diced (should yield about 2 cups ½ inch pieces)
1⁄3 cup + 2 tablespoons full-fat coconut milk (if your coconut milk has separated, place in a bowl and whisk before measuring)
¼ – ½ inch knob of peeled ginger (should yield a heaping ¼ teaspoon chopped ginger)
1 tablespoon raw honey (For vegan, use agave or maple syrup)
Directions:
Place the sweet potato/yam pieces in a saucepan and add water so the potatoes are barely covered. Bring to a boil and then simmer until the potato is cooked but not mushy. Drain. Place the drained sweet potato/yam pieces in a blender with the coconut milk, ginger, and honey and blend until smooth. Chill the pudding completely before serving. Top with toasted coconut, chopped nuts, candied ginger, or whatever your heart desires.