What could be better than a fresh, spicy medley of feta, jalapeño, and tomatillo mounded on top of a slightly smoky grilled polenta disc with plenty of cilantro and freshly squeezed lime to boot? You got me. Actually, a bottomless supply of these perfect little bites, available for your eating pleasure on Cinco de Mayo – now that might take the cake.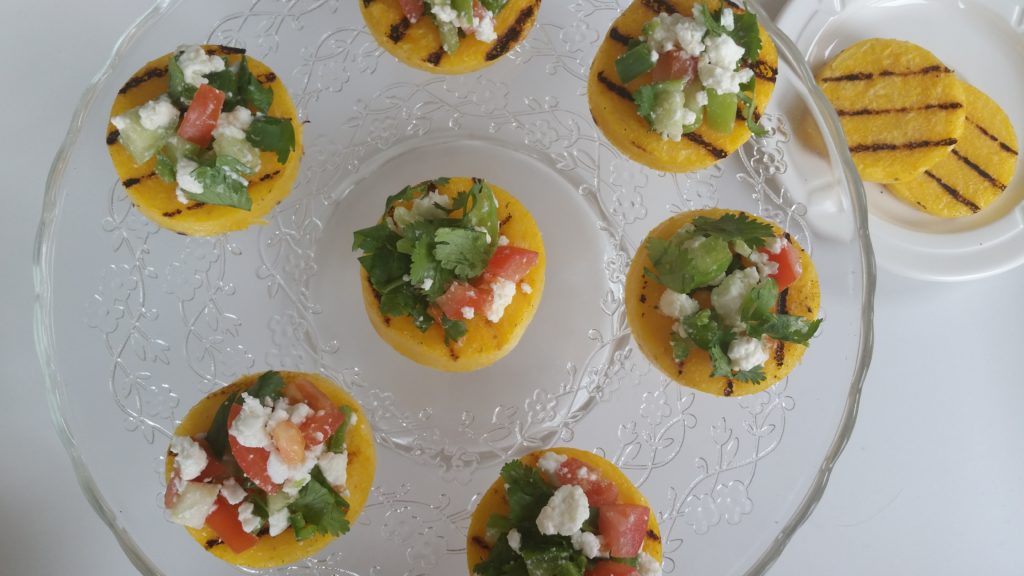 Sadly, these polenta bites don't come out of a fairytale (unlike this eggplant) so they won't automatically replenish themselves; hence, making a bottomless supply would be pretty difficult. You can, however, make a finite supply (and trust me – these go fast, so their finiteness will be painfully obvious) for Cinco de Mayo, which is coming up this Friday! All you need to do is follow this recipe.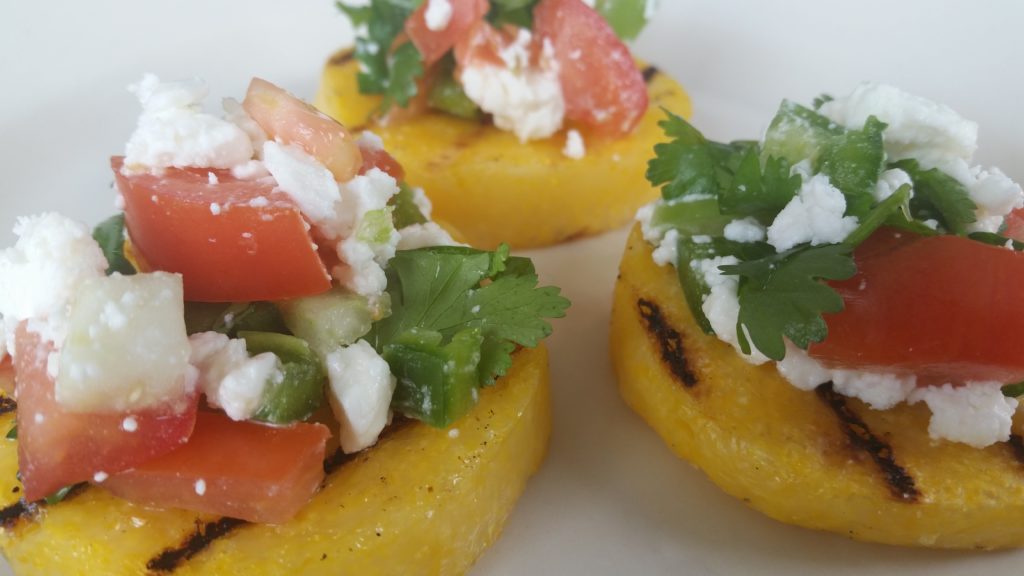 A couple (okay, more than a couple) notes about the recipe:
-I used an enameled cast iron grill pan to grill the polenta. Feel free to use your preferred grilling apparatus, or, if none is available to you or you aren't a fan of grilling, this dish would still be delicious with crispy fried or baked polenta. When trying to get polenta crispy in the oven, I use a procedure that I stole from this Martha Stewart recipe, which I have never actually made: Using pre-cooked polenta cut into discs, I pat them dry, drizzle them lightly with olive oil, and then bake them on a foil-lined (parchment paper will burn) baking sheet at 450°F for about 10 minutes, before broiling a few minutes more, or until you see some color.
-These polenta bites marked the inaugural use of my grill pan, and I wasn't sure I would get satisfying grill marks, since polenta tends to hold a lot of moisture. To err on the side of caution, I decided to press my polenta discs before grilling, which worked quite nicely. I then tried to grill some unpressed polenta to see if this step was really necessary, and it isn't! I was still able to get beautiful grill marks without pressing the polenta discs, although they did have to stay on the grill a couple minutes longer, which I believe led to a smokier flavor (although this could also have been due to it being the second batch of polenta to hit the grill – a fresh grill might yield less smoke than one that's already been in action for a while!) I preferred the less smoky, pressed polenta discs but again – I'm not 100 percent sure if that was due to the pressing or the batch number. In any case, I will leave it up to you whether or not you want to try pressing your polenta discs. But definitely do pat them dry with a towel!

-This recipe will yield enough polenta topping for two 18-oz rolls of pre-cooked polenta, plus some extra for snacking on (it's great with tortilla chips!) while you wait for the polenta to grill. In fact, I recommend snacking on the topping in order to distract yourself from the polenta – it's SO important not to touch the discs while they are grilling or you will mess up the grill marks!
-Be sure to taste a bit of your jalapeños to ascertain their spice level, which can vary greatly. From there, you can decide how much to use, based on your spice preference. I used one mild and one hot, which resulted in an overall heat level of mild-medium.
-My favorite way to eat these is at room temperature, but my husband preferred them fresh off the grill – after they were cool enough to handle, of course. I'd love to hear which camp you fall into!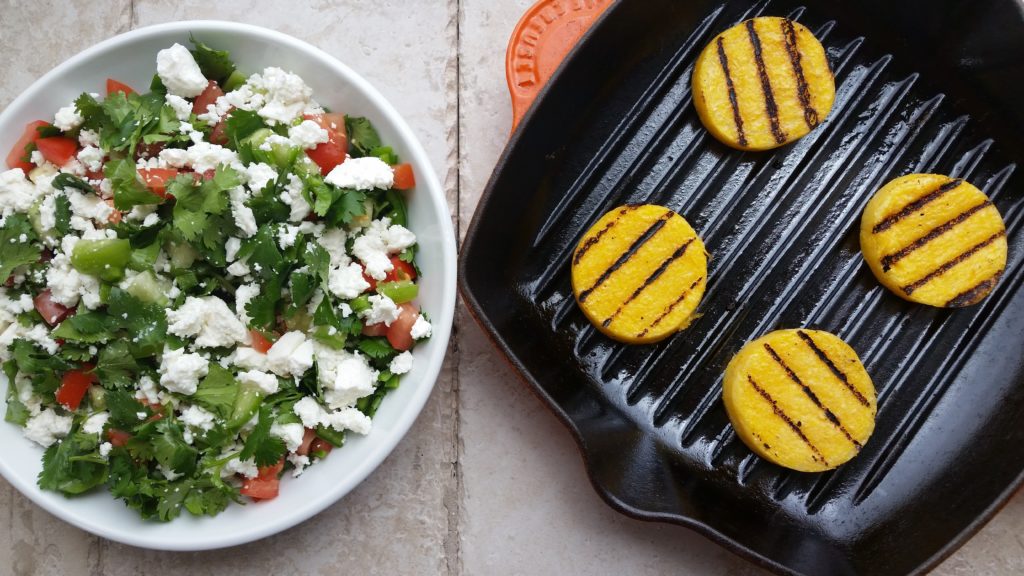 Grilled Polenta with Tomatillos, Cilantro, and Feta
Two 18-ounce rolls of pre-cooked polenta
A neutrally-flavored, high-heat oil, for grilling (I used grapeseed)
1 scant cup roughly chopped cilantro
1 cup finely diced tomatillos (about 3 medium tomatillos)
1 cup finely diced tomato, pulp and seeds left in (about 1½ beefsteak tomatoes)
2 jalapeños, deveined, deseeded, and finely diced (see note)
1 heaping cup crumbled feta
Pinch of salt
Freshly squeezed lime juice
Directions:
If you decide to press your polenta, line a sheet tray with paper or kitchen towels. Cut the polenta into half-inch (or slightly smaller) rounds. Lay out on the lined sheet tray, cover with more towels, place some heavy things on top and let sit for 30 minutes. If you don't press your polenta, just pat the polenta discs dry with a towel.
Heat a cast iron grill pan on medium-high heat. Brush with a very light layer of oil. Allow to heat for a few minutes. Lay the polenta discs on the grill and let grill for 6- 8 minutes, without moving them in any way. Flip and grill for 4-5 minutes on the second side – again, don't touch the discs while they are grilling!
Toss together the cilantro, tomatillos, tomato, jalapeños, feta, and pinch of salt. Squeeze lime juice over each polenta disc, then mound some of the tomatillo-feta mixture on top. Enjoy warm or at room temperature.
Looking for more Cinco de Mayo recipes? Try last year's chiles en nogada, the Mexican chocolate chia pudding recipe from a couple weeks back, or my Mexican-style quinoa-vegetable lettuce wraps!