Yes, this is the second recipe I've posted recently involving Mexican-spiced chocolate. But can you blame me? I was so enamored with my Mexican chocolate hamantaschen filling that I just had to keep the love fest going with a delicious chia pudding. Especially since — despite making and eating chia pudding on a regular basis — this is the first chia pudding recipe I've posted in two years of blogging!
How can this be?!  Chia pudding is one of the world's most perfect breakfasts. It is remarkably filling, nutrient-packed, and exceedingly versatile. All you need are some chia seeds, some liquid, and some "seasonings." I've made chia puddings "seasoned" with matcha, raspberry-black sesame, maple, you name it. I even recently made a savory chia pudding with turmeric and ginger. But today, I wanted to share this Mexican chocolate chia pudding with you, because it's just what you need to start your day off right: with flava.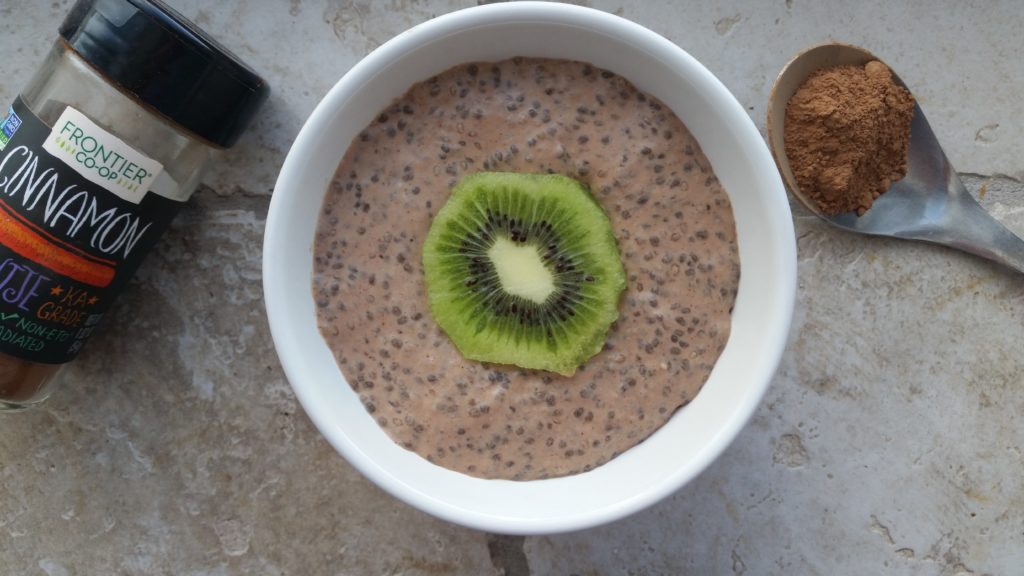 A couple notes about the recipe:
-When making any chia pudding, be sure that your chia seeds are fresh. I've had better luck buying them in the bulk section than in a package, but I've run into gelling problems either way. This usually results from the seeds just being too darn old. Try to buy from companies that pride themselves on freshness, if you can.
-This recipe makes enough for 2-3 servings, depending on how much pudding you like to eat for breakfast! It is great topped with toasted coconut, pumpkin seeds, kiwi, chopped pecans, etc.
-For nut-free, simply sub out the almond milk with a nut-free milk of your choosing.
Mexican Chocolate Chia Pudding
1/3 cup chia seeds
1 tablespoon raw cacao powder
3 tablespoons maple syrup
½ cup full-fat coconut milk
1½ cups unsweetened almond milk (or non-dairy milk of choice)
generous ¼ teaspoon cinnamon
pinch of cayenne
pinch of salt
Combine all ingredients in a blender and blend just until incorporated. Pour into a container, cover, and let sit in the fridge overnight. The pudding will be ready for breakfast the next morning.