Ever since my 13-year-old self read Like Water for Chocolate and cried her eyes out, I've been dying to try chiles en nogada. Incredibly, I ate it for the first time today, 15 years after I vowed to make it as soon as possible. Well, good things come to those who wait.
I should start by saying that this isn't the traditional chiles en nogada. For one thing, it's completely vegan – no ground meat whatsoever. For another, the walnut sauce has hemp seeds in it (trust me, you won't know – they just make it nice and creamy!) And finally, while traditional chiles en nogada is quite heavy on the fruit (the meat filling is usually cooked with raisins, apple, pear, and peach), I just put some chopped raisins in mine for a bit of sweetness and called it a day. Not out of laziness, but because I've never been a fan of fruit-heavy savory dishes. Some people also dip their chiles en egg batter and fry them — I chose to leave mine roasted and unfried.
Well, the gods were with me. Because I created a truly delicious (IMHO) vegan, gluten-free twist on the classic dish I've been wanting to eat since age 13. Roasted poblanos are filled with a savory mixture of juicy portobellos, lentils, spices, walnuts, and raisins; topped with a thick and creamy walnut sauce; and sprinkled with pomegranate seeds. As in the traditional recipe, the colors of the Mexican flag are well represented: just in time for Cinco de Mayo. (Although chiles en nogada is generally eaten for Mexican Independence Day –- which falls in September — it is one of Puebla's traditional dishes, which makes it  appropriate for Cinco de Mayo in my book! Especially since your standard American-style nachos are deemed appropriate and would basically not exist in Puebla!)
Anyway, if you have a couple hours to spare (nothing with stuffed roasted poblanos is ever quick and easy to prepare), I highly recommend this recipe. The filling is just the right amount of sweet and savory, and the walnut sauce provides the perfect creamy compliment. Plus it's just so elegant!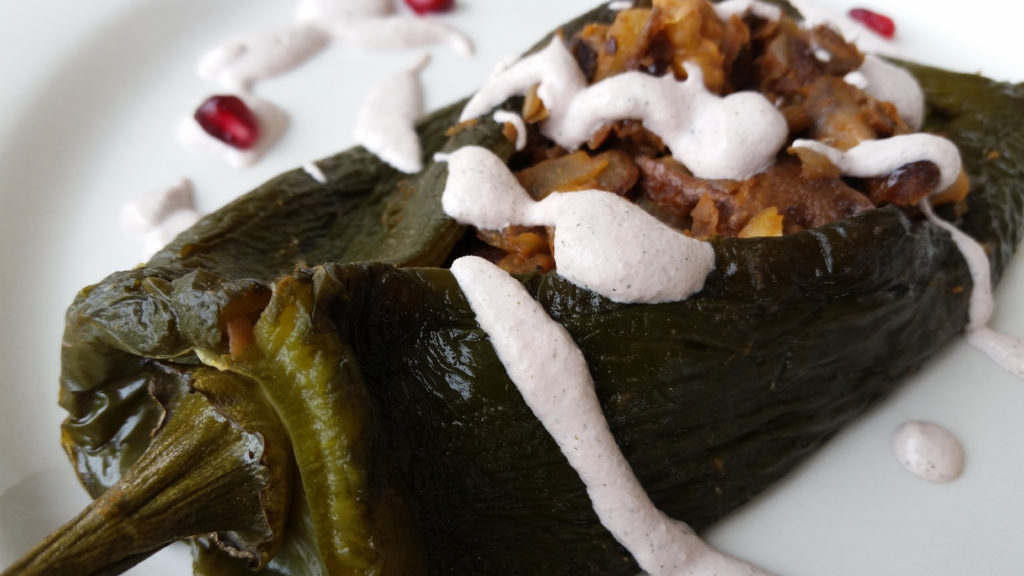 A couple notes about the recipe:

-Make sure your walnuts are fresh – discard any super dark ones because they will make the sauce bitter.
-I think this dish is best, not smothered in walnut sauce as it is sometimes served, but with the sauce drizzled over the peppers and a dish of some extra sauce on the side. I also quite like serving the peppers open to highlight the filling in the center: if you prefer, you can of course wrap 'em up and place them face down so that the filling is hidden. I've plated and photographed for you both a face-down smothered version and an open version with the aforementioned drizzled sauce.

-The stuffing recipe will yield enough for stuffing at least 10 large poblano peppers. If you don't feel like stuffing that many, feel free to eat the stuffing on its own or with a bit of the walnut sauce – it's delicious that way too. Depending on whether you drizzle or smother your peppers with sauce, you may need to double the sauce recipe if you are stuffing more than 6 peppers.
Chiles en Nogada
Peppers:
4 very large portobello caps (one 20 oz pkg)
Desired number of poblano peppers (see note)
2 tablespoons olive oil, plus extra for roasting
½ cup lentils
1½ cups water
A generous 1½ cups diced onion
1 tablespoon double concentrated tomato paste
1½ teaspoons cumin
1½ teaspoons oregano
A pinch or two of cayenne pepper
½ cup vegetable broth
3 tablespoons finely chopped raisins
A scant ½ cup finely chopped walnuts
Salt, to taste
Pomegranate seeds, to garnish
Sauce:
1/3 cup walnuts (see note)
1/3 cup hemp seeds
½ cup boiling water
2 teaspoons umeboshi vinegar
1 teaspoon chopped scallion (white part only)
Directions:
Roast/Prep the Portobellos and Poblanos:
Preheat the oven to 425°F and line two baking sheets with parchment paper.
Twist the stems off the portobello caps, scoop out the gills with a spoon, and wipe both sides with a damp paper towel to clean. Generously brush each side with olive oil, and sprinkle with salt and pepper. Place stem-side down on one of the baking sheets. Rinse and dry the poblano peppers and rub lightly with olive oil. Place on the second baking sheet. Place both baking sheets in the oven.
Roast the mushrooms for 20-25 minutes, flipping after about 10 minutes. When done, they will be tender and juicy. Roast the poblanos until charred on all sides. Use tongs to turn the peppers after about 20 minutes, and again after 30 minutes, etc., to make sure they get nice and wrinkled on all sides. They will probably be done at around 40 or 45 minutes. When done, immediately transfer to a bowl, cover tightly with aluminum foil, and let stand for at least 20 minutes.
Once the poblanos are done steaming in the bowl, they will be very easy to peel. Just make a small slit in the leathery outside and peel it off!
Make the Stuffing:
While the vegetables are roasting, combine the lentils and water in a saucepan over medium heat with a pinch of salt. Bring to a boil; then cover and simmer until the lentils are very tender – even mushy in parts – and most of the water is absorbed, about 25 minutes.
Heat the oil in a large skillet over medium heat. Add the onion and sauté for about 8 minutes. Stir in the tomato paste. Add the cooked lentils, cumin, oregano, and cayenne; mix well, then add the vegetable broth. Season generously with salt, to taste. Allow to simmer for 5-7 minutes until the broth is absorbed and the flavors have melded. Stir in the raisins and walnuts and cook 1-2 minutes more. Check seasoning and adjust as needed.
Make the Walnut Sauce:
Blend all ingredients in a Vitamix or other high-powered blender until smooth.
Assemble:
Make a slit down the middle of each pepper, being careful to leave the stems intact and the pepper whole. Carefully scoop out the seeds (this takes some patience!) using your fingers and a paper towel. The peppers will be very delicate, so take care not to break them.
Stuff each pepper with the filling, drizzle with the walnut sauce, and garnish with the pomegranate seeds. Enjoy!