You may have noticed that I tend to put whiskey in my holiday blog posts – at least once a year.  There's this year's Irish Whiskey Banana Bread (St. Patty's Day), last year's Cinnamon-Sugar Sandwich Cookies with Chocolate-Whiskey Cream (Valentine's Day), and my whiskey-glazed Apples & Honey Cake from Rosh Hashanah 2015…er…5776 (Jewish calendar). In any case, I'm beginning to realize I may have a whiskey dessert problem.
But what a wonderful problem it is! Bourbon lends itself perfectly to ice cream. In fact, no matter what flavor I decided to create, it probably would have included at least 1 tablespoon of the stuff since adding alcohol to homemade ice cream helps make it creamy and prevent iciness. (So does arrowroot starch, incidentally, which you'll also find in this recipe!) And the caramel notes of the bourbon with the tanginess of the sour cream – it really can't be described in words.
In addition to tasting divine, this ice cream recipe is also lactose-free, low fodmap, egg-free, coconut-free, soy-free, and nut-free! Interestingly, I haven't been able to find a lactose-free ice cream recipe that doesn't use coconut milk or nut milk, and really wanted one, since coconut can tend to taste quite coconuty and nut milk doesn't quite have the proper texture to yield a creamy result. This probably has something to do with the fact that traditional ice cream is made from a blend of heavy cream and milk, and, while there is plenty of lactose-free milk on the market, I don't think there is any heavy cream. There is, however, lactose-free half and half and lactose-free sour cream. I had a hunch that thickening the half and half slightly with some arrowroot starch (which also prevents an icy ice cream texture) and then blending it with the sour cream might be a winning combo –  and I'm happy to say I was right!
This ice cream is the perfect balance of creamy, rich, tangy, and sweet. Whether you've never had sour cream ice cream before, or you're already a convert, you really must try it! So plug in that ice cream maker, grab yourself a bowl, and get ready for some fireworks.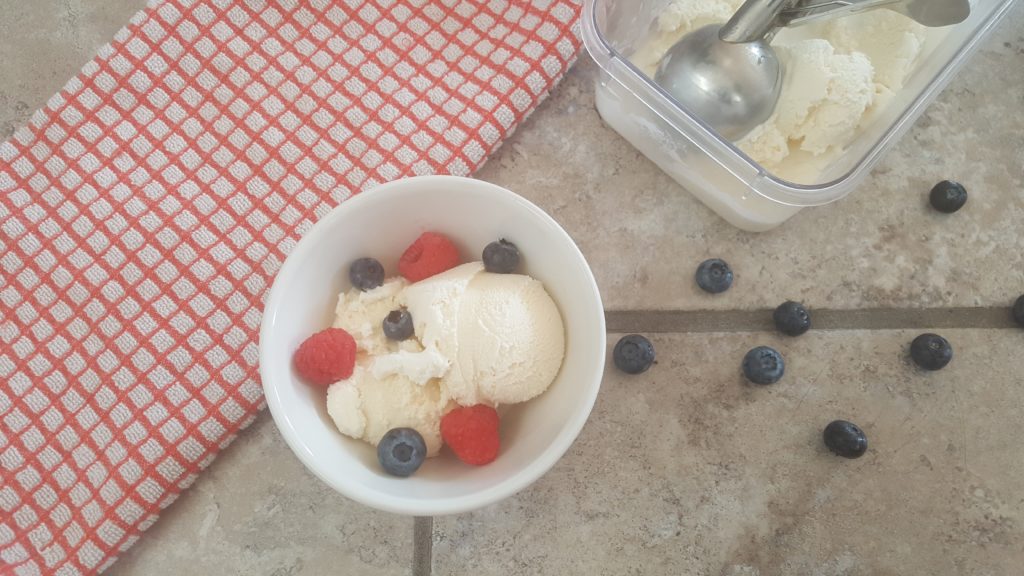 A couple notes about the recipe:
-Don't overchurn your ice cream, or you could end up with an icy product. Churn until it is the consistency of soft-serve; then let the freezer do the rest. Also, be sure to follow the instructions on your ice cream maker!
-This recipe will make about 2½ cups of ice cream.
-I've tagged this recipe under grain-free because there aren't any actual grains in it. However, if you are very strictly grain-free, keep in mind that bourbon is distilled from grains. It's still considered gluten-free because all of the harmful proteins are removed in the distillation process; however, I'm not sure where it stands if you are on a grain-free diet. Educate me in the comments!
Bourbon-Sour Cream Ice Cream 
1¾ cups lactose-free half and half
½ cup + 2 tablespoons granulated sugar
¼ teaspoon celtic sea salt
1 tablespoon arrowroot starch mixed with 1 tablespoon half and half
1 ½ cups sour cream (1 12-oz container)
2 tablespoons bourbon
2 tablespoons maple syrup
A dash of  vanilla extract
Directions:
In a medium saucepan, combine the half and half with the sugar and salt. Heat on medium until all the sugar has dissolved completely and the mixture is steaming and just beginning to simmer. Lower the heat so the mixture continues to steam but doesn't boil, and add the arrowroot mixture. Cook for a few minutes, stirring constantly, until the mixture has thickened slightly. Then, transfer to a bowl, press plastic wrap directly onto the hot surface to prevent a skin from forming, and chill until completely cold, at least 4 hours.
Transfer to a blender, along with the sour cream, bourbon, maple syrup, and vanilla. Blend very briefly (about 10 seconds). You want the mixture to be completely smooth but also very cold. If you blend it longer than necessary, it will heat up.  Churn in your ice cream maker until it reaches the consistency of soft serve – this took about 25-30 minutes in my Cuisinart. Then transfer to a freezer-proof container, press a piece of wax paper onto the surface to prevent ice crystals from forming, cover, and freeze until firm.
Serve with blue and red berries for a red, white, and blue 4th of July treat!
Looking for more 4th of July recipes?
Try my Mascarpone & Berry Parfait with Balsamic, Basil, and Mint!