What better way to celebrate St. Patty's day (which is in just 2 days!) than with a loaf of whiskey-infused banana bread?  This sumptuous treat will fill your home with the most incredible, cozy, delicious aromas — aromas that (fair warning) may prompt you to cancel your night out, wrap yourself in a Shamrock blanket, and call some friends to help you make a dent in the conveniently already-open whiskey bottle until it's time to devour that warm loaf of banana-y goodness.
What's that? Your friends aren't gluten-free? No worries. I gave this to my husband and he swore he couldn't tell it was sans gluten. The loaf rises and browns beautifully. It has a crusty outside and a warm, cakey inside. And the flavor? Don't get me started. This banana bread is the perfect sweetness. It's just banana-y enough with a salty, buttery undertone (yay for salted butter in baking!) and an almost caramel or deep vanilla-like note from the whiskey infusion that will leave you licking up the crumbs like there's no tomorrow.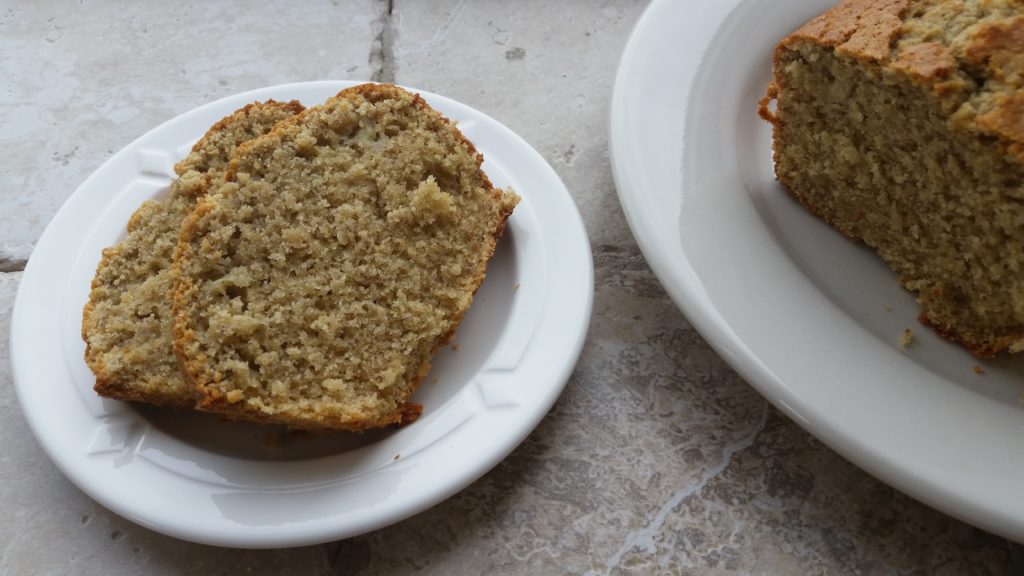 A couple notes about the recipe:
– Almond flour varies greatly across brands. I use Honeyville almond flour in all my recipes, because I can order it fairly cheaply in bulk. (I definitely recommend this way of purchasing almond flour because one bag of Bob's Red Mill's is usually over twelve bucks!) Since there is a very small amount of almond flour in this recipe (just enough to keep it moist), my guess is that you'd be successful with any brand of almond flour. I've only tested it with Honeyville, however.
-The bananas I used for this recipe had black spots on the peel but were not completely black. If you use riper bananas, you may want to cut the sugar ever so slightly (turn your 3/4 cup into a scant 3/4 cup, for example.)
-If you don't devour it all in one sitting, this banana bread can be wrapped in plastic wrap and stored in the fridge. Slices should be heated in a 350° toaster oven for a few minutes before enjoying.
-Please note that silicone pans do conduct heat differently. If you are using a non-silicone pan, you may need to adjust the baking time. Also note that I did not include the lip of the pan in my dimensions — 9 x 4 x 2.5 are the dimensions of the actual cavity where the banana bread goes!
Irish Whiskey Banana Bread
1 cup sorghum flour
½ cup gluten-free oat flour
¼ cup almond flour
¼ cup arrowroot starch
¾ cup sugar
2 teaspoons baking powder
1 teaspoon flax meal
2 small, ripe bananas (mine weighed 8.5 ounces total)
4 large eggs
1 stick salted butter, melted
¼ cup irish whiskey
Directions: 
Preheat the oven to 350°F and butter a 9 x 4 x 2.5  silicone loaf pan (see note)
In a bowl, combine the flours, starch, sugar, flax, and baking powder. Set aside.
In a separate bowl, mash the bananas. Use a fork to beat in the eggs until well-combined. Add the butter (make sure it's not scalding hot) and whiskey.
Pour the wet ingredients into the dry ingredients and mix until incorporated. Pour mixture into the prepared pan and bake for 45-50 minutes, until a fork/knife inserted near the center of the loaf comes out clean. The banana bread will be well-browned all around.
Let cool for 10 minutes, then slice and enjoy!