My brother and I have always been very attached to traditions. Most people have to do something at least twice for it to be considered a "tradition" that should be repeated; for us, it only takes once. As soon as we do something to commemorate a special occasion or event, if it goes well, it's a tradition. And we better repeat it, or face the consequences!
My parents were frequently frustrated with us growing up – "But mom, we can't celebrate Rosh Hashanah on the day itself – we ALWAYS celebrate it one day early!" – or "Dad, we HAVE to go to the store right now and get chocolate covered espresso beans to put in the cookies – it's a tradition!" I've cut vacations short just so that I could be home for a certain occasion I'm always home for and I once took a "birthday walk" in the pouring rain (complete with thunder and lightening) because … well… it was the birthday walk. Tradition! You can't mess with it.
Anyway, I have two 4th of July traditions that I try to repeat every year. I'm not going to tell you about the first one, because it will probably make me sound even crazier than I already do. But I will tell you about the second: vanilla ice-cream with strawberries, raspberries, and blueberries. Red-white-and-blue deliciousness.
So, for my 4th of July blog post, I wanted to create something in the spirit of that tradition. I definitely did not want to make ice-cream this week (I'm a little ice-creamed out from the Ben and Jerry's fiasco I wrote about last week) but berries and cream … this I could do. And boy could I eat it! Because this parfait is a mascarpone cream interspersed with balsamic-basil strawberries, blueberries infused with mint and red wine, and salted-maple raspberries. Need I say more? At the risk of sounding super cheesy, it's fireworks in your mouth.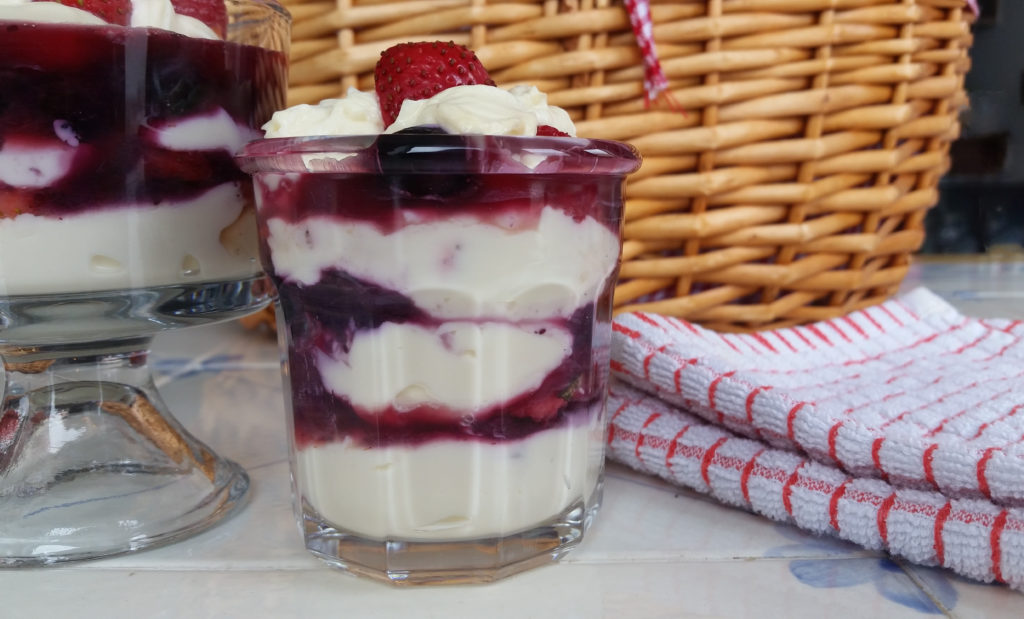 Let's quickly talk about macerated berries. Basically, you take some sugar, pour it over the berries, and let them marinate in their own juices (and the sugar) until they become soft and syrupy. It's definitely delicious, but I sometimes find the final product (especially in the case of strawberries) a bit too sweet for my liking. And too mushy. There's something so delicious about tart, fresh-tasting strawberries paired with sweet cream that's lost when they are too macerated. Then again, the flavor of berries is definitely enhanced after they've sat a bit in their own juices. So…my solution for this particular recipe, is sort of a maceration compromise. You take some strawberries, pop them in a colander over a bowl, dump some sugar on them, and let them sit for about 20 minutes, after which time some delicious liquid will have dripped into the bowl. Then you remove the colander, give the berries a quick rinse to get off a little bit of the melted sugar,  pop them into the bowl with the delicious liquid, and let them sit for an hour or two. Their flavor is intensified cause they still get to sit in some sugar-sweetened juices, but they also remain tart and fresh-tasting. Add in a tiny hint of balsamic (which you won't even taste, but which will give them a little "pop!") and some fresh basil…and you will be in berry heaven. At least if you like your strawberries on the tarter side, like I do. If you don't, feel free to adjust to your taste.
For the blueberries, I went for something sweeter and more syrupy, to contrast the freshness of the strawberries. Plop them in a saucepan with some sugar, fresh mint, and a hint of red wine and give 'em a quick simmer. They are thickened with an arrowroot slurry (arrowroot starch mixed with water) and then chilled in the fridge until cold.
And finally, the salted-maple raspberries. So easy – and yet incredibly delicious. Take some raspberries, mix in some maple syrup, sprinkle in a good quality sea-salt, and mix again. And there you have it – salted maple raspberries. You can eat them fresh or after they have sat awhile – both ways are good. (If you let them sit, they will become sweeter and more syrupy.)
A couple notes about the recipe:
-The yield for this recipe depends on the parfait glasses you use. I made three smaller parfaits and one larger one. One thing I do know  – regardless of the glasses you use – is that you will run out of cream long before you will run out of berries. This is entirely deliberate: in addition to the parfaits, you must put these berries in your oatmeal, yogurt, chia pudding, toast, pancakes, waffles, ice-cream, etc., etc., etc.! Believe me, you will be glad to have the extra.
-The quantity of raspberries is smaller because I intended them as the topping – not as part of the layers. But if you wanted to layer them in too, you could always up the quantity.
-As explained above, I like my strawberries on the tarter side. If you like yours sweeter, you might not want to rinse off the sugar.
Mascarpone and Berry Parfait with Balsamic, Basil, and Mint
For the Cream: 
One 8-oz container mascarpone cheese
¾ cup full fat sour cream
1 teaspoon vanilla extract
3 tablespoons maple syrup
1 tablespoon agave nectar
Mix all ingredients together.
For the Strawberries:
1 pound strawberries, rinsed, hulled, and sliced
1 teaspoon good quality balsamic vinegar
1/8 cup white sugar
3-5 small leaves of basil, cut into long, thin, strips (chiffonade)
Place a colander inside of a large bowl. Place the sliced strawberries inside the colander, pour the sugar over the top, and finish with the vinegar. Mix gently and quickly with your hands, just to spread the vinegar around, then leave to sit in the colander for 20 minutes. Take the colander out of the bowl and place the bowl on the counter so you can rinse the strawberries without watering down the yummy liquid in the bowl. Quickly rinse the strawberries, then turn them into the bowl and stir to coat. Stir in the basil. Let sit covered in the fridge for a couple hours.
For the Blueberries:
1 pint blueberries, rinsed
1 teaspoon finely chopped mint
1/8 cup white sugar
2 teaspoons red wine
¼ cup water
2 teaspoons arrowroot starch mixed with 2 tablespoons water
Combine the blueberries, mint, sugar, wine, and water in a saucepan. Allow to simmer for 3-5 minutes, until there is a lot of liquid in the pan but the blueberries are still whole. Turn off the heat. Add in the arrowroot mixture and mix well. Let stand for a couple minutes, then pour into a bowl and let stand until cool enough to refrigerate. Cover and refrigerate until cooled completely, about 1 hour.
For the Raspberries:
1 cup raspberries, rinsed and dried
2 tablespoons maple syrup
couple pinches good quality sea salt
Mix together the raspberries and the maple syrup. Sprinkle in the salt; then mix again.
To Assemble:
Place a layer of cream in the bottom of a parfait glass. Alternate strawberries, cream, blueberries, cream, strawberries, cream, etc. Top with the salted maple raspberries.