On the eve of Rosh Hashanah (the Jewish New Year), I'm home with my family in Western Massachusetts, soaking up as much countryside as I can get before heading back to city life. And of course that also includes taking advantage of all the delicious local produce! Yesterday, I was dragged around to various farmstands in search of the perfect Hadley corn, which led to a heated argument over what that meant exactly. (My dad insisted he could tell by scent alone; the rest of us demanded he at least take a peek inside the husk before choosing!) The argument was forgotten, come dinnertime, as we dove into the buttery ears, which proved quite delicious. We also enjoyed a lovely cherry tomato and goat cheese salad and some delicious pesto potatoes, courtesy of my mother's garden (except for the goat cheese, that is!).
And today, it's all about the apples.
After a lovely morning at an orchard in Easthampton (pictures here), I am definitely in the Rosh Hashanah spirit. Apples dipped in honey are traditionally eaten on Rosh Hashanah to symbolize a sweet new year, as is honey cake. But this year, I decided to combine those two traditions into one scrumptious grain-free, dairy-free Rosh Hashanah apples and honey cake. I guess it was a good idea, because my family told me it was the best honey cake they'd ever had! (Disclaimer: They don't really like honey cakes to begin with, so I'm not sure how that fact affects the rave review).
While I personally wouldn't go so far as to call this the best honey cake ever, it's definitely a great grain-free, dairy-free, Rosh Hashanah option to help you start your year off right. Because everyone (including those with dietary restrictions) deserves to have a sweet new year!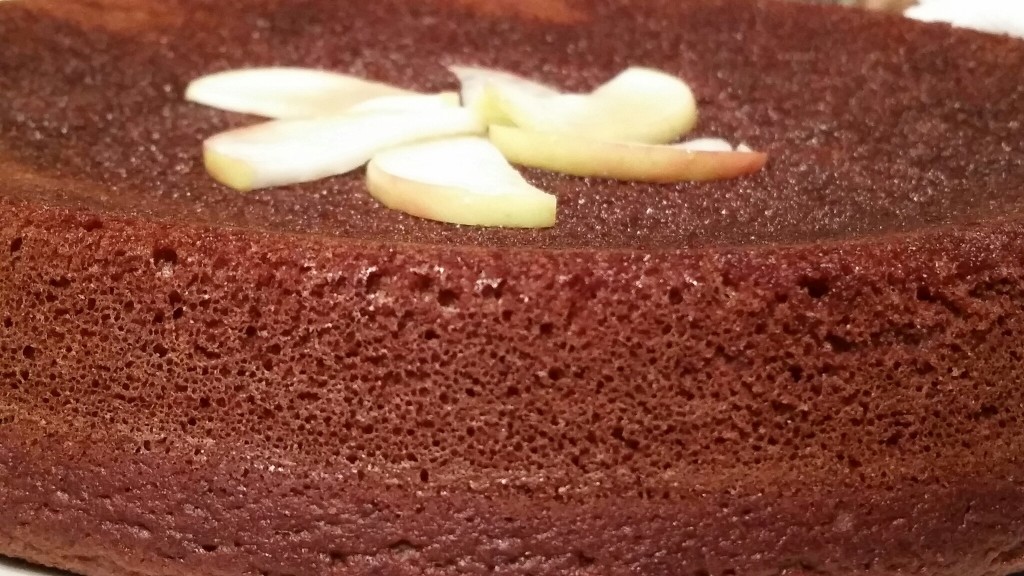 This cake is a cinch to put together and is made from wholesome ingredients like applesauce, almond flour, and grapeseed oil. It is moist and light – the "light and bready" type of cake, not the dense kind. In fact, the sweetness level is somewhere between a breakfast bread and a cake, but can be tailored to your personal preference by making extra whiskey-honey glaze – which soaks into the cake in the best way possible – if you want it sweeter. You can also top the cake with sautéed apples, whipped dairy/coconut/cashew cream, candied nuts, you name it! Get creative – it's a new year! But please don't leave off the whiskey-honey glaze. Trust me.
A couple notes about the recipe:
-This cake tastes best served cold. I definitely recommend chilling it overnight in the fridge before serving.
–Almond flour varies greatly across brands. Bob's Red Mill almond flour, especially, is much coarser than other almond flours and may change the recipe significantly. I use Honeyville almond flour in all my recipes, because I can order it fairly cheaply in bulk. (I definitely recommend this way of purchasing almond flour because one bag of Bob's Red Mill is usually over twelve bucks!) Please feel free to try this with other brands of almond flour, but keep in mind that you may need to make some adjustments.
-I recommend using a very flavorful applesauce for this recipe. I used the brand Vermont Village. You can choose your favorite brand or – even better – make your own! But Mott's probably won't cut it.
-The whiskey-honey glaze recipe below can be scaled up if you'd like the cake to be sweeter/more decadent.
Rosh Hashanah Apples and Honey Cake
For the cake:
2 ¼ cups blanched almond flour
½ cup arrowroot starch
1 tablespoon flax meal
1 teaspoon baking soda
pinch of salt
2 large eggs
1 cup unsweetened, flavorful applesauce
¼ cup grapeseed oil, plus extra for greasing the pan
½ teaspoon vanilla
½ cup agave nectar
For the whiskey-honey glaze:
Whisk together 2 tablespoons of raw honey with 1 tablespoon of Irish whiskey
Directions:
Grease a 9 x 1 inch round cake pan with grapeseed oil and preheat the oven to 350°. Mix together the almond flour, arrowroot, flax, baking soda, and salt. Set aside. In a separate bowl, whisk together the eggs, applesauce, grapeseed oil, vanilla, and agave. Pour the wet ingredients into the dry ingredients and mix until well combined. Pour into the prepared pan.
Bake for 20 minutes, then lower the oven temperature to 325° and bake for about 20 minutes more, until a fork inserted in the middle of the cake comes out clean. (The cake will brown quite a bit before it is cooked through – this is normal with almond flour based desserts.) Cool the cake in the pan for 10 minutes, then invert onto a plate. Brush the outside of the cake with the whiskey-honey glaze. Cool completely, then chill overnight in the fridge before serving for best results.