A good smoothie in 90 degree weather is like a fireplace in winter  – it's just what the doctor ordered. Especially if it's laden with nutrient-rich fruits like kiwi and papaya. There's some freshly squeezed lime juice in there too, to elevate the kiwi's natural tang, as well as some creamy coconut milk. The result? A glass of pure goodness – guaranteed to make any heat wave far more palatable.
As I've ranted about in the past, I loathe icy smoothies. Now, I'm not above putting a couple (no more than two!) ice cubes in my smoothie to get it colder and lighten up the texture, but I prefer to pack it with flavor instead. That's where the frozen papaya comes in – in combination with a hefty dose of juicy, fresh papaya, the bit of frozen fruit acts as the ice component without watering down the smoothie. You can buy frozen papaya at most Latin American groceries, or freeze it yourself.
Ready to get tropical? Let's go!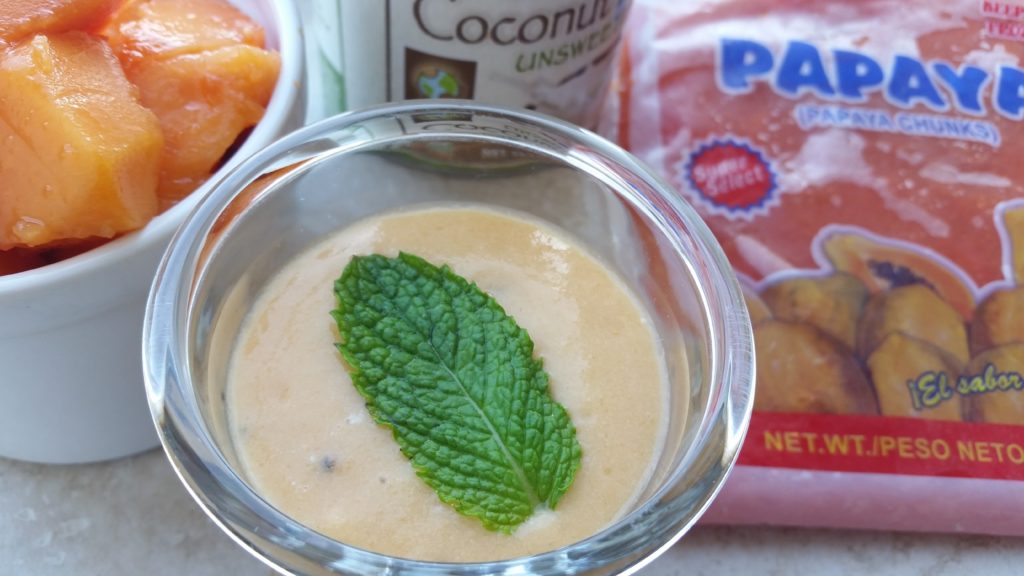 A couple notes about the recipe:
-This recipe yields 16 ounces of tropical papaya smoothie.
-I tagged this recipe Low FODMAP since none of the ingredients contain FODMAPs. However, drinking the entire 16-oz smoothie in one sitting would probably exceed recommended fruit quantities, so I'd recommend that any low FODMAP people split it into two servings. That said, as smoothies go, this one's pretty easy on the gut. I used a mix of coconut milk and almond milk to get the creamy dreamy texture of the coconut without too much fat. And papaya – because of the enzyme papain – is one of the easiest fruits to digest.
-For nut-free, simply sub out the almond milk with a nut-free milk of your choice – rice, sunflower, hemp, etc.
Tropical Papaya Smoothie
1 cup fresh papaya chunks
1/2 cup frozen papaya chunks
1/2 cup full-fat coconut milk (aim for the creamy part at the top of the can)
1/2 cup unsweetened almond milk (see notes for nut-free variant)
2 tablespoons sugar, or sweetener of choice
Juice of half a lime
1 kiwi
mint leaves (for garnish)
Directions:
Combine all the ingredients (except the garnish) in a blender and blend until smooth. Garnish with the mint. Enjoy!
Looking for more summer treats?
Try these recipes:
5-Minute, 5-Ingredient Hazelnut Gelato (Vegan and Sugar-Free!)