Harissa is one of my kitchen staples, since I love its intensity of flavor and incredible vibrancy.  Add in some crunchy dill-infused carrots and some nutty chickpeas, and you've got yourself a winning combination. This is a burger that packs some heat – in a delightfully zesty way. It's delicious with the optional yogurt dressing featured here, but an aioli made with vegan mayo would work just fine too. Or you can just eat these babies straight out of the oven – no accoutrements necessary, provided you like it hot!
These burgers are a wee bit similar (in method, not flavor) to my Indian Chickpea Cakes, since I'm a huge fan of using millet in my burgers and cakes. This awesome grain is moist, nutty, and really gives you something nice and meaty to sink your teeth into. Plus it's totally under-appreciated and really good for you! If you've never enjoyed millet before, this is a great introduction to it – its flavor and texture in this recipe is similar to rice, and it doesn't taste at all like "health food."
Finally, I should mention that if you keep reading, you'll actually find not one, but three recipes included in this post! Woohoo! Exciting! (Consider it my Halloween present to everyone :p)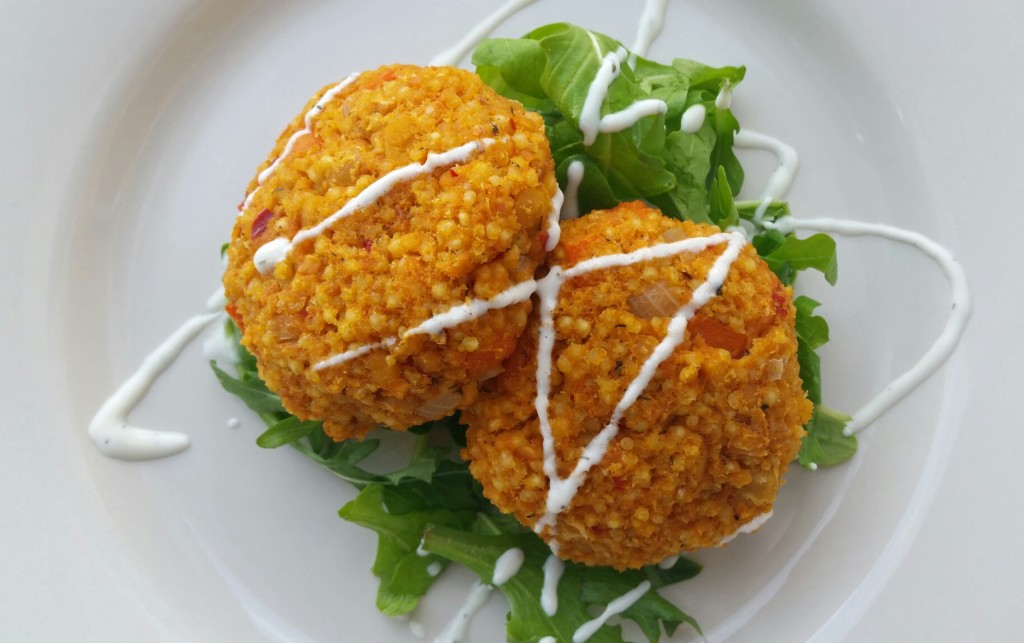 So what are the three recipes?
♦ You've got the burger, of course, which could also be plated elegantly and served as a "cake" or "baked fritter," as in the picture above. (But that's still just one recipe – don't worry.)
♦ You've got the yogurt dressing, which is quite simple to make and goes really nicely with these spicy patties. It would also be a great dip for veggies, chips, fries… most dippable things really. Or you could use it as the base for a creamy salad dressing.
♦Finally, you've got a super delicious sweet millet pudding that's even easier to make than the yogurt dressing!
Why a sweet millet pudding in the same post as a spicy burger? Well, millet is easiest to cook in 1-cup increments, but this recipe calls for just 2 packed cups of cooked millet, leaving a bit of extra millet in the pot. I didn't think that amount of millet was worthy of a tupperware container, so I decided to create a sweet treat that you can eat while you cook! It only takes 30 seconds to make and it's well worth it!
A couple notes about the recipe:
-While I prefer to bake these patties (so much easier), you can also fry them in a cast iron skillet if you'd rather. I've made them this way with success, but they are just as good – if not better – baked.
-I use Cava brand harissa paste for this recipe – this is a harissa that is made from stewed tomatoes and crushed red pepper. Many other harissa recipes/brands feature roasted or smoked peppers as the dominant flavor, and go much lighter on the tomato element. I much prefer the tomato-centric harissas in this burger, but feel free to experiment!
-Be sure to follow the directions below for cooking your millet – this will ensure that it is sticky enough to hold your burgers together.
-If you make your patties 2¾ inches wide and ½ an inch thick, you will end up with about 10 patties. If you're going the fritter route, 2 patties per person with a nice kale salad or this cauliflower soup would be a perfect lunch. If you're going the burger or sandwich route, 1-2 patties per person with some greens thrown in for good measure should be enough to keep you going for a while!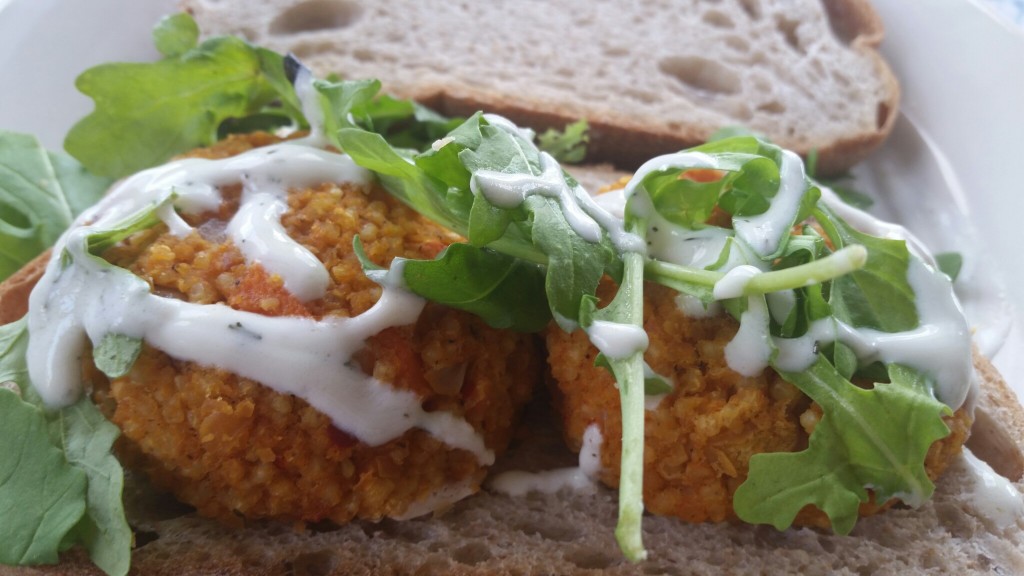 Spicy Harissa Chickpea Burgers
1 cup millet
2 ¾ cups water
pinch of salt
2 tablespoons vegetable or olive oil
1 small-medium onion, diced (heaping ½ cup)
2 large carrots, cut into ¼ inch pieces (1 heaping cup)
¼ teaspoon dried dill
¼ teaspoon garlic powder
¼ teaspoon celery seasoned celtic sea salt
2 tablespoons harissa paste (I used the brand "Cava")
1 "arrowroot egg" (1 tablespoon arrowroot starch whisked with ¼ cup water and 1 tablespoon vegetable oil)
1 ½ cups cooked chickpeas (or 1 15-oz can)
Salt, to taste
Directions:
Combine millet and water in a pot with a pinch of salt. Bring to a boil, stir, then cover and simmer for about 20 minutes until the water has absorbed and the millet is cooked. Stir again. The millet should be nice and sticky – it will resemble porridge. Turn off the burner and let stand, covered, for 5-10 more minutes. Measure out 2 cups of the millet (pack it down) and set aside – this is the portion you'll use in this recipe. Make this super simple millet pudding with the leftover millet.
Once the millet is done, preheat the oven to 350° and line a sheet tray with parchment paper.
Prepare your veggies – you can do this while the millet is cooking. Heat the oil in a medium skillet and add the onion, dill, garlic powder, and celery salt. Cook for about five minutes, stirring occasionally. Add the carrots and continue to sauté until carrots are cooked through but retain some crunch, about 3 minutes more.
Drain and rinse the chickpeas (if canned), place in a bowl, and mash roughly with a fork – there shouldn't be too many whole chickpeas remaining but they also shouldn't resemble a cohesive mash. Stir in the carrot mixture, millet, and harissa. Mix well, and season with salt. Once you are happy with the seasoning (taste it!), stir in the arrowroot egg. Mix very well.
Form into patties (mine were 2¾ inches wide and ½ an inch thick) and place on the lined sheet tray. Bake for 18-20 minutes.
Simple Yogurt Dressing (NOT Vegan/Dairy-Free):
(For slathering on your gluten-free bun or sandwich bread, or for drizzling over your patties. For those who don't eat dairy, try subbing a vegan aioli.)
1 cup full fat plain yogurt
1 tablespoon extra virgin olive oil
¼ teaspoon celery seasoned celtic sea salt
¼ teaspoon garlic powder
¼ teaspoon dried dill
½ teaspoon white wine vinegar
Directions: 
Place all ingredients in a small bowl and whisk together with a fork.
Sweet Millet Pudding 
(For the leftover millet)
Note: The coconut nectar here is a must – the molasses-y flavor really gives depth to this pudding and makes it taste like it has way more than three ingredients!
Millet left in pot after measuring out 2 firmly packed cups for the harissa-chickpea cakes above
The cream from 1 can of full-fat coconut milk (refrigerate the can and scoop off the solid top)
1 tablespoon coconut nectar
Directions: 
Mix the coconut cream and coconut nectar into the leftover millet. Enjoy warm or let cool to room temperature.
(You can also mix in toasted nuts and fruit – I would love to try this with some crushed toasted pistachios and plumped golden raisins. However, I'm never able to wait long enough for that to happen since it's so good on its own!)