I love cold soups in the summer! I especially love the voluptuousness of silky, creamy, cold soups. Surprisingly, however, I'm not a huge fan of actually using heavy cream to make those soups creamy. While I'm far from lactose intolerant, my stomach is not super happy with me when I drink milk or eat foods with a lot of heavy cream in them. But aside from the lactose consideration, I also actually prefer the taste of a vegan creamy soup to a dairy-laden creamy soup. I've found that without the heaviness of the cream, the flavors really have  a chance to shine through.
This creamy cauliflower soup is no exception. When I first made this, I was genuinely shocked by how flavorful it was. I've always thought of cauliflower as enjoyable to a point, if a tad bland. It's never been one of my favorite vegetables. However, after roasting and creamifying it, I began to see it in a whole new light. Cauliflower was born to star in soups like this.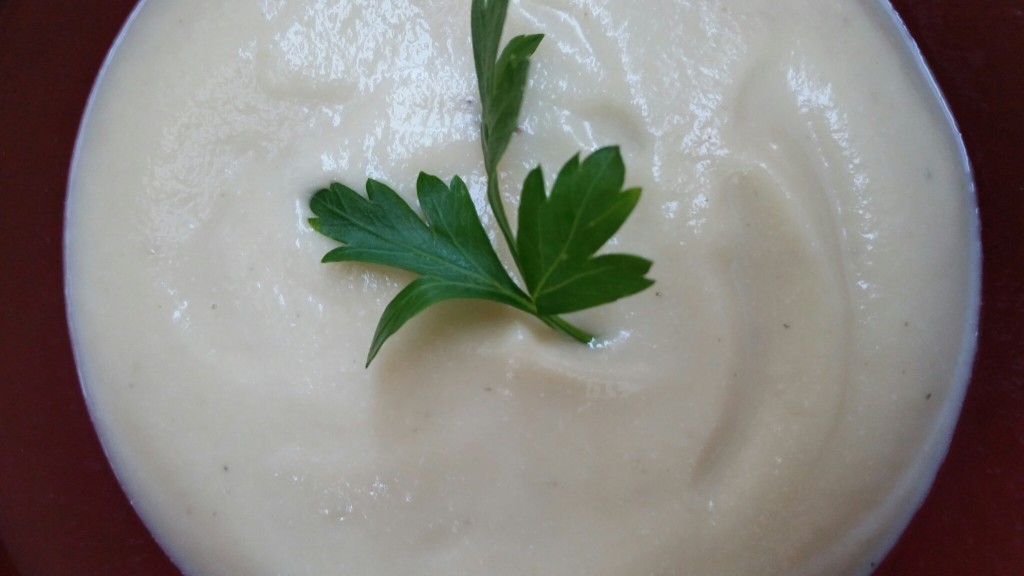 This recipe is really simple: roast some cauliflower, then add it to some sautéed leeks and garlic, simmer everything with some vegetable broth, and then purée with some soaked cashews and hemp seeds until nice and smooth. It's good warm, but it's heavenly chilled completely and served with some spicy corn on the cob and a nice tomato salad. A perfect summer meal!
A couple notes about the recipe:
-Keep in mind that the vegetable broth you choose to use can really affect the flavor of the soup. If you are using store-bought broth, choose milder brands  like Imagine, Trader Joe's, or Emeril's. One brand I absolutely do not recommend is Kitchen Basics – it has an odd, distinctive flavor and a very dark color.
-Since this soup is very rich and flavorful, I think it is best served in smaller portions (as an accompaniment to a meal rather than a meal in itself.) However, throw in a contrasting flavor (drizzle with some parsley oil or pesto), and toast yourself a crusty piece of gluten-free bread, and you'll have a very satisfying lunch.
-This recipe will make 4½ to 5 cups of delicious, creamy soup.
Cold n' Creamy Cauliflower Soup
2 tablespoons olive oil, plus extra for drizzling
1 leek, chopped (heaping 1/2 cup)
1/2 a large Spanish onion, diced
2 large cloves of garlic, minced
1 head cauliflower, cut into florets
3 ¼ cups veg broth, or a tad more, depending on the size of your cauliflower
1/2 teaspoon celery seasoned celtic sea salt
¼ cup cashews that have been soaked overnight (measured after soaking)
2 teaspoons hemp seeds
Directions:
Place the florets on a parchment-lined sheet tray.  Drizzle with olive oil, salt, and pepper, and roast in a 400 degree oven for about 15 minutes.
Clean the leeks by placing the chopped pieces in a bowl of cold water and swishing them around a couple times. Heat the two tablespoons of  olive oil in a large stockpot. Add the leeks (scoop them out with your hands so that all the dirt stays at the bottom of the bowl) and onion and cook for 8-10 minutes. During the last 2 minutes of cooking, add the garlic and celery salt.
Next, add the roasted cauliflower and enough vegetable broth so that the cauliflower is just covered.
Bring to a boil, then cover and simmer for 10 minutes, until the cauliflower is nice and soft. Let cool slightly, then transfer to a blender (I used a Vitamix) and puree. Add the cashews and hemp seeds and blend until smooth and creamy. Taste and adjust seasoning, if needed. Chill completely before serving.