Do you have specific foods that always stick out to you on a restaurant menu? The ones that immediately catch your eye and say "pick me, pick me!"? For me, it's fritters, cakes, patties…anything that comes in the form of a nice, elegant, flavor-packed crispy round of goodness. I can't say no! Sadly, since most restaurants use flour to bind those lovely little rounds, I often have to. And even the ones marked gluten-free often contain rice or rice flour, which is a no-no for me. Luckily, flour really isn't necessary. My secret for making flourless cakes and patties that still hold together perfectly? Millet!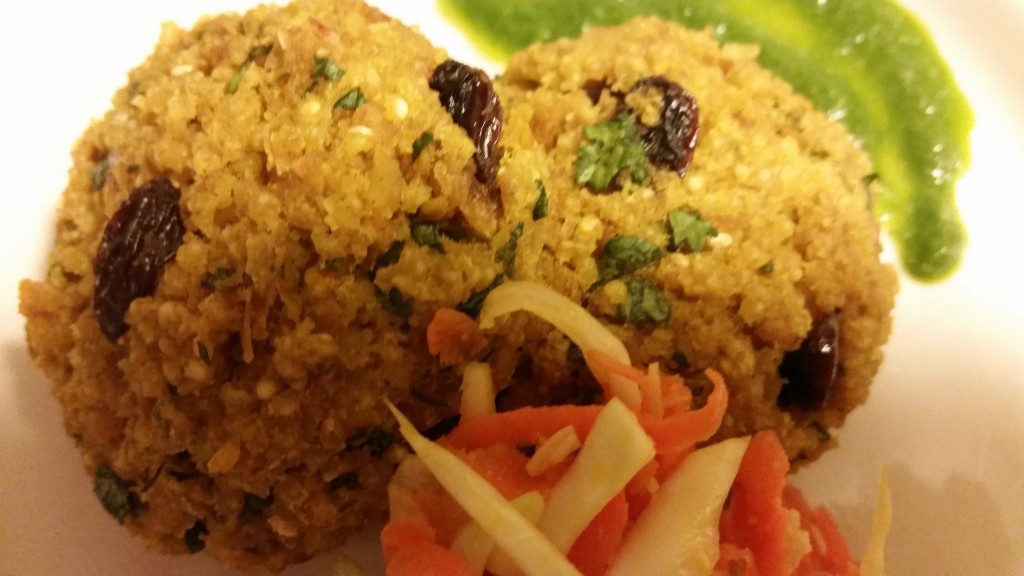 Millet is an ancient grain that is eaten ubiquitously in Asia and Africa. In the US, it's probably most known for being the primary ingredient in birdseed! Millet is high in magnesium, which has been shown to help with asthma and prevent migraines. It  is also a good source of manganese, copper, and phosphorus. In short, it's a very nutritious (and very inexpensive) little seed that we shouldn't just be feeding to the birds! One caveat: If you have hypothyroidism, do be aware that millet should be avoided due to goitrogens. Otherwise, go get some millet and make these cakes!
In addition to all its health benefits, millet also happens to be an amazing binder in a veggie burger or cake. The trick is to cook the millet in plenty of water so that it has the perfect burger texture – we are looking for a creamy, sticky consistency and not a fluffy one! Millet is also fantastic for creating burgers and cakes that are nice and moist. That means you can bake instead of fry (so much easier!) without worrying about creating something dry.
These cakes are pleasantly crisp on the outside and nice and soft on the inside. While I'm not normally a fan of using fruit in savory cooking (just a personal preference), I chose to add raisins to these because the sweetness compliments the Indian spices perfectly. They turned out so well that I may abandon my "no fruit in savory cooking" preference for good.

A couple notes about the recipe:
-If you choose to make your patties 3 inches wide and 3/4 of an inch thick, you will end up with 10 very sizeable chickpea cakes. You can obviously choose to form whatever size patties you prefer; just keep in mind that you may have to adjust the baking time.
-For a delicious entrée, serve these with mint chutney and Triple-C slaw (minus the raisins and cilantro).
Indian Chickpea Cakes
1 cup millet
2 ¾ cup water
pinch of salt
4 tablespoons vegetable oil
1 medium onion, finely chopped
2 teaspoons freshly minced ginger
2 garlic cloves, minced
1 tablespoon ground cumin
2 teaspoons ground coriander
½ teaspoon ground turmeric
½ teaspoon chili powder
1 ½ cups cooked chickpeas (One 15 oz can)
½ teaspoon Kosher salt
1/3 cup raisins
1 "arrowroot egg" (1 tablespoon of arrowroot starch whisked with ¼ cup water and 1 tablespoon veg oil)
1/3 cup finely chopped cilantro
Salt, to taste
Directions:
Preheat the oven to 350° and line a sheet pan with parchment paper.
Combine millet, water, and the pinch of salt in a pot. Bring to a boil, stir, and then cover and simmer for about 20 min until the water has absorbed and the millet is cooked. Stir again, then turn off the burner and let stand, covered, for 10 more minutes. The millet should be nice and sticky and should clump together when stirred. Place in a large bowl.
Heat three tablespoons of the vegetable oil in a sauté pan over medium heat. Add onion, cumin, coriander, turmeric, and chili powder. Cook for 8 minutes over medium-low heat, stirring frequently, and adding more oil as needed. Add garlic and ginger and cook 3 more minutes. Add chickpeas and the 1/2 teaspoon of salt and cook 3-4 minutes more. Mash mixture roughly with back of wooden cooking paddle so that the chickpeas are broken up but some whole beans remain. Add mixture to millet and stir well to distribute evenly.
In the same saute pan, heat the remaining 1 tablespoon of oil. Add the raisins and heat briefly until puffed up and browned. Add to millet mixture. Season liberally with salt, mixing very well. When you are happy with the seasoning, add the arrowroot egg and the chopped cilantro and mix well.
Form into patties that are 3 inches across and 3/4 of an inch wide (see note above) and place on the lined sheet tray. Bake for 20-24 minutes, until the top has ever so slightly darkened and the patties are firm to the touch.