Unbeknownst to me (until this morning), Super Bowl Sunday is in just two days. As a 100 percent non-sports person,  I always feel a tiny bit of dread when this particular event rolls around. Try as I might, I cannot get excited about football, even when the rules are explained to me for the 20th time. (I have severe short-term memory issues with regards to the rules of any sport.)  But, since I appreciate any and all holidays…er…excuses to eat and drink, I still like to acknowledge it in some way: usually a food-related one. (By the way, can you even call the Super Bowl a holiday?? This is how little I know about sports.)
Super Bowl recipes are all over social media right now, but pretzels and wings aren't really my thing. Instead, I decided to create a Super Bowl of my own…or rather a Superfood Bowl, since it's packed with delicious and nutritious ingredients like beets, millet, and garbanzo beans. It's also topped with an amazing Creamy Basil-Hemp Sauce  that you can use on just about anything — including those more traditional Super Bowl standards like pretzels and potato chips.  (By the way, hemp seeds are utterly ridiculous — in a good way —when it comes to nutrient-packed foods. Can you say perfect balance of Omega 3s and 6s? 10 grams of protein in 3 tablespoons? I'm telling you…they are LOADED with good stuff!)
The bowl is super easy and can be customized to your liking: just choose the ingredients you feel like eating! Not a fan of millet? Use rice or quinoa. Beets aren't your thing? Try purple cabbage. As long as you have a nice variety of colors and textures, your bowl is sure to be SUPER! (Provided you top it with my basil-hemp sauce, of course :p)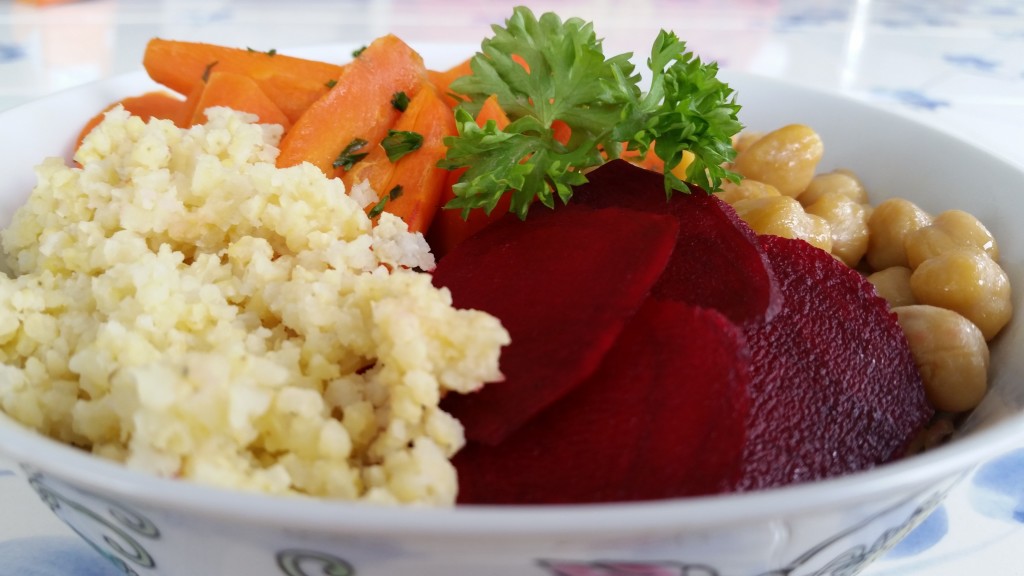 A couple notes about this recipe:
-You will need a very high-powered blender to make your basil-hemp sauce creamy. I used a Vitamix and I have not tried to make this sauce in a less powerful blender.
-The sauce recipe will make about 1/3 cup. If you don't use it all up on your bowl, it is amazing over any grain or veggie, folded into mashed potatoes, or even as a creamy component in a pasta dish. And, as I mentioned before, feel free to use it as a dip for chips, pretzels, carrot sticks, you name it!
-For low FODMAP, omit the garlic from the chickpeas and keep portion size to 1/4 cup chickpeas, 4 slices of beet, and no more than half of the basil-hemp sauce per sitting. Also note that the FODMAP content of umeboshi vinegar is unkown, since it has not yet been tested by Monash.
Superfood Bowl for the Super Bowl
Creamy Basil-Hemp Sauce
¼ cup hemp seeds
½ cup fresh basil leaves
¼ cup hot water
1 teaspoon umeboshi vinegar
1 tablespoon extra virgin olive oil
pinch of salt
Directions:
Combine all ingredients in a Vitamix or other high powered blender (see note) and blend until smooth and creamy.
Bowl Components:
Millet
Combine 1 cup of millet with 2¼ cups water and a pinch of salt. Bring to a boil, then cover and simmer for about 20 minutes, until millet is cooked through. Fluff with a fork.
Herb-Roasted Carrots
Preheat the oven to 375°F and line a sheet tray with parchment paper. Cut carrots into desired shape (I like the oblique or roll cut for roasting). Toss with your preferred oil (it should have a high-smoke point, since you'll be roasting), sprinkle with salt, and roast until tender, but still crunchy, about 20 minutes. (Timing will vary depending on how you choose to cut them, and how crunchy you like them.) Toss with finely chopped parsley.
Garlicky Chickpeas
Heat some olive oil in a skillet over medium heat and add in a bit of minced garlic (or none at all … they are also good just briefly sautéed in olive oil.) After about 30 seconds, add some cooked chickpeas (canned is fine) and toss around a bit until they start to change color slightly. Remove from heat and season.
Shaved Beet
Wash and peel a beet. (It's best to peel beets with a knife, not a peeler.) Cut off the ends. Next, use a vegetable peeler or mandolin to make very thin slices.
Creamy Basil-Hemp Sauce
See above.