Let me just say right off the bat that this is not a traditional coconut chutney recipe. For starters, instead of using fresh coconut that you then have to chop or grate before grinding to a paste, I use shredded, dried coconut softened in boiling water. There is also no tempering oil – I just add a little chili, cilantro, and lime juice and away we go!
The result? A surprisingly close approximation to the coconut chutney you might be used to eating. It can certainly be served immediately; however, if you want it to more closely resemble a chutney made with fresh coconut, let it sit in the fridge overnight. The chutney will absorb more liquid and the texture will be closer to fresh. Of course, if you go this route, you may need to add some extra lime juice the next morning as acid tends to mellow in the fridge. So, if this happens, just remember the words of Harry Nilsson.
Now, you may not want to DRINK this coconut chutney a la Nilsson, but you will want to dollop it on all manner of dishes. It is wonderful on Indian-spiced potatoes, dals (Indian lentil stews), or spicy vegetables. Try it on these buckwheat kati rolls, chickpea cakes, cauliflower steaks, or with this lovely mung bean salad.  And vegans – wherever you might crave raita, try this instead.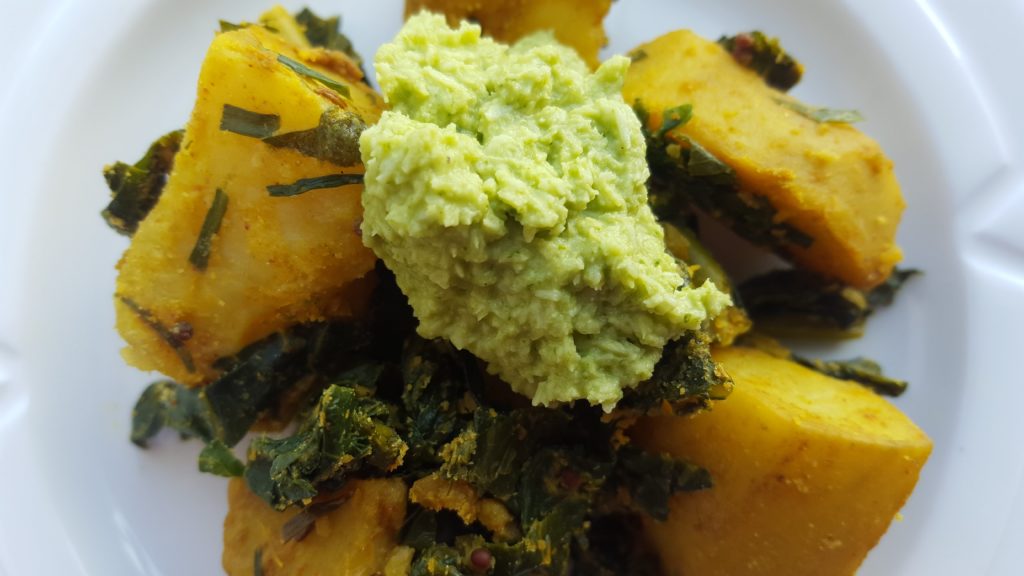 A couple notes about the recipe:
-This recipe makes 1 cup of coconut chutney
-For Low FODMAP, don't eat more than half of the entire yield (1/4 cup dried coconut) in one sitting
-Taste your serrano pepper to determine heat level and adjust proportion based on spice preference. If your pepper is too mild and you want a spicy chutney, leave some seeds in for heat.
Quick & Dirty Coconut Chutney
½ cup dried, shredded coconut
3/4 cup boiling water
1 serrano pepper, deseeded
½ cup (packed) cilantro, small stems okay
1 generous tablespoon freshly-squeezed lime juice
½ teaspoon celtic sea salt + an extra pinch
Black pepper, to taste
Directions:
Place the coconut in a bowl and pour the boiling water over the top. Let it stand for 10 minutes.
Turn the coconut and soaking water into a blender (I used the single-serve container of my ninja) and add the rest of the ingredients. Blend until chutney consistency is reached.