I could have called these Indian buckwheat crepes, Indian buckwheat tacos, or Indian burritos. Depending on how large, thick, or thin you make the buckwheat wrappers, and the way you choose to roll/fold them, they could be the base for all manner of delicious meals! But the filling screamed kati roll to me. And I loved the idea of a nutty, protein-packed buckwheat wrapper in place of the traditional paratha. So kati rolls they are.
For those of you who don't know what I'm talking about, a kati roll is comprised of some deliciously spiced filling (either meat-based or vegetarian) wrapped in a buttery Indian flatbread (the aforementioned paratha). Kati rolls are sometimes made with other types of flatbread – hence my justification for making buckwheat ones!  If you live in the New York area, I recommend checking out Desi Galli – they have some really yummy filling choices and make a very nice chickpea flour wrap.
So enough about other kati rolls, let's get to this one. Golden fried paneer, spicy chickpeas, and a bright carrot slaw that will knock your socks off all rolled up in a delicious nutty buckwheat wrapper. Highly recommended with my Mint Chutney or a nice raita. And if you don't feel like making a batter, you can always turn this into a bowl and serve the fillings over your favorite grain. You can also make the wrappers in advance and store them wrapped in foil in the fridge or the freezer – just reheat them in a lightly oiled cast iron pan like you would a tortilla. (They are arguably even better this way because the outside will crisp up slightly when you reheat them, but they'll still remain tender on the inside and flexible for rolling/folding.)
So what are you waiting for? Let's make some kati rolls!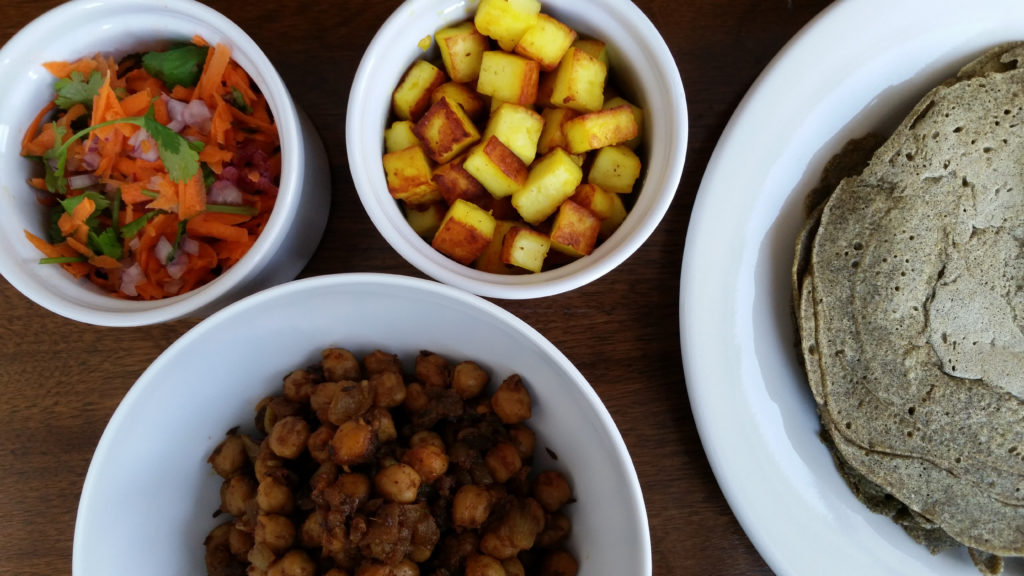 A couple notes about the recipe:
-The carrot slaw component of this recipe would also be great with my Indian Chickpea Cakes. I like it even better (it's tangier and brighter) than the Triple C Slaw recommended in that post.
-The chickpeas are on the spicy side. If that's not your thing, just omit or reduce the amount of cayenne pepper.
-If you are lucky enough to have leftover wrappers (you'll definitely eat all the filling, trust me!) they can be stored wrapped in foil in the fridge or freezer. As mentioned above, simply reheat them like you would a tortilla, in a lightly-oiled cast iron skillet. Grate some sharp cheddar cheese on top and let it melt, then fold the top of the crepe over and enjoy – you'll be in heaven!
Buckwheat Kati Rolls
For the wrappers:
1 cup buckwheat flour
2 tablespoons arrowroot starch
¼ teaspoon baking powder
½ teaspoon celtic sea salt
¼ teaspoon ground turmeric
pinch of cayenne pepper
1 tablespoon coconut aminos
1 egg
1 cup seltzer
Mix together the buckwheat flour, arrowroot, baking powder, salt, and spices. Make a well in the center, then add the egg, seltzer, and coconut aminos. Mix to combine.
Heat a cast iron skillet over medium heat. Brush the skillet with a thin layer of neutrally-flavored oil. (My pan has a 10.25 inch diameter and I used about 1 teaspoon of oil.)
Use a ¼ cup scoop to drop the batter into the pan and immediately tilt it (make sure you are using a pot holder/glove! The handle is hot!) to spread the batter around into a thin circle-like shape – you are going for a 6.5 inch diameter but it's okay if you don't get there. You can also use the back of the measuring cup to help spread the batter. Let cook until the top of the crepe is almost dry, then flip and cook about 15 seconds more until it is cooked through. Repeat until all the batter is gone.
Note: I find that it's easiest to spread the batter when the pan is not too hot (and cast iron pans tend to get super hot after the first couple of crepes) so I like to turn the pan off after one crepe is done and then turn it on again after I've spread the batter for the next crepe.
For the filling:
Spiced Chickpeas
2 tablespoons neutrally-flavored oil
1 onion
1 teaspoon cumin seeds
2 cloves garlic, minced
½ teaspoon minced ginger
1 teaspoon paprika
1 teaspoon coriander
½ teaspoon garam masala
¼ teaspoon cayenne
¼ teaspoon turmeric
½ teaspoon celtic sea salt
¼ cup water
1½  cups cooked chickpeas (one 15 oz can)
Heat the oil in a skillet over medium heat. Add the cumin seeds and fry until fragrant and spluttering; then add the onion. Cook, stirring every few minutes, for about ten minutes, until the onion is browned and nicely cooked. While the onion is cooking, mix the spices, salt, and water together in a small bowl and set aside.
When the onion is done, add the ginger and garlic and cook about 2 minutes more. Next, add the spice mixture to the pan and immediately lower the heat. Cook the spice mixture on low for about a minute, then add the chickpeas, raise the heat, and cook about 5 minutes more, stirring frequently, until the spices are cooked and the flavors are nicely melded.

Carrot Slaw
2 firmly packed cups grated carrot
¾ cup roughly chopped cilantro
2 tablespoons minced red onion
2 tablespoons freshly squeezed lime juice
¼ teaspoon celtic sea salt
Combine all ingredients.
Golden Fried Paneer
2 – 3 tablespoons neutrally-flavored oil
8 oz paneer, cut into ½ inch dice
sprinkle of ground turmeric
sprinkle of salt
Heat the oil in a stainless steel skillet and add the cubed paneer. Sprinkle with turmeric and salt. Let sit for a couple minutes so the underside browns; then use a spatula to toss them around for a couple minutes more, until crisp and golden. Remove from skillet.
To assemble:
Fill each buckwheat wrapper with some chickpeas (reheat if they've cooled), paneer, and carrot slaw. Roll up and enjoy! Serve with Mint Chutney and/or raita.