Thanksgiving in my family usually involves a lot of arguing. It's not the arguing you'd expect. Questions like Who's going to host? When's it going to be? and Who's coming? are not major issues. What can fuel heated debates, however, are questions like What's on the menu? Who's cooking? and When can I put my dish in the oven – yours has been in there forever!
This year, I (somewhat miraculously) managed to get complete menu control, in exchange for cooking and hosting. Since my brother is vegan and I'm still on a mostly Low FODMAP diet, holidays can be tricky, and we generally end up with a menu where everyone has multiple options, but nobody can eat everything. This year, however, I decided to create a menu that is entirely on both of our diets, and still screams Thanksgiving. I hope it gives you some ideas!
Thanksgiving Menu 2017 (Vegan & Low FODMAP)



Assortment of dips with crackers and crudite
Buckwheat crackers
Blue corn tortilla chips
Veggie spears

Roasted red pepper dip
Garlic oil, red pepper flakes, coriander, cumin

Walnut dip (similar to this one)
Walnut, hemp, hot paprika, thyme

Oyster mushroom dip
Mushroom, zucchini, carrot, chive, basil

Main Meal
Stuffed kabocha squash (recipe below)
Quinoa, walnuts, herbes de provence
Mashed potatoes with oyster mushroom gravy
Yukon golds, garlic oil, fresh thyme
Balsamic-roasted green beans
Dijon, balsamic, toasted pumpkin seeds
Brussels sprouts
Hot paprika, fresh dill
Coriander-pepper tofu
Chives, coriander, black pepper, tamari 
Veggie cakes
Millet, cabbage, lentil, middle eastern spices
Roasted carrots
Citrus, garlic oil, red pepper flakes
Herbed focaccia
Cranberry Sauce
Dessert
Chocolate pudding 
Pumpkin Pie
Pecan-coconut crust
Salty Oat Cookies (vegan version)
Berry Crisp
Crispy quinoa flakes, berries
And now, for the stuffed kabocha recipe, read on!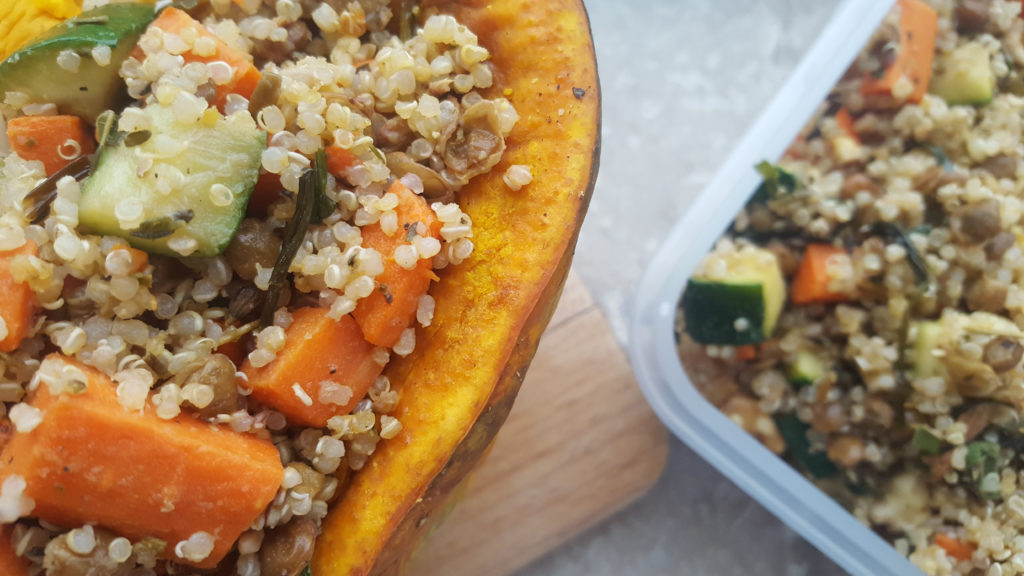 A couple notes about the recipe:
-You can definitely make the squash, stuffing, or both ahead of time and reheat when it's time to serve. The best way to do this is to heat the squash halves in the oven until hot – 25-30 minutes at 350 – and heat the stuffing separately, on the stove top. Then ladle the stuffing into the squash halves and enjoy. If you want an easier method, however, you can also ladle the cold stuffing into the cold squash and heat it together in the oven – you'll just have to heat it longer and be okay with some crispy bits in your stuffing (which could also be considered a plus, depending on your preference.) Finally, a third (compromise) option would be to heat the stuffing and squash in the oven but in separate dishes – this will allow the squash to heat more evenly.
-This stuffing recipe makes enough for stuffing 1 large kabocha squash with ample room for overflow.
-My herbs de Provence contains savory. If yours doesn't, you'll want to add in some dried or fresh sage!
-For low FODMAP, don't exceed half of the stuffing's total yield in one sitting (this would be pretty difficult to do anyway).
Stuffed Kabocha Squash
1 kabocha squash, cut in half and seeds and pulp removed
Coconut oil, for baking squash
3 tablespoons olive oil
⅔ cup chopped chives
1 ½ cups diced carrots (2 large carrots)
1 ½ cups diced zucchini (2 small zucchini)
1 teaspoon dried thyme
2 teaspoons dried herbs de provence
1 cup cooked lentils (canned for low fodmap)
2 cups cooked quinoa
½ teaspoon celtic sea salt, plus a sprinkle here and there
Freshly ground black pepper, to taste
¼ cup chopped walnuts
Directions:
Preheat the oven to 375°F and line a sheet tray with parchment paper. Place the kabocha halves on the sheet try (cut the bottom off if they won't stand flat) and spread with coconut oil. Sprinkle with salt and pepper. Bake until cooked through, about 40 minutes.
Heat the olive oil in a skillet over medium heat. Add the chives and cook for 1-2 minutes. Then add the carrots, thyme, a sprinkle of salt, and 1 teaspoon of the herbes du provence. Cook until the carrots are tender but not cooked through, about 3 minutes. Then add the zucchini and stir to coat in the herbs. Cook about 3 minutes more, until the zucchini is nearly cooked through. Add the lentils, quinoa, reserved teaspoon of herbes de provence, salt, and black pepper. Cook for a minute or two until everything is well-distributed; then add the walnuts and cook about 2 minutes more.
Ladle the stuffing into the squash halves. Enjoy!