Since the weather isn't doing its part to get us into the fall spirit, I decided to do mine. Despite the unseasonable warmth, winter squash is starting to pop up at the Greenmarket, and I've been eating my weight in kabocha (aka Japanese pumpkin). Kabocha has a wonderfully starchy texture and sweet, buttery-nutty flavor that lends itself to all manner of dishes, and it happens to contain zero FODMAPs! That means that, unlike with other winter squashes, those of us on the Low FODMAP diet don't have to measure out portions.
This recipe is a fabulous way to start transitioning into autumn, embracing the sweet abundance that is coming our way. I wish I had posted it in time for Rosh Hashanah, when it is traditional to eat sweet foods for a sweet new year. (I'm a couple days late on that, but hey, it's still the beginning of the new year!) Anyway, whatever your diet or religion, I'm sure you'll enjoy this lovely side dish/small plate. If you're not a fan of kabocha (or its price tag), this fabulous vegan walnut sauce would be great on all manner of roasted veggies – especially the sweeter ones like carrot, sweet potato, and other winter squashes.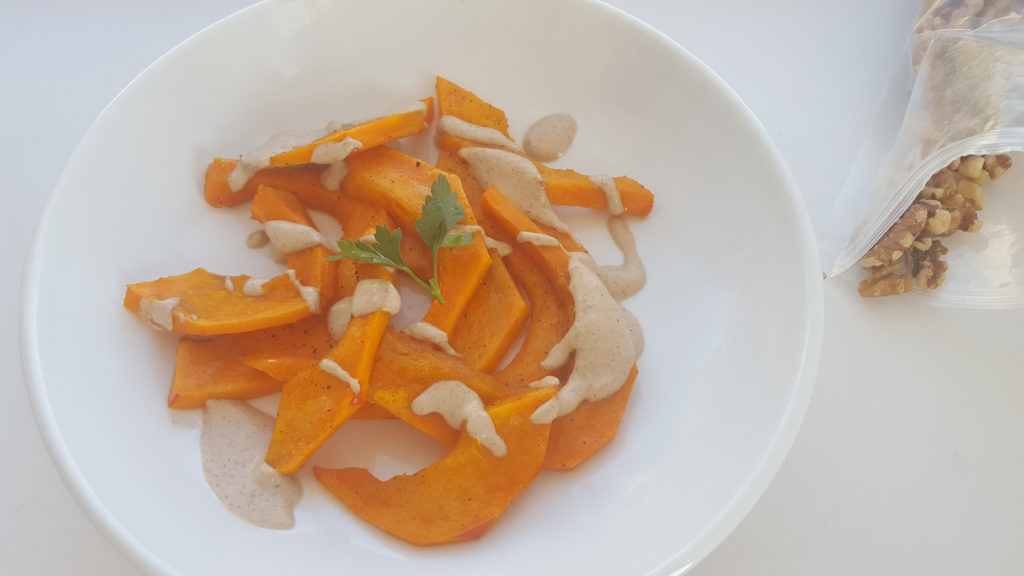 A couple notes about the recipe:
-I didn't specify a quantity of kabocha, since you can make as little or as much as you want. The walnut sauce recipe will yield 2/3 cups, plenty for drizzling.
-Kabocha can be very starchy, which can be off-putting to some texture purists. If that's you, I recommend roasting a different veggie or squash – just note that you may need to adjust the roasting time. Whatever you do, make the walnut sauce!
-Attention seaweed phobes: you will NOT taste the seaweed in this sauce – it just gives it a salty, savory, depth of flavor. Promise!
Roasted Kabocha Squash with Walnut Sauce
Squash
Desired amount of kabocha squash
Olive oil, salt, and pepper, for roasting
Directions:
Preheat the oven to 400°F and line a sheet tray with parchment paper. To break down your squash, cut it in half lengthwise and scoop out the seeds. Then, cut each half vertically so you have four quarters. Stand each quarter up and slice into 1/4 inch thick horseshoes, rainbows, or whatever you'd like to call those pretty wedges! If you wish to remove the peel (it's completely edible, but I removed mine for optimal digestion), simply stack a few horseshoes at a time and cut around the edges.
Arrange in a single layer on the prepared sheet tray. Brush with plenty of olive oil, sprinkle generously with salt and pepper, and roast until tender, about 20 minutes. Serve with walnut sauce, below.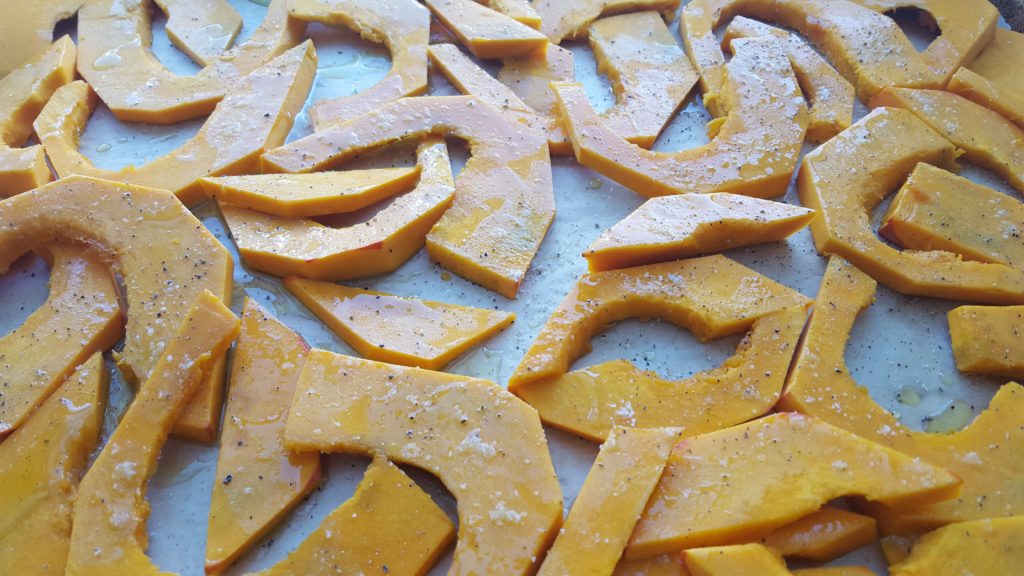 Walnut Sauce
1/3 cup walnuts
1 tablespoon hemp seeds
2 2×3 sheets roasted nori (I used SeaSnax)
¼ teaspoon dried thyme
¼ teaspoon paprika
A generous ¼ teaspoon celtic sea salt
freshly ground black pepper
1/3 cup hot water
2 tablespoons olive oil
1 teaspoon white wine vinegar
Place all ingredients in a high-powered blender and blend until smooth. Drizzle over your roasted kabocha!