Purim is around the corner which means it's hamantaschen time! Last Purim, I created a 15-minute hamantaschen recipe that happens to be raw, vegan, grain-free, and sugar-free (sweetened with dates), so be sure to check out that recipe if you haven't yet.  It's super easy and really delicious!
This year, I decided to focus on fillings, because I feel like there is just so much wasted potential there. I mean, donut fillings have gone way beyond your standard cream or chocolate at this point (dulce de leche, passion fruit….there are a ton of donut shops in NYC that really understand the opportunity that comes with the word "filling"). But hamantaschen? Every year,  I walk past bakeries and see hamantaschen filled with your typical jam and poppy seed. It's  nothing to complain about of course — those fillings are traditional and delicious — but can we get some creative ones too? Let's enter the world of "artisan" hamantaschen fillings already!
I've attempted to do that here, with three fillings that would probably be on the docket if your favorite hipster joint started selling hamantaschen. (Disclaimer: I don't consider myself a hipster, so I could be wrong about this.) They are Mexican-Chocolate Chestnut, Salted-Maple Peanut,  and Poppy-Seed Cream Cheese (the least hipster and most Jewish of the lot). They are all low FODMAP as long as you don't overdo it; the Mexican Chocolate-Chestnut is vegan, and the Poppy-Seed Cream Cheese is nut-free. Last year's 3-ingredient chocolate filling (vegan and raw) is also worth revisiting if FODMAPs aren't a concern.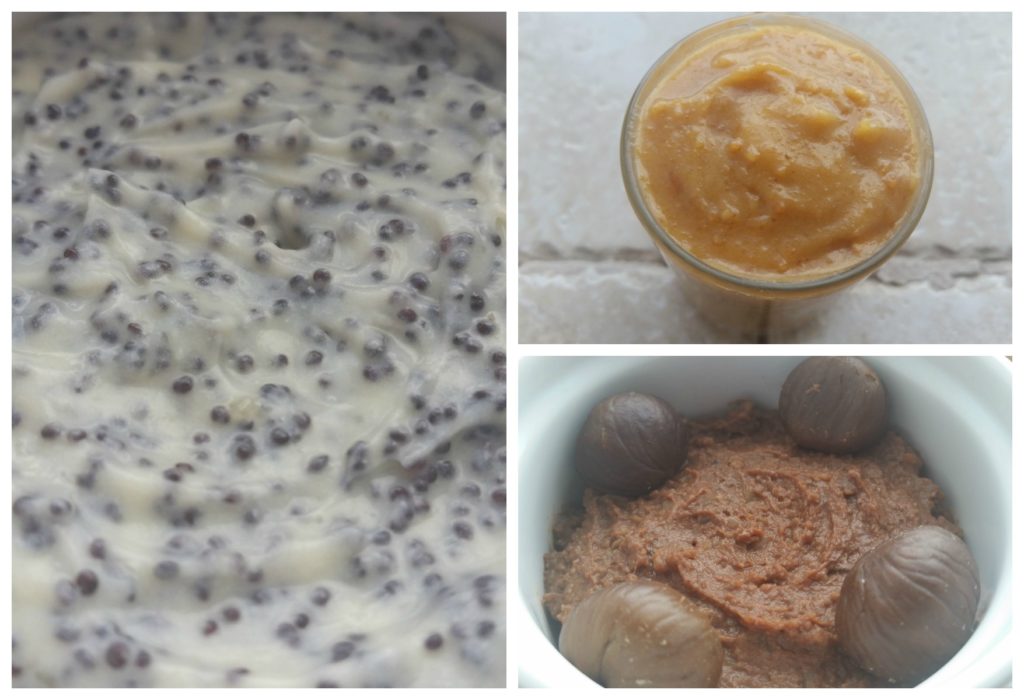 A couple notes about the recipes:

-I wanted to use fresh chestnuts for this filling but I couldn't find them because it's well past Christmas. Instead, I used whole, peeled steamed chestnuts for the Mexican-chocolate chestnut filling. These are lower in FODMAPs than whole, peeled roasted chestnuts. The ones I used (pictured below) also have a much more chestnuty flavor than the bags of whole roasted-and-peeled chestnuts I've been able to find, which makes the filling that much more delicious. That said, this recipe will also work with whole roasted chestnuts; just try to get a brand that tastes chestnuty!
-All of these fillings are designed to be added after your hamantaschen have baked and cooled slightly. I did try adding the poppy-seed filling before baking, and it does taste pretty darn good that way. However, it definitely will not stay in its pocket; it will spread all over your cookie.
Hipster Hamantaschen Fillings
Salted Maple Peanut 
Yield: 1/4 cup
¼ cup freshly ground peanut butter (just peanuts)
2 tablespoons lactose-free sour cream
1 tablespoon + 1 teaspoon maple syrup
1-2 pinches good quality sea salt, to taste
Directions: Mix the sour cream into the peanut butter to lighten it. Stir in the maple syrup; then add the salt. Spoon into baked hamantaschen.
Mexican-Chocolate Chestnut (Vegan)
Yield: 1/2 cup
3.5 ounces whole, peeled steamed chestnuts (I used ½ of the package pictured below)
¼ cup + 1 tablespoon full-fat coconut milk
1 tablespoon raw cacao powder
2 tablespoons sugar
¼ teaspoon cinnamon
pinch or two of cayenne, to taste
Directions: Place all ingredients in a blender and blend just until incorporated. (The mixture will look fairly smooth, but blending just until incorporated will leave some delicious tiny chunks of chestnut throughout that won't appear until you eat a spoonful.) Spoon into baked hamantaschen.
Poppy-Seed Cream Cheese (Nut-Free)
Yield: 1/2 cup
¼ cup poppy seeds
3 tablespoons + 2 teaspoons sugar
½ cup water
2 tablespoons unsalted butter
1/2 cup lactose-free cream cheese
1/4 teaspoon vanilla extract
Directions: Place the poppy seeds, 3 tablespoons of the sugar, water, and butter in a saucepan and bring to a boil over medium heat. Continue to boil, stirring frequently and keeping a very close eye on the mixture, until it has reduced to about 1/3 cup and the mixture has a syrupy consistency. If you are using a small saucepan, this should take 8-10 minutes once the butter has melted. If you are using a larger saucepan, this should take about 5-7 minutes once the butter has melted. Let cool (about 20 min), then stir in the cream cheese, vanilla, and remaining two teaspoons of sugar. Spoon into baked hamantaschen. (See note if you want to try baking this one.)