Waking up Saturday to the insane blizzard outside, I had one thing on my mind: pancakes. Snow days just scream for them! Unfortunately, my trusty cast iron pan (the absolute BEST type of pan to make pancakes in, IMO) had been out of commission for quite some time. It had started to flake, and was in desperate need of reseasoning, a task I of course put on the "To Do This Weekend" list almost every single weekend for a good year but never actually did.
The howling wind and relentless snow outside, however, gave me a new sense of purpose – THIS was the day. After all, pancakes awaited!  I am always a bit obsessive about any task I don't yet have down to a science (reseasoning cast iron included) so after an hour of internet research that yielded a LOT of contradictory information about oven temp, oil type, face up or face down in the oven, time, etc., I finally just decided – for my own sanity – to follow The Kitchn's instructions. Unfortunately, I ended up with a sticky cast iron pan – there were tar-like patches (probably from oil drippings) all over its surface! Luckily, after another 30 minutes of research, I found this extremely entertaining (and highly effective) Youtube video, which I more or less followed – minus the beer and cigarettes portion (you'll understand if you ever happen to have a sticky cast iron issue and decide to watch the video).
Anyway, I hope that was helpful for anyone "in a similar situation," as Arlo Guthrie would say. The long and short of it is … I finally ended up with a beautiful, non-flaky, non-sticky cast iron pan and a wonderful batch of blueberry-blue corn pancakes! They were perfect for a snowy morning (well…early afternoon at that point) and a lovely way to celebrate the resurgence of my cast iron pan.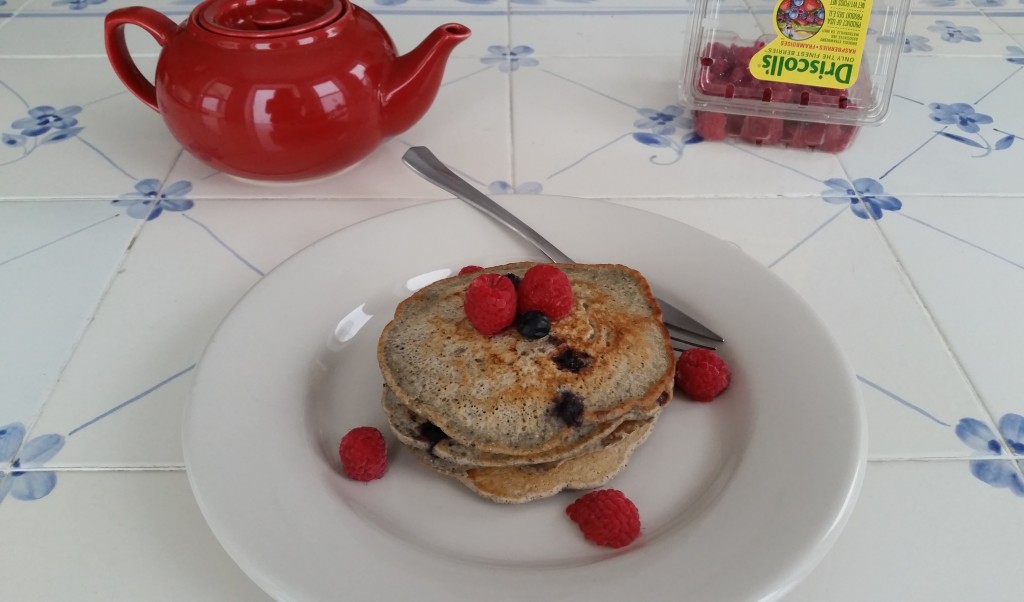 I used a mix of blue cornmeal and oat flour to make these bad boys. Like most of the pancakes I make, I kept these fairly unsweetened – just a tablespoon of sugar and some blueberries – so that I could pour on maple syrup without restraint. They have a nice bit of chew to them, and fall somewhat in the middle on the fluffy v. dense spectrum. (If you want something lighter and fluffier, check out my Light n' Fluffy Berry Pancakes; that post also happens to be my first one ever, so excuse the pictures, please!)
A couple notes about the recipe:
-While I normally use unrefined sugar in my recipes, this one actually calls for cane sugar, for the simple reason that I found it in my freezer and decided to use it. You can feel free to sub with your preferred sweetener.
-These pancakes  are dairy-free as is, and can be made nut-free by replacing the almond milk with your choice of non-dairy milk.
-If you use a ⅓ cup measure to scoop your batter, you should end up with about 6 pancakes.
-Surprisingly, these pancakes do not contain a fat component – some fat (usually oil or melted butter) is almost always added to pancake batters. I was in such a rush to eat these pancakes, however, that I completely forgot to put in my standard 2 tablespoons of oil, and to my surprise, they were perfectly pancakey without it!
-For low FODMAP, stick to 2 pancakes per sitting to avoid eating large amounts of oat flour.
Blueberry-Blue Corn Pancakes
1 cup gluten-free oat flour
½ cup blue cornmeal
½ teaspoon baking powder
1 tablespoon sugar
1 egg
1 cup unsweetened almond milk (replace with any non-dairy milk for nut-free)
½ cup blueberries (fresh or frozen should work – I used fresh ones that I had frozen)
Grapeseed oil (or fat of your choice) for frying
Directions:
Combine the flours, baking powder, and sugar in a medium bowl. Beat in the egg and almond milk and mix until fully incorporated. Stir in the blueberries.
Heat a cast iron pan and brush with grapeseed oil, or fat of your choice. Use a ⅓ cup measure to scoop the batter onto the pan. Flip when small bubbles start to appear on the surface of the pancake and cook 1-2 min more depending on how hot your pan is. Repeat the scoop and flip process until all the batter is gone, adding more oil and adjusting the heat as needed.
Enjoy!