There is nothing quite as appealing as making pancakes on a Saturday morning, except of course, eating them. I actually wasn't a huge pancake fan before going gluten-free, but now I crave them almost every weekend. One thing I absolutely love about pancakes is their versatility. And I'm not just talking about flavor combos and mix-ins. I'm talking about what I like to call pancake styles. Whether you like your pancakes dense and hearty, light and fluffy, or moist and cakey, I have a pancake recipe for you. And eventually, they'll all be on this blog. But for now, I hope you're in the mood for light and fluffy, because these babies are just begging to be whipped up and munched on.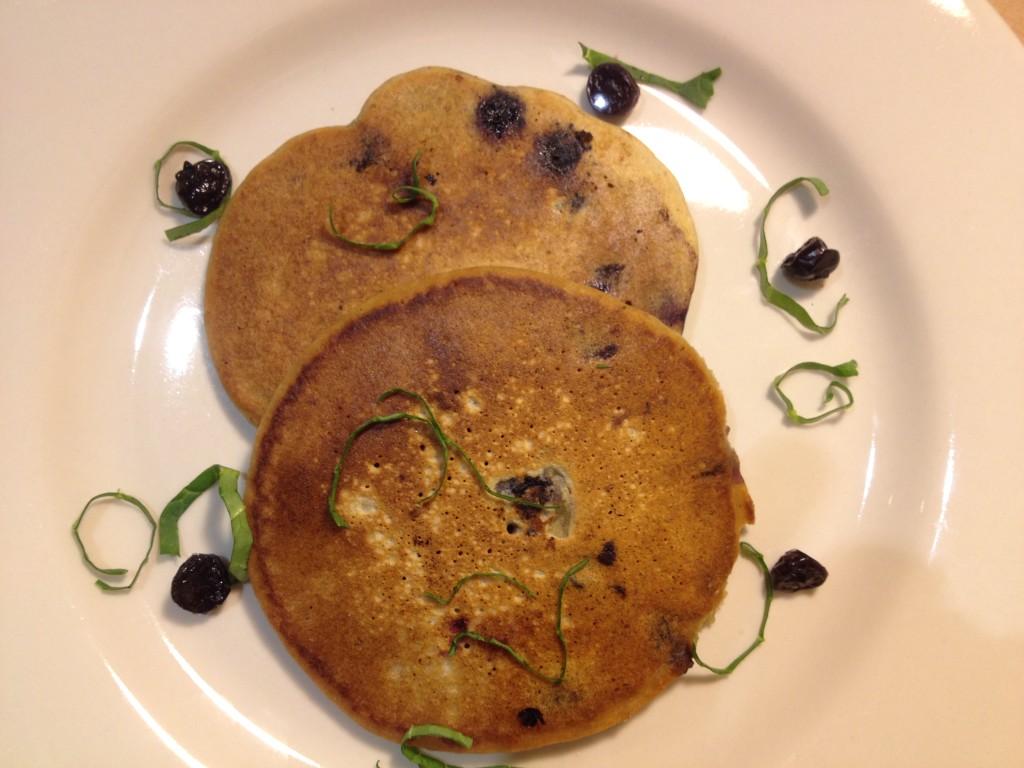 They are super quick to prepare and mimic the taste and texture of regular (gluten-laden) pancakes really well. (None of that tell-tale gummy texture you find in so many of those gluten-free pancake mixes – eww.) In addition to being gluten-free, these are also dairy-free. If you want them nut-free, simply pick your non-dairy milk of choice and use it in place of the almond milk.
A couple notes about the recipe:
-I don't like to make my pancake batter very sweet, because, um … maple syrup!! Helloooo. In my opinion, these pancakes are the perfect sweetness with a generous drizzle of maple syrup. But I do normally make them with sweetened almond milk. If your almond milk (or milk of choice) is unsweetened, or if you prefer your pancake batter sweeter, you might want to add a squirt of agave or a drop of maple syrup to the wet ingredients.
-If you use a 1/4 cup measure to scoop your batter, you should end up with about 12 pancakes. But feel free to ladle the batter however you wish if you prefer larger or smaller pancakes. There are days when I feel like eating nice, cute, round modestly-sized pancakes and there are days when biting down on something COLOSSAL, even if it might not be cute or elegant, is more my style.
Light N' Fluffy Berry Pancakes
Ingredients:
1 cup gluten-free oat flour
1 cup sorghum flour
1 tablespoon flax meal
1/8 cup coconut sugar
1 teaspoon gluten-free baking powder
pinch of salt
2 large eggs
1 ¼ cups almond milk (or sub a nut-free milk of your choice)
1 teaspoon vanilla
2 tablespoons vegetable oil (I like grapeseed or melted coconut)
¾ cup frozen berries (I used blueberries)
Directions:
Combine the flours, flax meal, sugar, baking powder, and salt in a large bowl.
In a separate bowl, whisk the eggs with the milk, vanilla, and oil
Pour the egg mixture into the dry ingredients and mix until well combined. Stir in the frozen berries.
Heat a cast iron skillet and brush with coconut oil. Use a ¼ cup measure to scoop the batter onto the skillet. (If the pancake starts spreading a lot when you scoop it onto the skillet instead of forming a nice round pancake-shaped blob as shown in the photo, it means your skillet is not yet hot enough.) Flip when small bubbles start to appear on the surface of the pancake and cook 1-2 min more depending on how hot your skillet is. Repeat the scoop and flip process until all the batter is gone, adding more oil and adjusting the heat as needed.
Garnish with fresh mint and blueberries (or whatever your heart desires) and a generous drizzle of maple syrup. Pour yourself a nice hot cup of coffee or tea. Enjoy your delicious breakfast!