What if it were acceptable to eat pumpkin pie filling for breakfast? Would you? Even in summer? I might. Because this 5-spice + turmeric carrot pudding tastes like a breakfasty twist on pumpkin pie – in pudding form of course. The spices are subtle yet warming – the perfect start to your day – and the color is vibrant. And, as an added bonus, the fresh turmeric root provides a nice anti-inflammatory boost!
While this 5-spice + turmeric carrot breakfast pudding screams autumn, I find myself craving warming breakfasts like this year round. Would you expect anything less of a winter ice-cream eater? Anyway, if you're not much for warming breakfasts in summer, this pudding is also fantastic cold. (In fact, if you chill it, it will taste even more like pumpkin pie filling.) I, however, actually prefer it warm,  with a splash of almond milk, a sprinkle of raisins, and some toasted coconut. The notes of molasses in the jaggery sugar compliment the cloves and pepper in the 5-spice perfectly, and the raisins add a nice bite.
So…breakfast pudding, anyone?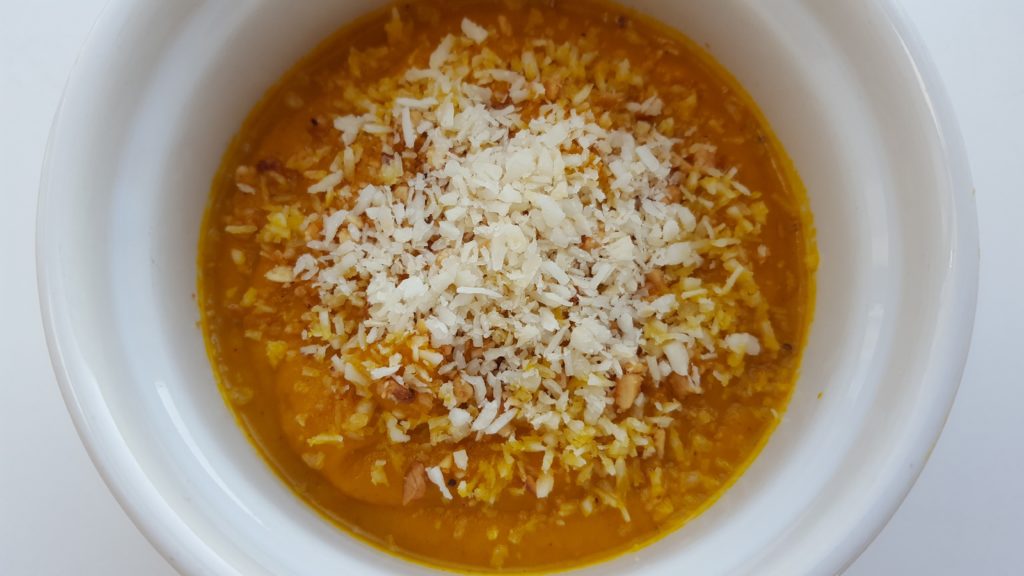 A couple notes about the recipe:
-This recipe serves 2
-If you don't have jaggery sugar on hand, you can use dark brown. However, jaggery sugar has a more complex flavor!
5-Spice + Turmeric Carrot Breakfast Pudding
1 pound carrots, peeled and chopped into chunks
½ cup full-fat coconut milk
1 teaspoon chopped fresh turmeric root
¼ teaspooon ground ginger
¼ teaspoon 5-spice powder
¼ teaspoon cinnamon
2 tablespoons jaggery sugar
pinch of salt
Optional toppings: toasted coconut, raisins, splash of almond milk, chopped nuts
Directions:
Place the carrots in a saucepan and add water until the carrots are just covered. Bring to a boil, then lower the heat to medium and boil gently until the carrots are tender, about 8-10 minutes. Drain, reserving ½ cup of the carrot water.
Combine the carrots and reserved water with the remaining ingredients (minus the toppings) in a Vitamix or other high-powered blender. Blend until smooth.
Ladle into ramekins and serve warm, with desired toppings, or chill until cold.