It started with a gigantic zucchini, surreptitiously hidden amongst many ordinary-sized zucchinis in my mother's garden. Once it emerged, we were left wondering how something so enormous could successfully remain in hiding for so long. Was something supernatural at play? Not wanting to take any chances, my mother not-so-surreptitiously unloaded the mysterious monster onto me, where it not so much sat as embodied all of the remaining space in my fridge with its girth.
When life – or family, in this case – hands you a gigantic zucchini suspected of  having supernatural powers, breaking it down becomes somewhat of an urgent matter. So I made zucchini bread. And it was awesome. Enjoyed warm, right out of the oven, it was even supernaturally-awesome. Airy, delicately spiced, buttery….so it was true! There was loveliness inside even the scariest monsters.
Once refrigerated, the bread took on a denser, cakier texture and it occurred to me that it might function as a delicious layer cake. (I happen to like my cakes on the denser side, provided there is some light and fluffy frosting accompanying the layers!) So, enter this zucchini-spice cake, which is composed of two zucchini bread layers separated and surrounded by a vanilla-nutmeg cream cheese frosting that you won't be able to stop eating. If you can, I'd be worried that this recipe unknowingly transmitted some supernatural  zucchini powers to you, dear eater! And what a pickle we'd be in then.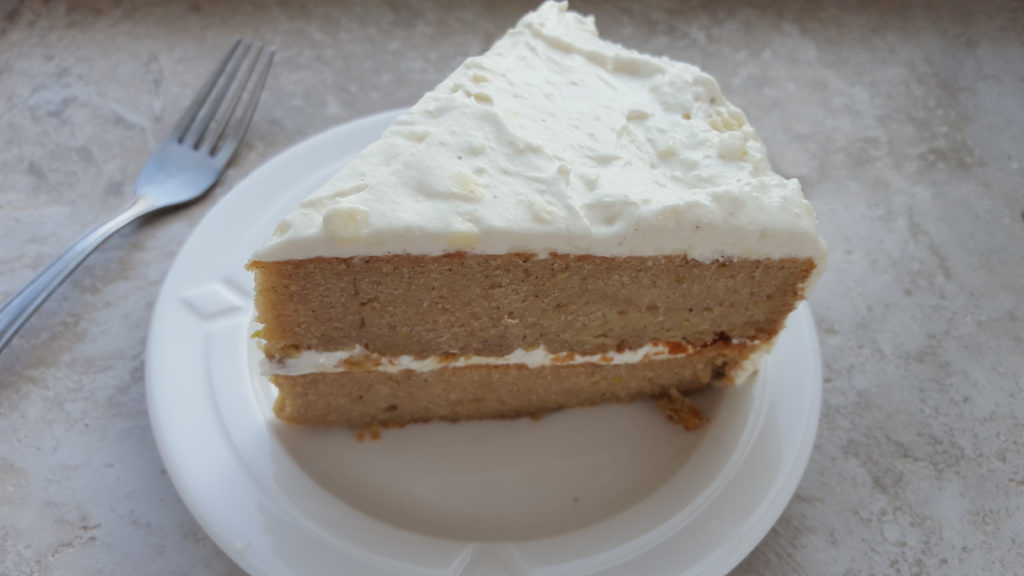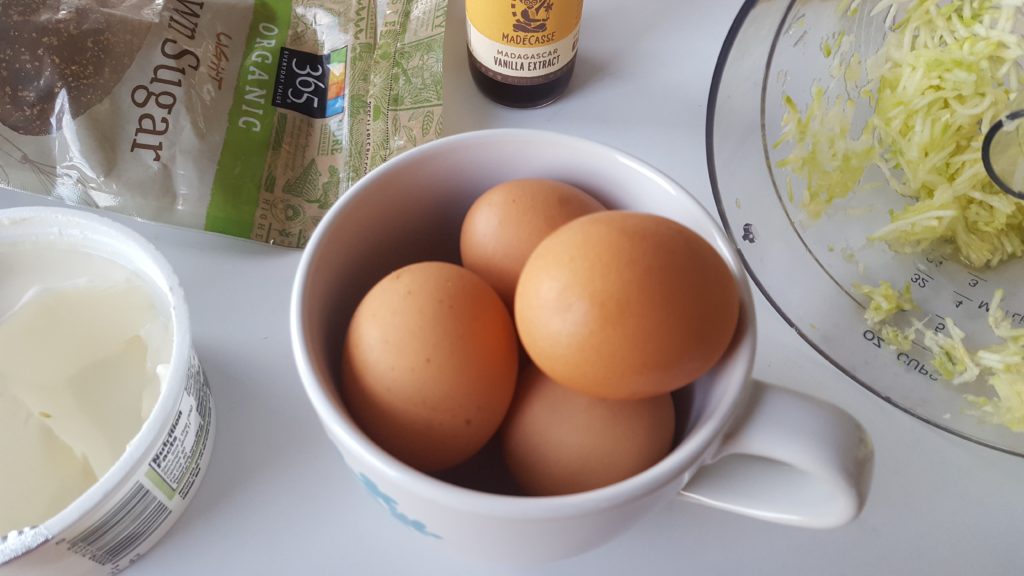 By the way, if you don't feel like futzing with the layers and frosting, you can also use this recipe to just make a great zucchini bread. I'd still recommend baking it in the 8½ inch round cake pans, but then just enjoy it warm from the oven – it is delectable that way! (On that note, if you are making the layer cake, definitely steal a few crumbs when the cakes come out of the oven.)
A couple notes about the recipe:
-Almond flour varies greatly across brands. Bob's Red Mill almond flour, especially, is much coarser than other almond flours. I use Honeyville almond flour in all my recipes, because I can order it fairly cheaply in bulk. Please feel free to try this with other brands of almond flour (since it's such a small amount, it will probably work) but keep in mind that I've only tested it with the Honeyville brand.
-Don't worry if the layers break when you invert them onto the plate. You can patch them together with frosting and nobody will know!
-This recipe is Low-FODMAP if you keep it to one slice or so. Otherwise, you might exceed the recommended quantity of almonds.
Zucchini Spice Cake with Vanilla-Nutmeg Frosting
Dry Ingredients:
1 cup sorghum flour
½ cup gluten-free oat flour
¼ cup blanched almond flour
¼ cup millet flour
¼ cup arrowroot starch
1 teaspoon flax meal
1 teaspoon cinnamon
¼ teaspoon nutmeg
2 teaspoons baking powder
Wet Ingredients:
1 stick butter, melted
½ cup white sugar
¾ cup very firmly packed brown sugar
½ cup lactose-free sour cream
1 tablespoon vanilla extract
4 large eggs
2 cups peeled and finely shredded zucchini (I used the grater attachment in my food processor)
Frosting:
1 stick salted butter
8 ounces lactose-free cream cheese
½ cup confectioners sugar
1 tablespoon vanilla extract
A few pinches of nutmeg, to taste
Directions:
1. Make the cakes
Preheat the oven to 350°F and generously butter and flour (any gluten-free flour should work) two 8 ½ inch round cake pans.
Combine the dry ingredients in a medium bowl.
In a medium saucepan, melt the butter. Remove from heat, stir in the sugars, and use a fork to beat in the eggs, vanilla, and sour cream. Stir in the zucchini.
Pour the dry ingredients into the wet and evenly distribute between the two prepared cake pans.
Bake for about 40 minutes, until the tops are completely browned and a knife inserted in the center of each cake comes out virtually clean. Let cool in the pans for 5-10 minutes, then cut around the edge of the cakes with a sharp knife, and invert onto plates to bring to room temperature. Cover with plastic wrap and refrigerate for several hours or overnight.  (This will ensure that the frosting won't melt and also make the layers sturdier.)
2. Make the frosting
In the bowl of an electric mixer, beat together the cream cheese and butter. Add the confectioner sugar and beat until fluffy. Then beat in the vanilla and nutmeg.
3. Assemble the cake
Place one of the cakes on a cake stand and use an offset spatula to spread frosting all over the top of the cake. If either of your layers are broken, now is the time to patch them together with frosting! Place the second layer on top of the first and frost its top as well. Then use your offset spatula to carefully frost around the sides of the cake. To cover the cake without messing up the frosting, stick toothpicks over the top and place the plastic wrap over the toothpicks. Store in the fridge.