There is something so incredibly nourishing about a nice, warm, hearty bowl of soup. And the aroma that fills the kitchen while it's gently simmering on the stove is second to none. In fact, this particular soup smelled so good that I was reminded of the children's story The Tale of Despereaux, which is set in a kingdom that holds soup in such high esteem that they have a holiday devoted to it every year! (That is, until a visiting rat is so entranced by the aroma of the Queen's soup that he accidentally falls into her bowl, causing her to die of shock, which in turn causes soup to be outlawed in the kingdom!) Horrible, right? And what's with rats being foodies in children's stories, btw? (I recently rewatched Ratatouille.)
Anyway, I'm not going to ruin the book for you, but suffice it to say that the kingdom had it right: soup is so good that we really should have a holiday devoted to it. And if it were ever outlawed, I would totally join in on the illegal soup making that happens in The Tale of Despereaux. (Yes, there is illegal soup making … because soup is just that good!)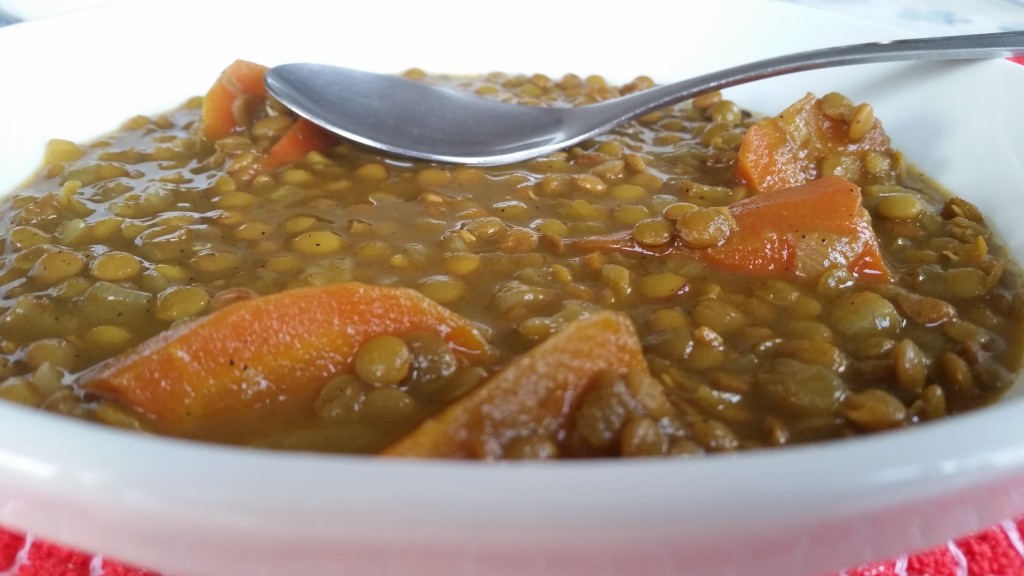 This particular soup has everything you need to protect you from cold, January days and keep your spirits soaring. Anti-inflammatory turmeric and ginger root are sautéed in coconut oil and joined by lentils, carrots, and garam masala. Everything gets simmered in plenty of vegetable broth, and the result is a lightly spiced bowl of hearty goodness that will keep you coming back for more.
A couple notes about the recipe:
-As always, use a good quality vegetable broth. I confess that I usually don't make my own (one of these days I'll work this into my routine!) but I recommend the brands Imagine and Pacific. You may also need to adjust the salt content, depending on the salt level of your vegetable broth.
-It can take a while for the lentils to cook, so make sure to cut your carrots into largish chunks – they'll be simmering for quite a while, and you don't want them to overcook!
Warming Spiced Lentil Soup
2 tablespoons coconut oil
1 onion, diced
2 teaspoons minced fresh ginger
2 teaspoons minced fresh turmeric
1 teaspoon garam masala
¼ teaspoon ground cumin
¼ teaspoon ground coriander
1-2 large carrots, cut into medium-large chunks
1 cup dried green lentils
4 cups vegetable broth
½ cup water
¼ -½ teaspoon celtic sea salt (depends on the saltiness of your vegetable broth and your personal taste!)
Directions:
Heat the oil in a large stockpot. Add the onion, and cook for about 5 minutes, stirring occasionally, until soft and translucent. Add the ginger and turmeric and cook about 3 minutes more. Add the spices and let bloom for 1 minute – then add the carrots and stir to coat well. Once the carrots are hot in temperature, add the lentils, vegetable broth, water, and salt. Bring to a boil, then reduce heat, cover, and keep at a generous simmer until the lentils are cooked through, about 40 minutes. Taste and season with additional salt, if desired.