One thing that really irritates me about places that specialize in vegan fare – especially the fancier places – is a seeming lack of attention to basic culinary principles like flavor and creativity. Often, the fact that the dish is "vegan" or "healthy" or contains a trendy ingredient (kale, quinoa, etc.) seems to be its sole reason for appearing on the menu and being served (at a ridiculous price point) to customers. I don't know – maybe I'm just not visiting the right places. But I'm always left confused as to why these lackluster dishes are being served to paying customers, and saddened that the potential to put out something exceptional was missed.
Because, don't get me wrong: there is absolutely nothing wrong with the concept of a vegan bowl, and there's a reason why it's trending: the potential for an exceptional creation is very much there. More than any other dish, a bowl provides the opportunity to put together components that are delicious on their own and use these parts to create a veritable symphony of flavors, textures, and colors. Plus, you get to add a sauce!
Take this vegan winter bowl, for example. We've got a flavorful, sweet & salty sesame cabbage, some deep & meaty oyster mushrooms, and a splash of bright quick-pickled daikon all tossed together with quinoa and a creamy garlic sauce that will leave you scraping the blender to get every last drop! So why are so many places missing the boat? I'm not sure. But when it comes to bowls, I prefer to make them myself and I recommend that you do too!
Bonus: You can make any or all of the components ahead of time and make your bowl when you are ready to enjoy, or you can even assemble the bowls within tupperware containers for ready-made, transportable lunches.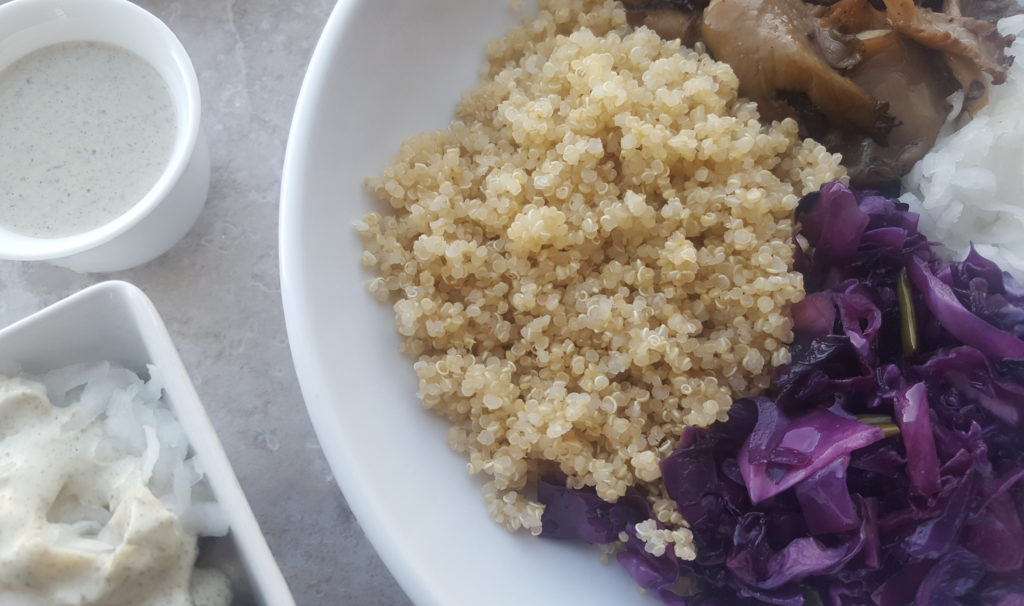 A couple notes about the recipe:
–Shortcuts and Swaps: This bowl is quite customizable. I chose oyster mushrooms because they are Low FODMAP but you can swap them out with another equally-meaty mushroom, if you prefer. I've also made this using pieces of crispy-skinned baked potatoes in place of the mushrooms, with great results. If you are short on time or don't feel like pickling your daikon, just slice it thinly and leave it unpickled. It will still add some lovely crunch and flavor to your bowl. Finally, any grain will work here so feel free to sub out the quinoa with a grain of your choice. Regarding the sauce, if you don't have garlic-infused olive oil on hand, try using  regular olive oil and add some raw or roasted garlic, depending on your preference. (Note: Not an option for Low FODMAP.) If you don't have coconut aminos, I strongly recommended investing in some – they are a wonderful asset to your pantry. Your best bet for a substitute, however, would probably be to add water and a sweetener to some gluten-free tamari.
–Temperature: The sauce is delicious warm (right after it is made), room temperature, or cold. I have a slight preference for room temperature. It's quite stable and will keep well in the fridge without separating or breaking; you won't even need to stir it! If you make your components ahead of time, you can enjoy a very lovely room temperature bowl; however, if you want something exceptional, I recommend enjoying this warm (heat the quinoa, cabbage, and mushrooms -just don't heat the daikon or sauce!)
–Servings: I've indicated the yield for each component below. You should have enough of everything to make three good-sized bowls.
–Brands: I'm not getting compensated by any of the brands listed, but wanted to share the ones I use since flavor always varies slightly across brands. Obviously, feel free to use whatever you have on hand (and see my notes for swaps above). That said, I love to talk shop about ingredients and I'd feel neglectful if I didn't include the brands I choose for this recipe and others. (Most importantly, I absolutely ADORE my garlic-infused olive oil. It's much garlickier than most of the others I've tried, plus it's Organic and Extra-virgin. Highly recommend it as a pantry staple!)
Royal Hawaiian Sea Salt Roasted Macadamia Nuts
Vegan Winter Bowl with Creamy Garlic Sauce
TO MAKE THE QUINOA (Yield: 3 cups)
If you'd like to soak your quinoa (for optimal digestion), follow the directions below. Otherwise, prepare it as directed here or use 3 cups of cooked quinoa that you have on hand.
1 cup quinoa
2 capfuls apple cider vinegar
Water (for soaking)
Boiling water (for cooking)
A couple pinches of salt
Directions: Place the quinoa in a container with a lid. Cover with water by a couple inches and add the two capfuls of vinegar. Place the lid on the container and let it sit out for about 6 hours, or overnight. Rinse the quinoa very well in a fine mesh strainer, until there are no soapy bubbles.
Place the rinsed quinoa in a saucepan, cover with boiling water until the water rises to between 1/4 and 1/2 inch above the quinoa, and add the salt. Return to a boil, and then cover and simmer for 10-12 minutes until the water is absorbed and the quinoa is cooked. If making ahead, spread out on a sheet tray to cool before storing in an airtight container.
TO MAKE THE CABBAGE (Yield: 2 ¼ cups)
3 tablespoons toasted sesame oil
6 cups shredded purple cabbage (about ½ of a medium purple cabbage)
½ teaspoon celtic sea salt
¼ cup chopped scallion (green part only)
2 teaspoons red wine vinegar
2 teaspoons coconut aminos (see notes for subbing ideas)
Directions: Heat the oil in a large skillet over medium heat. Add the cabbage, sprinkle with salt, and cook for 8-10 minutes, stirring occasionally, until very tender. Add the scallions, vinegar, and coconut aminos and cook about 3 minutes more.
TO MAKE THE PICKLED DAIKON (Yield: 1/2 cup)
1 heaping cup grated daikon
1 ¼ teaspoons kosher salt
1 ¼ teaspoons sugar
Directions: Sprinkle the daikon with the salt and sugar and mix briefly to combine. Let sit for 10 minutes. Fill bowl with cold water to rinse, let sit for about 30 seconds, then drain in a fine mesh colander. Quickly squeeze to release excess liquid.
TO MAKE THE MUSHROOMS (Yield: 1 cup)
4 cups trimmed oyster mushrooms
3 tablespoons olive oil
Salt and pepper, to taste
Directions: Heat the oil in a skillet large enough to fit the mushrooms in a mostly single layer. Add the mushrooms and let them sit without stirring for 1-2 minutes until they've browned some on the underside. Give them a stir and continue cooking until tender and cooked through, about 3-4 minutes more.
TO MAKE THE SAUCE (Yield: 1/2 cup)
2 tablespoons hemp seeds
1 heaping tablespoon roasted, salted macadamia nuts
3 2×3 sheets roasted nori (I use Sea Snax or Trader Joe's)
¼ cup garlic-infused olive oil
¼ cup + 2 teaspoons boiling water
A generous ¼ teaspoon celtic sea salt
2 teaspoons freshly-squeezed lemon juice
Directions: Combine all ingredients in a high-powered blender (I use my single-serve container) and blend until smooth.
TO ASSEMBLE THE BOWLS
Spoon desired portions of quinoa, cabbage, mushrooms, and pickled daikon into your bowl. (If you've made the components ahead, simply heat the quinoa, cabbage, and mushrooms -don't heat the daikon – in an oven or toaster oven until hot.) Drizzle the sauce over the top and keep handy so more can be added if needed. Enjoy!