Have you ever noticed that each judge on Chopped  has at least one pet peeve – feedback that they seem to give over and over? Maneet Chauhan's is raw cayenne. I feel like I've seen at least 8 episodes where she criticizes a chef for not cooking the spices properly, or for adding cayenne right before the buzzer. She hates the taste of raw cayenne!
I totally see where she's coming from, but I have a dirty secret: I happen to really, really enjoy raw cayenne. Okay, maybe not in curries…you definitely gotta bloom your spices there. But sprinkled on fruit, gluten-free flatbread, fries, plantains … I have to say I really like the intensity you get when it's raw!
Especially when it's coating these black sesame – date balls. They were born when I decided to attempt a no-bake black and white cookie (made from black and white sesame seeds!) and then got distracted after my first attempt at the black half because I started thinking how delicious my dough would be rolled in a spice mixture. The cookie idea got shelved, and instead I went for some fiery snacks.
I'm glad I did – the black sesame, date, and raisin mixture is interesting on its own, but after being rolled in cinnamon, cayenne, and crunchy black and white sesame seeds, it really pops! Plus the snack balls are so pretty … and a cinch to put together! They are also nice and healthy – cinnamon and cayenne have a load of health benefits I won't get into here (because the list is long – google it if you are interested!) and the balls are sweetened only with dates and raisins.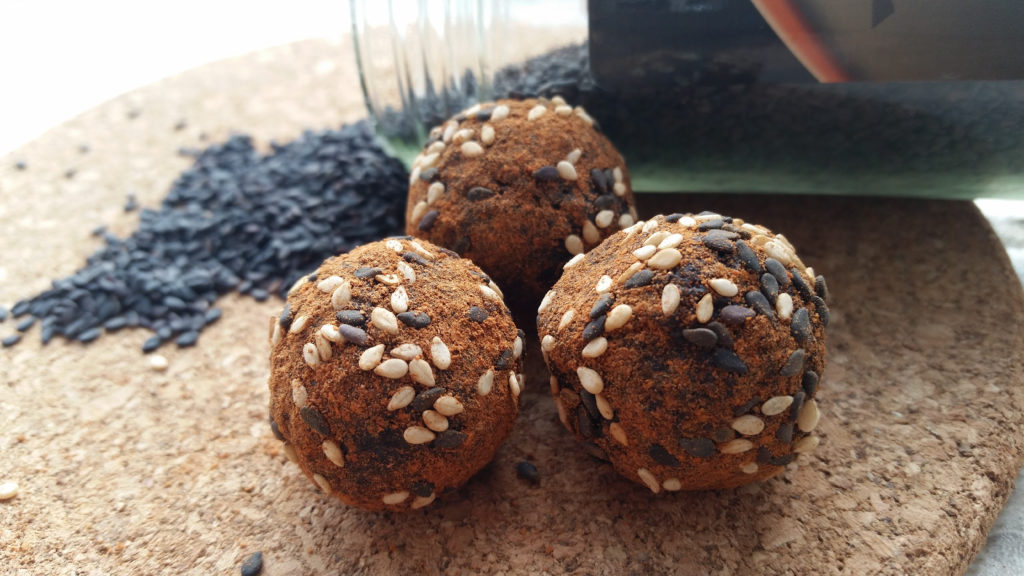 A couple notes about the recipe:
-I originally made these with even more cayenne, and while I personally thought they were the bomb, I've toned it down some for those of you who don't feel like something's missing when your mouth isn't burning like crazy. That said, you will still feel the burn, so if that's not your thing, feel free to reduce the cayenne or leave it out entirely. You could ditch the spicy component all together and roll these in cinnamon, coconut, and sesame seeds and they would also be quite delicious.
-This recipe will yield 12 snack balls.
Sweet & Spicy Black Sesame Snack Balls
¼ cup black sesame seeds, toasted (see note)
¼ cup raisins, soaked in 2 tablespoons boiling water for 5 minutes
6 medjool dates, pitted
2 teaspoons cinnamon
2 teaspoons black sesame seeds
2 teaspoons white sesame seeds
¾ teaspoon cayenne pepper
Directions:
Place the toasted seeds in the bowl of a food processor and process until they look like coarse coffee grounds. Add the raisins and soaking liquid and process until incorporated. Add the dates, processing until a sticky dough is formed. Turn into a bowl and refrigerate for at least an hour.
Mix together the cinnamon, cayenne, and seeds and turn onto a flat surface. (I used a small saucer.) Take about a teaspoon of the dough, roll it into a ball, and then roll the ball in the spice mixture. Repeat until the dough is gone.
Store the balls in an airtight container in the fridge.
Note: Toast your seeds by placing them in a dry skillet over medium heat and stirring frequently. They should be toasted in about 2 minutes.