I think that tofu scrambles get a bad rap. They are often the token vegan item on an egg-filled brunch menu, which doesn't do them any favors. And it's not because they can't stand up to a good omelette; it's because they're often employed as an egg substitute. In my opinion, trying to make tofu taste like scrambled eggs is silly – even if you succeed, a less-good version of scrambled eggs is just not that exciting to eat for breakfast. (If you're a vegan who really misses eggs, than okay, go for it. I do see the value there.) But I'd rather eat a tofu scramble that isn't trying to be something else, because it really doesn't need to be! Since tofu is a neutrally flavored food on its own, it can take on whatever flavor profile you want it to.  And that means you can infuse loads of delicious flavor into it, flavor that can provide serious competition for even the most delicious egg dish.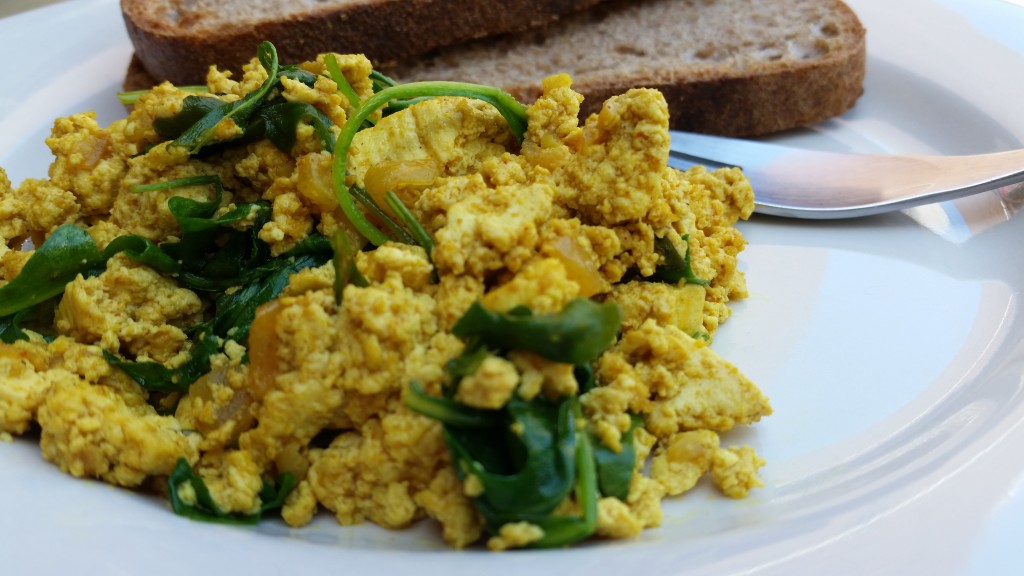 This tofu scramble is one of my all-time favorite breakfasts. It's also a fantastic savory brunch item. It's packed with flavor, which means it's delicious on its own or with your favorite gluten free toast. You can also serve it with home fries, mashed plantains (love the sweet and spicy contrast!), or a refreshing fruit salad.
A couple notes about the recipe:
-Unless you want your scramble to taste tropical, please be sure your coconut oil is refined and not unrefined. See this section of my Pantry page for more information.
-This scramble is spicy – you will feel a pleasant burn. If that's not your style, feel free to tailor this to your spice preference by omitting or reducing the cayenne and/or using regular paprika instead of hot paprika.
-Yes, 3 tablespoons of solid coconut oil is a lot! Don't worry – this is intentional. It may look like a lot of oil when you are frying the onion and the spices but all that infused oil will be used to coat and cook the tofu (that's what makes it so flavorful!)
-This scramble serves 2-4 people, depending on whether you are serving it with toast, potatoes, fruit, etc. or on its own.
Spicy Tofu Scramble
1 14-oz package extra firm tofu
3 tablespoons refined coconut oil, measured in solid form (see notes above)
1 small-medium onion or ½ Spanish onion, diced
2 cloves minced garlic
½ teaspoon Hungarian hot paprika
¼ teaspoon cayenne
1 teaspoon cumin
½ teaspoon coriander
½ teaspoon turmeric
¼ teaspoon celtic sea salt
1 tablespoon gluten free tamari
2 cups baby arugula or spinach
Directions:
Drain tofu and squeeze block a bit between your hands from all angles to release some of the excess water. Wrap in paper towels and squeeze again to continue releasing excess moisture. Crumble tofu into a bowl.
Heat the refined coconut oil in a large skillet over medium heat. Add the diced onion and sauté for about three minutes, until the onion has started to soften slightly. Add the hot paprika, cayenne, cumin, coriander, turmeric, and sea salt and cook three minutes more, reducing the heat slightly (medium-low) and stirring frequently. Add the garlic and cook an additional 2 minutes.
Next, pour the crumbled tofu into the skillet and stir until well-coated in the oil/spice/onion mixture. Raise the heat (medium-high) and sauté four minutes more, stirring frequently. After four minutes, the tofu will start sticking to the pan slightly. Add the gluten free tamari, stir vigorously to unstick any stuck pieces, and cook for about two more minutes, continuing to stir frequently. Finally, add the arugula or spinach and stir vigorously over medium-high heat until it is wilted and nicely integrated into the tofu. (This should take about a minute.) Remove from heat, serve, and enjoy!