Have you ever been to Teaism? Whenever I find myself in DC, I normally make it a priority to stop in at one of their three locations. It's a cute, exceedingly popular tea house with an extensive tea menu and Asian small bites. I don't often eat there – just chill and drink tea – but on my last visit, I noticed an enticing menu item: salty oat cookies! Sadly, they were not gluten-free, so I had to content myself with buying one for my husband and asking him detailed questions about it.
Fast forward a few months and a late-night cookie craving hits. When this happens, I'm often torn: do I measure so I have a potential blog recipe in the making or do I just throw stuff in a bowl and try to recreate it later? I opted for the throw-stuff-in-a-bowl option, since I knew that measuring would surely increase the amount of waiting time until my my cookie craving – which was increasing in urgency – was quenched.
As is often the case when I forgo measuring altogether, the cookies came out amazing. Like mind-blowingly good. They were soft and chewy when they first came out, filled with hearty oats, creamy peanut butter, and quinoa flakes with just the right amount of flour to hold them together. They were also the perfect sweet and salty combo, buttery and delicious. And as they cooled down, they got even better: developing a lovely crunch on the outside. I couldn't stop eating them!
Now, when I tried to recreate these cookies a few days later – using actual measuring devices – they weren't quite the same. They were, however, quite delicious. And coincidentally, they were also very reminiscent of how my husband had described the salty oat cookie at Teaism, potentially minus the peanut butter. In short, these taste like the perfect coffeeshop cookie: hearty and delicious, lovely with or without a cup of tea or coffee. They are packed with oats and quinoa flakes, salted butter, creamy peanut butter, toasted coconut, and chocolate chips. And they seem to get even better as the days go by – keep them at room temperature in a ziplock bag and enjoy having the perfect snack on hand whenever a craving strikes. I even made an ice-cream cookie sandwich with them using homemade ginger ice-cream (recipe coming soon!) which was absolutely divine.  If anyone has actually had the salty oat cookie at Teaism, I'd be very interested to hear whether this is, in fact, similar. Please let me know in the comments!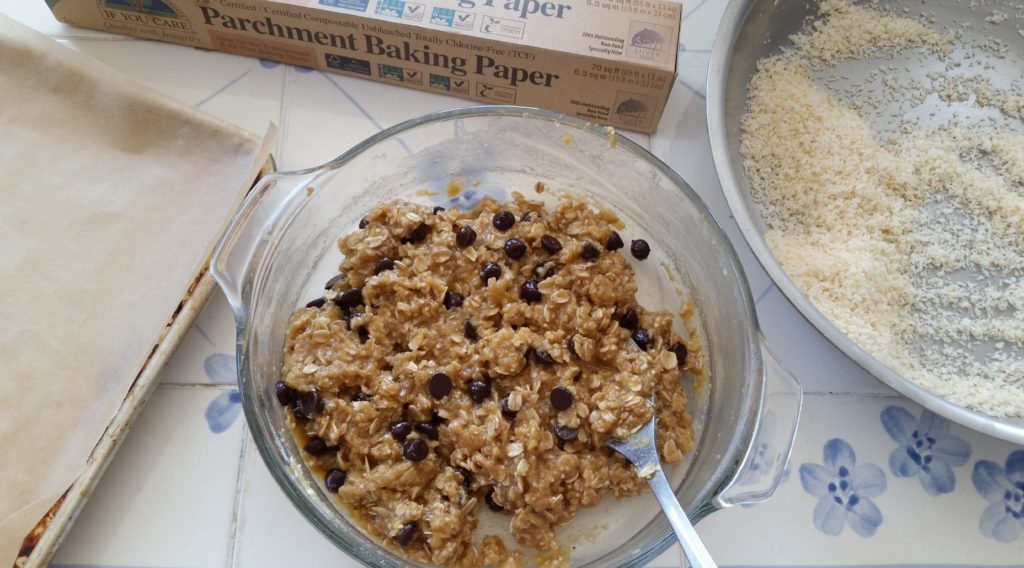 A couple notes about the recipe:
-The saltiness of salted butter brands does vary, as do people's individual salt preferences, especially in sweeter items. I made this twice, with two different brands of butter; the first time, I used 1/4 teaspoon of salt and the second time I used a heaping 1/8 teaspoon of salt. The salt level was almost the same. So, you may need to adjust the salt content based on how salty your butter is! I'd probably suggest a heaping 1/8 teaspoon for most brands.
-I used jarred, unsweetened, unsalted creamy peanut butter for this recipe instead of bulk peanut butter. This is just what I had on hand at the time – and what I'd recommend for this recipe – since jarred creamy peanut butter has a very different consistency from bulk peanut butter.
-For Low FODMAP, stick to 1 or 2 cookies per sitting.
-This recipe will yield 15 cookies. They don't spread too much and will all fit on one sheet tray.
Salty Oat Coffeeshop Cookies
¾ cup gluten-free rolled oats
1⁄3 cup quinoa flakes
¼ cup sorghum flour
¼ cup millet flour
¼ teaspoon baking powder
½ cup white sugar
1⁄8 – heaping 1⁄8 teaspoon celtic sea salt (depending on preferred salt level and the saltiness of your butter)
1 stick salted butter
3  tablespoons unsweetened smooth, creamy peanut butter
1 teaspoon vanilla extract
1 large egg
2 tablespoons cooled, unsweetened toasted coconut (place in dry skillet and let toast, stirring frequently, for a couple minutes)
¼ cup semisweet chocolate chips
Directions:
Preheat the oven to 350°F and line a sheet tray with parchment paper.
Combine the oats, flakes, flours, baking powder, sugar, and salt in a bowl. Add the melted butter and stir to coat dry ingredients. Stir in the peanut butter; then stir in the vanilla extract and egg, making sure the egg gets beaten. Finally, stir in the coconut and chocolate chips.
Form the cookies by rolling the batter into balls, placing them on the sheet tray, and flattening each one with the palm of your hand. You should get around 15 cookies. Bake for about 15 minutes, until tops are firm and bottoms are golden brown. Allow to stand for at least five minutes before enjoying.
Variation: If you don't have millet flour on hand, you can increase the quinoa flakes  and toasted coconut by 1 tablespoon, use 1/3 cup + 1 tablespoon sorghum flour, and bake for about 3 minutes longer. The cookie batter will feel greasy but don't worry – it will bake up nicely and still yield very delicious cookies. I do prefer the recipe above to this version, but it was close. This variation will yield 12 cookies.