Red velvet cake is often an appalling maroon color that can really only be achieved with copious amounts of red food coloring – not that appetizing. However, this iteration of red velvet apparently only surfaced during the Great Depression, when an extract company created a food coloring-heavy recipe in an attempt to boost sales. Before that, it was a much more natural color, with the "velvet" term referring to the smooth texture. In fact, the key characteristics of red velvet are buttermilk, cocoa, and vinegar – not red dye.
Be that as it may, there is something luscious about the color red, especially when Valentine's Day is coming up. So I decided to give these pancakes a slightly redder tint with sustainably-harvested red palm oil, a buttery-tasting oil with a lovely hue that is high in Vitamins A and E. This also has the added benefit of making them dairy-free!
Finally, just in case you wanted to make these for a Valentine's Day breakfast, I wanted to give you a recipe that didn't leave you slaving over the stove frying pancakes on a weekday morning. Thus, the batter for these pancakes is actually made the night before and is simply poured out onto a sheet tray and baked the next morning. You can then use your favorite cookie cutters to make pretty little dainty pancakes, that – slathered with a "red velvet butter" and fresh strawberries – make for an elegant breakfast.
And yet, despite their elegance, there's a heartiness about these too. They are made with whole grains like teff and sorghum that will give you an excellent morning boost.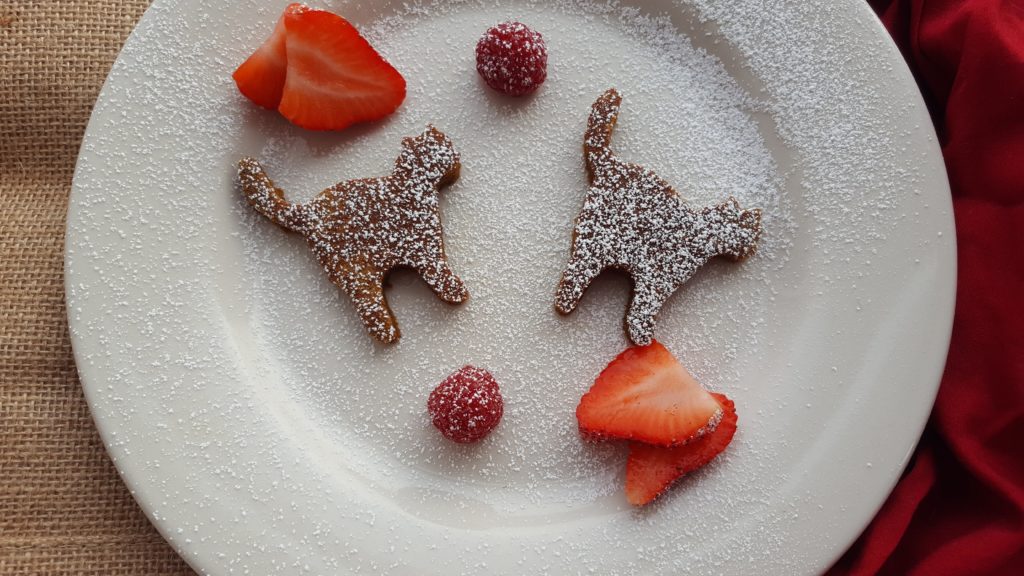 A couple notes about the recipe:
-For best results, be sure to let the batter sit in the fridge overnight before baking these. Any leftovers can be reheated in a toaster oven with good results.
-Most serving sizes of this are Low FODMAP, unless you eat the entire batch of pancakes PLUS the entire amount of red velvet butter in one sitting, in which case you'll exceed the allowed amount of cocoa powder.
Red Velvet Pancakes (Baked!)
¾ cup sorghum flour
½ cup teff flour
¼ cup tapioca flour
¼ cup + 1 teaspoon sugar
1 tablespoon + 1 teaspoon cocoa powder
¼ teaspoon baking soda
pinch of salt
1 cup + 2 tablespoons almond milk
1 tablespoon + ¼ teaspoon apple cider vinegar
⅓ cup red palm oil, melted and still warm
2 large eggs, beaten
Red velvet butter (recipe below) and fresh strawberries, for serving
Directions:
THE NIGHT BEFORE:
Mix together the almond milk and apple cider vinegar and let stand for 10 minutes. (This will make dairy-free buttermilk!)
Meanwhile, combine the sorghum, teff, tapioca, sugar, cocoa powder, baking soda, and salt in a medium bowl. Add the eggs and buttermilk and mix well. Then pour in the oil and stir until well-combined. Transfer to an air-tight container and let sit in the fridge overnight.
THE NEXT MORNING:
Preheat the oven to 350°F and line a sheet tray with parchment paper. Pour the batter onto the sheet tray and tilt the tray slightly to spread. Bake for 12-15 minutes, until cooked through. Serve with red velvet butter (recipe below). Fresh strawberries are mandatory.
Red Velvet Butter
Yield: 1/2 cup
3 tablespoons solid red palm oil (If it has liquified, place it in the fridge to harden)
⅓ cup raspberries
1 teaspoon cocoa powder
1 tablespoon sugar
¼ teaspoon vanilla extract
Place all ingredients in a blender (I used the single-serve container of my Ninja) and blend until smooth.
***Looking for more Valentine's Day recipes? Try:
Cinnamon Sugar Sandwich Cookies with Chocolate-Whiskey Cream