Rules are made to be broken. Even in the kitchen. While this is a pretty simple comfort-food kind of meal (a healthier alternative to reaching for that Chinese take-out menu after a long day), it's also just a tad rebellious. You won't be able to taste the rebellion (unless you add some chili paste, of course — more on that in a bit) but you'll know it's there.
What on earth does rebellion have to do with a simple stir-fry? Well, let's start by discussing what most people will tell you is the #1 tofu rule: press it. I can't tell you how often I've heard that the secret to great tofu is to get all the moisture out of it so it crisps up better. It seems everyone and their mother has their own tofu pressing method – press it at an angle, so it doesn't sit in its own water; cut it into small pieces before pressing; freeze it before pressing … I could go on for a while here. And yes, I've done some of these, and yes, they do yield crispy tofu. But is it better tofu? And is it worth the hassle/time of pressing? In many cases, I would (gasp!) say absolutely not.
With one exception – I do press my tofu when I need it to look visually stunning. Pressing and then browning it really well definitely does the trick there. But in terms of taste, I actually like my tofu better when it's not pressed. And I definitely prefer not having to plan ahead when I want a quick dinner – tofu has always been my gold standard for a quick meal and pressing it takes that quality away completely.
Now, don't get me wrong: I'm not saying that I like my tofu mushy and soggy. But if you buy the right brand (Fresh Tofu Inc. is especially firm and dry and Nasoya Extra Firm is usually okay too, after a bit of light squeezing) and fry it up with some gluten-free soy sauce, it'll be flavorful + tender with some lovely crispy bits – better than the overly chewy and sometimes dry quality you get when you go the press + brown-all-around route.
Confused? Don't worry – my rebellious tofu is detailed in this recipe, so you can feel free to try it for yourself and see what you think. And if you're a tofu pressing fanatic – no worries. You can definitely go ahead and press your tofu for this recipe if you must. As long as I don't have to do it!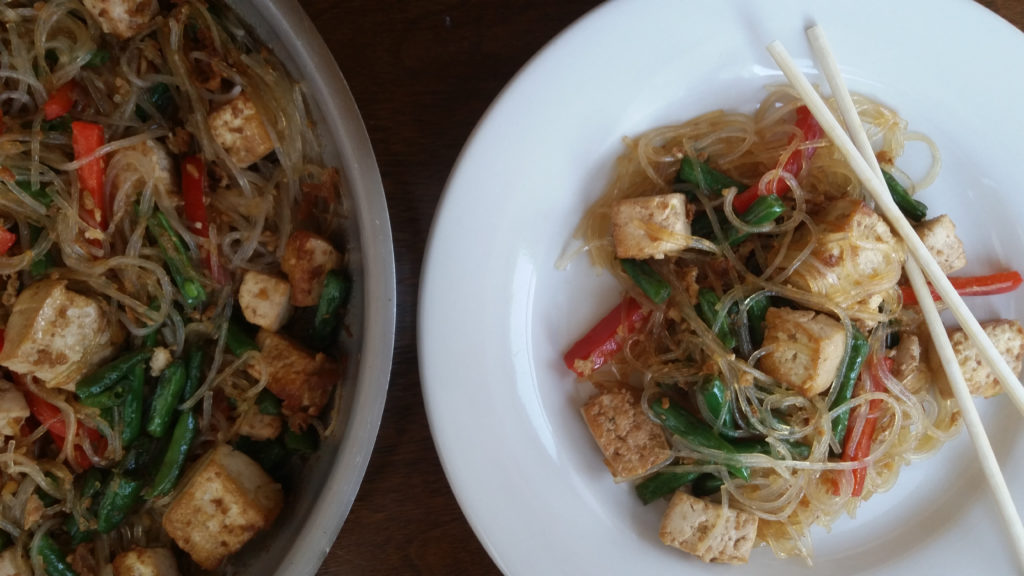 So in the spirit of true rebellion, let me replace the #1 tofu rule with my #1 stir-fry rule: do the tofu and vegetables in separate batches. That way, the tofu will get browned and flavorful and delicious (no pressing required) and the veggies – especially when using green beans, as in this stir-fry – will get the treatment they deserve. (Yup, frying the green beans on their own will ensure that they get that "Szechuan String Beans with Garlic Sauce" texture we all know and love.)
A couple notes about the recipe:
-As I mentioned before, this is a sort of Chinese take-out noodle dish imitation. I refrained from requiring chili paste in the recipe (every stir-fry does not have to be spicy, Alana!) but I will not refrain from recommending it. This stir-fry is indeed wonderful served with a bit of your favorite chili paste (I ate it with Huy Fong Food's Chili Garlic Sauce), adding a nice fiery element to your comforting meal.
-Speaking of rebellion, I used toasted sesame oil as more than just a "drizzle-on-at-the-end" seasoning agent in this stir-fry. If you've read about it on my Pantry page, you'll know that I don't generally recommend cooking with toasted sesame oil because of its low smoke point. But it's really only heated for a short period of time here – no high-heat frying or anything like that – and definitely adds a wonderful layer of flavor to this stir-fry. In fact, I highly recommend using Kadoya brand sesame oil if you can get ahold of it – it is far and away the most flavorful toasted sesame oil I have tried.
-I've filed this recipe under "Grain-Free" because bean thread noodles generally do not have any grains in them – but if this is a concern for you, be sure to read the ingredients when choosing your bean threads! Mine are made from mung bean and potato.
Rebellious Tofu and Bean Thread Stir-Fry
3 tablespoons neutrally-flavored vegetable oil (I used grapeseed)
8 ounces green beans, roughly cut into thirds
1 large red pepper, cut into thin strips (about 1 cup red pepper strips)
15 ounces extra firm tofu, cubed
2 tablespoons gluten-free tamari
1 tablespoon + 2 teaspoons toasted sesame oil
1 tablespoon minced ginger
2 cloves of garlic, minced
1 tablespoon coconut aminos
2 cups cooked bean thread noodles, cut into manageable pieces
Your favorite chili paste, to serve (optional)
Directions:
Heat 1 tablespoon of the vegetable oil in a stainless steel skillet over medium-high heat. Add the green beans. Cook the green beans, stirring only occasionally, until browned and shriveled, about six minutes. Add the pepper and cook about 2 minutes more. Remove veggies from pan and set aside.
Heat the remaining 2 tablespoons of vegetable oil in the same pan. Add the tofu in a single layer and let it cook for 2 minutes without stirring. Then add 1 tablespoon of the tamari and use a metal spatula to unstick the tofu from the pan. (Don't worry if some crispy parts separate from the rest of the tofu – all these crispy bits will go into your final dish and create a wonderful textural – and flavor-packed – element!) Cook for 4-5 minutes more, until nice and browned, stirring more frequently now, and continuing to use your spatula to unstick stuck pieces.
Turn into a bowl (I plopped mine into my cooked bean threads) and use your spatula to unstick any remaining crispy bits from the bottom of the pan and turn them into the bowl (see picture).
In the same pan (which should now be relatively clean after your spatula work), heat the sesame oil. Add the ginger and cook for 1-2 minutes, then add the garlic and cook for 30 seconds to a minute more. Add the remaining tablespoon of gluten-free tamari – it will sizzle and thicken immediately. Turn the heat down to low right away and add the coconut aminos. Immediately add the tofu, bean threads, and veggies and stir to coat everything in the sauce you've made. Serve with your favorite chili paste.