Before going gluten-free, I used to bake all the time. I had my knock-'em-dead brownie recipe for those casual but chocolate-warranting events, my decadent layer cake recipe for birthdays and anniversaries, and the ultimate coffee cake recipe for those weirdos who don't like chocolate.  These were all recipes I had collected due to my habit of reading (or should I say drooling over) any dessert cookbook I could get my hands on.  Since I was such an avid dessert cookbook reader, I quickly learned how to tell whether a recipe was worth making just by skimming the ingredients and procedure. (Hint: Look for copious amounts of chocolate and butter :p) But this was as far as I got with regards to bringing in my own creative process – I never created my own dessert recipes or experimented too much with the recipes I collected. It was only after going gluten-free that I started creating my own desserts, and it's been a total blast.
My absolute favorite flour to bake with is almond flour. That's because it makes gluten-free desserts taste like regular desserts – it's moist, holds together well, has a great texture and flavor, and, as if that wasn't enough, it's also packed with protein! I've been seeking out almond-flour based dessert recipes for a couple years now, and in the last year or so, I've finally felt comfortable enough working with this miraculous substance to be able to play around with it on my own. It's a great feeling to be able to easily whip up a dessert when the craving hits, with whatever you happen to have around the house!
And that's exactly what I did a few weeks ago, when these poppy seed bars were born.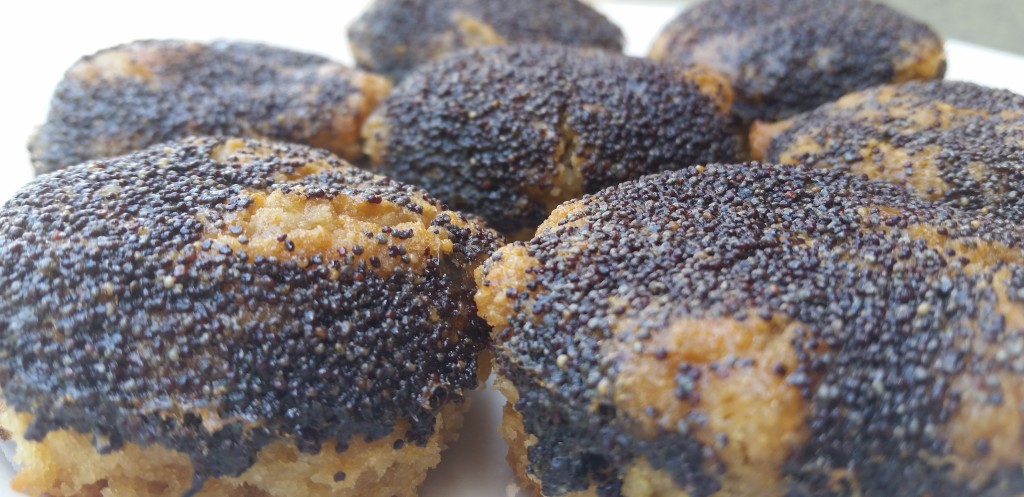 Struck simultaneously by the realization that (A) I had a serious sweets craving and (B) I had 1/2 a lemon that was about to go bad, I subsequently remembered I had purchased poppy seeds for no particular reason (except that they were on sale) a few days back. I pulled out the almond flour, and – flash forward a little while –  my fiance and I were happily munching on some delicious poppy seed bars. Success!
These bars are super sweet and go perfectly with tea or coffee. They remind me of a similar dessert I used to get at a Hungarian bakery as a child. Although they don't have the aforementioned copious amounts of chocolate and butter, they do have a lovely honey-like flavor and a fantastic melt in your mouth (with some poppy seed crunch!) texture. I hope you enjoy them as much as I do.
A couple notes about the recipe:
-Almond flour varies greatly across brands. Bob's Red Mill almond flour, especially, is much coarser than other almond flours and may change the recipe significantly. I use Honeyville almond flour in all my recipes, because I can order it fairly cheaply in bulk. (I definitely recommend this way of purchasing almond flour because one bag of Bob's Red Mill is usually over twelve bucks!) Please feel free to try this with other brands of almond flour, but keep in mind that you may need to make some adjustments.

-I have tried baking these in a ceramic loaf pan as well as in lined silicone muffin tins. Both work, although the bar version turned out slightly more decadent and the muffin tin version turned out slightly more elegant (you get to call them "Poppy Seed Bites"!) The bar version yields 9-12 bars, depending on how large you choose to make them. The muffin tin version yields 8 poppy seed bites, if you make them in a regularly-sized muffin tin. You obviously do not have to use silicone muffin tins – I'm sure metal ones would work just fine. However, the baking time will probably be much shorter, as using silicone usually requires a longer baking time than using metal.
Poppy Seed Bars
1 1/3 cups blanched almond flour (press down slightly when measuring)
¼ teaspoon baking powder
pinch of salt
1 tablespoon freshly squeezed lemon juice
½ cup agave nectar
¼ cup poppy seeds
3 tablespoons coconut sugar
½ cup water
2 tablespoons butter, plus extra for greasing the pan
1 large egg
Directions:
Preheat the oven to 325°. Butter a 9 x 5 ceramic loaf pan or place 8 parchment paper liners inside a silicone muffin tin.
Place the poppy seeds, coconut sugar, water, and butter in a saucepan and bring to a boil over medium heat. Continue to boil, stirring frequently and keeping a very close eye on the mixture, until it has reduced to about 1/3 cup and the mixture has a syrupy consistency. If you are using a small saucepan, this should take 8-10 minutes once the butter has melted. If you are using a larger saucepan, this should take about 5-7 minutes once the butter has melted. Cool for 20 minutes, then whisk in the egg.
While the poppy seed mixture is cooling, combine the almond flour, baking powder, and salt in a medium bowl. Whisk together the lemon juice and agave,  add to the almond flour mixture, and stir until combined.
If you are using the loaf pan:
Spread out all but 2 tablespoons of the almond flour mixture across the bottom of the buttered loaf pan. Pour in the poppy seed mixture (whisk vigorously first to ensure that the egg is emulsified), then scatter the remaining 2 tablespoons of dough over the top. Bake for 28-32 minutes, until the almond flour topping is golden brown and the poppy seed mixture has set. Let cool completely. Slice into bars and enjoy!
If you are using the silicone muffin tins (for other types of muffin tins, please see my note above):
Place 1 rounded tablespoon of dough into each muffin tin liner. Evenly distribute the poppy seed mixture over the top. Bake for 22-25 minutes until the poppy seed mixture has set and the bites are golden brown. Let cool completely, remove the liners, and enjoy!