You wouldn't know it from the weather in New York, but Fall is coming. Pumpkin muffin recipes are already starting to pop up on blogs and social media, and Starbucks has rolled out their pumpkin flavored "seasonal" drinks. But guys, it's still summer! Why are the trends always so ahead of the season? I don't know about you, but if I start indulging in all-things-pumpkin now, I'm going to be damn sick of the stuff by the time Fall actually rolls around. I mean … it was 90 degrees yesterday. Do you really want to sip on a hot pumpkin latte?
I know I didn't. But what I did want to do was enjoy a nice, cold, refreshing bowl of summer fruit soup. Because summer is ending soon, and the window for finding local, in-season peaches and berries is rapidly closing.
Hence this recipe. Raspberries and blueberries are blended with peaches, sour cream, just a bit of sugar, and an incredible South African fruit liqueur that you can sub out with your liqueur of choice if you can't get your hands on it. Then, you stir in some whole berries – which have been tossed with a bit of vanilla and nutmeg – to really kick it up a notch.  Easy, refreshing, and delicious!
Oh – but dare I forget to mention the crispy mint leaves on top? Yes – once you learn how to make these, you'll be putting them on everything. Trust me.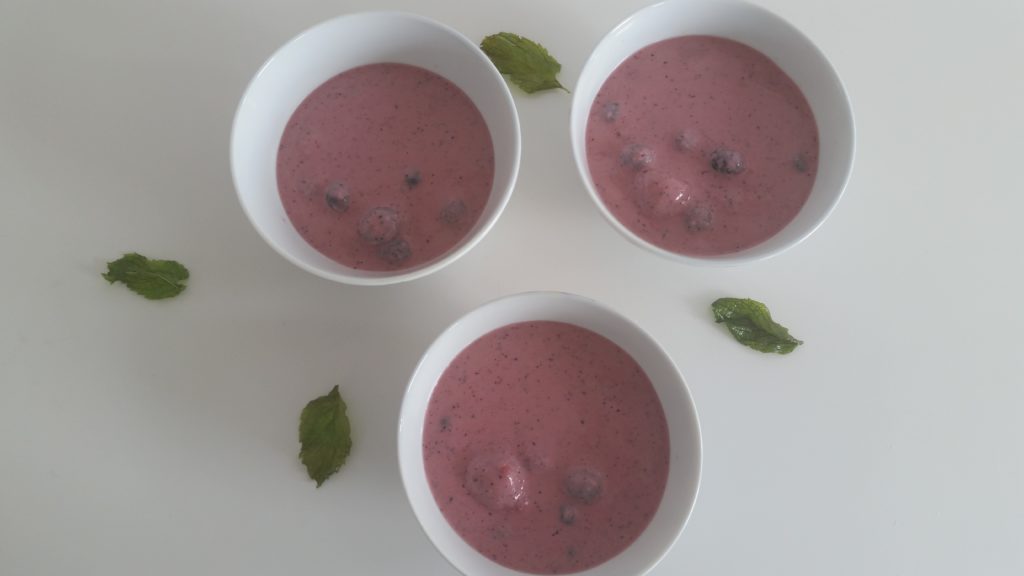 Let's talk about Amarula. It's a liqueur made from the marula fruit, which only grows in Africa and cannot be cultivated. The fruit is ripe for a very short time each year, and is a favorite of elephants! In fact, the folks at Amarula say they observe the elephants to ascertain the right time to pick the fruit, which is then hand-harvested and distilled into some wonderful liqueur. I would describe the flavor of marula (judging from the two liqueurs I've tried) as unique, caramel-like, and almost buttery: similar to crème brûlée, if crème brûlée were a fruit. If you can get your hands on it, do it! 
More About Amarula (And Where to Find It)
I first tried Amarula Cream several years ago at a global travel event in New York. Bobby and I liked it so much that we were ready to buy it, whatever the cost; sadly, we were informed it wasn't being sold. We were Amarula-less until we randomly stumbled across it a couple years later at a liquor store in Hoboken, NJ! Checking back later, however, they no longer carried it. In fact, we've only seen it for sale in a handful of places, but it does appear to be findable (here's the list I got when I searched the New York area – you can use the same website to search within any state or country.
Amarula Gold (the liqueur called for in this recipe) has a similar flavor, but no cream. We only discovered it a couple weeks ago, at a duty-free shop in the Copenhagen airport, and promptly grabbed it. Apparently, it was released in 2014, and won Liqueur of the Year at the 2014 New York International Spirits Competition – I only know this because I was trying to look up whether you can buy it in the US or not. Answer: Not easily. When I searched for Amarula Gold in all US states, I only came up with one match – Duty Free Depot in Vancouver, Washington. You may, however, be able to order it online. And, if you can't find Amarula near you, remember to check the duty-free shops when you find yourself at an international airport – you might get lucky!
A couple notes about the recipe:

-If you can't get your hands on Amarula Gold, try using a bit of Amarula Cream instead – you might just want to use a bit less than called for in the recipe – add it gradually, and taste. If you can't find either variety of Amarula, just add a splash of your favorite liqueur instead. Again, depending on the liqueur, you may need to use less or more than called for in the recipe.
-Depending on the juiciness and sweetness of your fruit, as well as the sweetness of the liqueur you end up using, you may need to adjust the sugar and water quantities in this recipe. You can always try adding a bit less than called for, to begin, and then adding more later, if necessary.
-This recipe yields a hefty amount of fruit soup. It'd be great for an end-of-summer dinner party!
-Definitely serve this cold. I don't mention chilling in the recipe, since my soup was still very cold after blending – if for some reason yours isn't, make sure to chill it before serving.
-Since this is made from fruit without any heating, it won't keep for very long. Try to enjoy it the day you make it, if possible.
Peach & Berry Fruit Soup with Amarula
3 peaches, peeled
Two six-ounce cartons raspberries
Two six-ounce cartons blueberries
1

1/3 

cups sour cream

1/3

cup water (see notes)
¼

 

cup + 2 teaspoons sugar (see notes)
¼

 

cup Amarula Gold, or your favorite liqueur (see notes)
1 teaspoon vanilla extract
pinch of nutmeg
 For the crispy mint: 
Mint leaves, washed and dried
Neutral flavored vegetable oil
sugar, for sprinkling
Directions:
Combine 1 carton (6 oz) of the raspberries and 1 carton (6 oz) of the blueberries in a small bowl. Sprinkle with the vanilla, nutmeg, and 2 teaspoons of the sugar.
Combine the rest of the berries, peaches, sour cream, remaining ¼ cup sugar, and water in a Vitamix or other high-powered blender. Blend until smooth. Add the Amarula or liqueur of choice and blend just until well-combined. Pour into a large glass bowl or other serving vessel. Stir in the berry mixture. Serve immediately, with crispy mint leaves.
Crispy Mint:
Heat a generous layer of oil in a skillet over medium heat, until you start to see ripples form. Make sure your mint leaves are nice and dry; otherwise, they will splatter. Drop in a couple mint leaves at a time – the oil should cover them completely. They will immediately sizzle and crisp up. Transfer to a paper-towel lined plate and sprinkle with sugar.