Passover is coming up and I know one dish that will be on my table this year: parsnip mash. Have you ever made it? If not, you are definitely missing out!
Parsnip mash is quite similar to mashed potatoes, but much less fussy. The parsnip has a lovely sweetness that adds to the comfort-food factor and lends itself beautifully to fresh herbs like the rosemary and chives in this recipe. Parsnips also have a unique consistency that (if you follow the directions below) yields the loveliest of mashes:  as you dig into billows of light, fluffy,  pillowy goodness, you'll be left wondering why potatoes still have a monopoly here.
In fact, they really shouldn't. Here are three reasons why parsnips are actually a better fit for the infamous mash:
1. You can use your food processor. 
If you tried to make mashed potatoes in a food processor, you'd end up with a gluey, starchy, heavy mess. Not so with parsnips! Processing, in contrast, yields a mash that is  light, airy, and fluffy. No gluiness or starchiness at all.
2. Parsnip mash reheats beautifully.
Ever tried to reheat mashed potatoes the next day and failed miserably? They are a finicky food to reheat and tend to become grainy or otherwise unappealing after refrigeration. This parsnip mash, in contrast, can easily be reheated on the stovetop. You don't even have to add liquid; just stir until hot!
3. You don't need to add copious amounts of fat and liquid to get it right.
Mashed potatoes are not mashed potatoes without the addition of lots of butter or oil and a liquid like cream, non-dairy milk, or vegetable broth. You also have to add the fat before the liquid if you don't want to end up with a grainy texture. All you need with this parsnip mash – though it might taste like it has a ton of butter in it – is a bit of olive oil and a little bit of the water the parsnips were cooked in. Nothing else!
Did I convince you? If so, let's get to the recipe!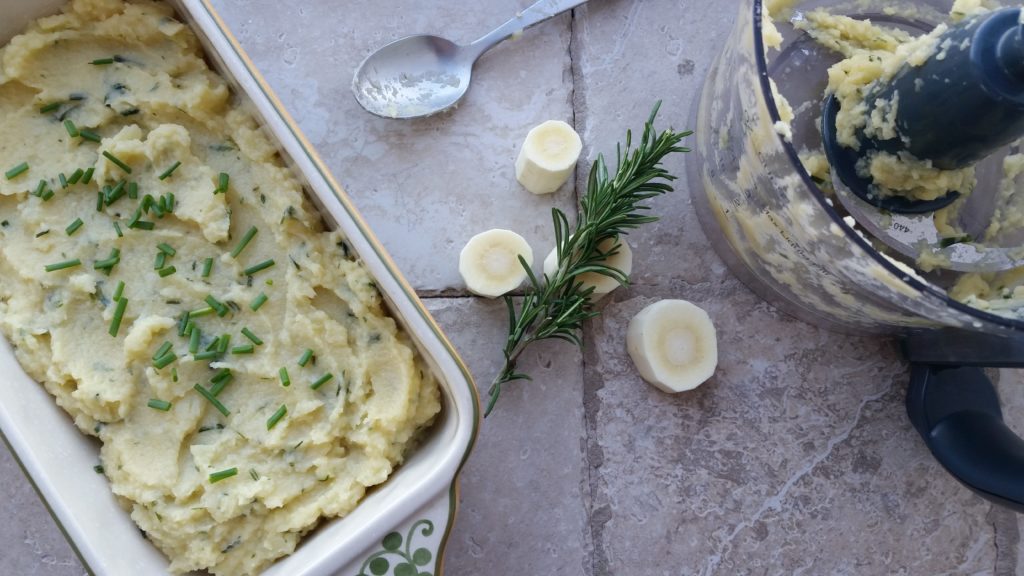 A couple notes about the recipe:
-As discussed above, you can reheat the mash on the stovetop and you don't need to add any liquid to do so; just stir until steaming.
-This mash goes wonderfully with eggplant, zucchini, or portabello steaks. You'll see it pictured below with a zucchini steak, roasted pepper, lentils, and carrot-top pesto.
–This recipe will yield 3 cups of mash.
Parsnip Mash
2 pounds parsnips, peeled, trimmed, and chopped into medium size chunks
1/3 cup extra-virgin olive oil
¼ cup chopped chives
1 heaping tablespoon fresh rosemary
1½ teaspoons celtic sea salt, or to taste
Freshly ground black pepper, to taste
Directions: 
Place parsnips in a large saucepan and cover with cold water until the parsnips are just covered. Add a pinch of salt. Bring to a boil and let cook (at a medium boil) until parsnips are very tender, about 25 minutes. The parsnips should feel waterlogged when you touch them. Be sure to reserve the cooking liquid – you will need it!
Meanwhile, heat the olive oil in a skillet and add the chives and rosemary. Let fry in the oil for about 2 minutes.
Place the hot parsnips in the bowl of a food processor along with enough of their boiling liquid to blend into a nice mash – about ¼ cup. Pulse until parsnips are a mash consistency; then add the herbs and all their oil, along with the salt and pepper. Process to mix evenly. Enjoy!