My favorite thing about bran muffins is their nutty, whole-grain flavor. What I'm not such a fan of is that dense (and sometimes dry) texture you'll sometimes experience in a less-than-perfect bran muffin. As such, trying to create a gluten-free "bran" muffin was a bit of a task, as dryness is something you have to be extra careful to avoid when there's no sticky gluten involved!
After a couple tries (I was really muffined out for a while there),  I managed to create a delicious gluten-free muffin with a "bran" like flavor but with a texture that is lighter and cakier than a traditional bran muffin. They are so pleasantly light, and so wonderfully moist, in fact, that you can eat quite a few of these guys before realizing just how many you've eaten!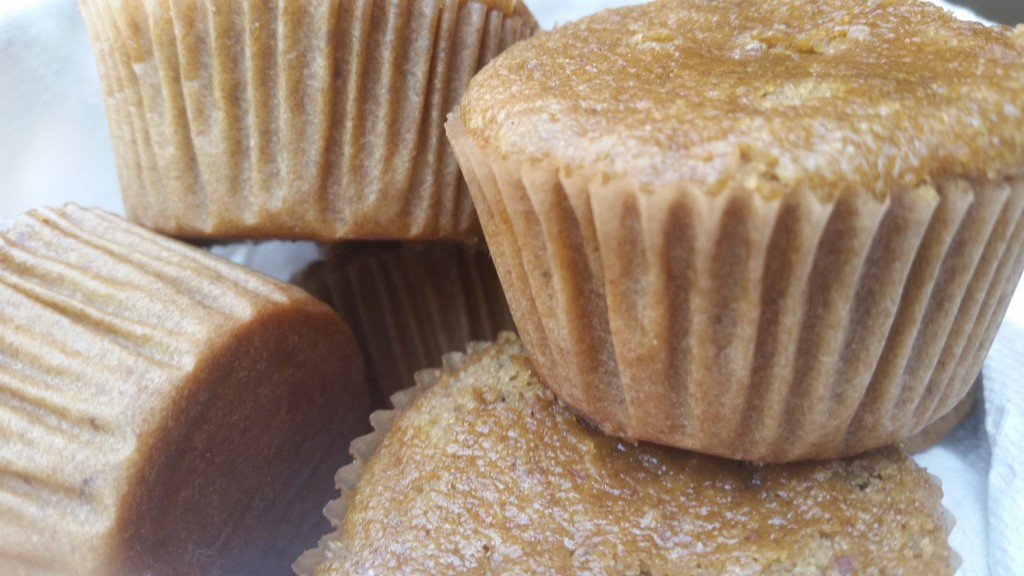 There are a couple reasons why these muffins manage to be light and moist. The biggest reason is the almond flour – it's the best ingredient I've found for keeping gluten-free baked goods deliciously tender. The yogurt/sour cream and applesauce also helps in this department. Finally, the lower baking temperature of 325° actually makes a big difference – if you bake these at 350°, they will not be as moist! The light and airy quality is primarily due to the apple cider vinegar and baking soda reaction, which helps them look and feel bready without any denseness.
In fact, given their lightness, these muffins are surprisingly high in fiber. The teff, almond flour, flax meal, and millet combo really packs a dietary-fiber punch! Since fiber is soooo good for you, you can feel a bit better about starting your day on a sweet note :-)

But why on earth am I calling these muffins "mystical?" Well, I did allude to some pretty magical qualities – I mean, if you put a bunch of high fiber, whole-grain ingredients in a bowl, you don't expect the end result to remind you of cake, do you? And you certainly would expect to be able to keep tabs on how many muffins you're eating, no matter how light and airy they are (and trust me, you won't be able to!) But okay, that's a bit of a stretch for "mystical." The real reason I'm calling these guys mystical is actually the yield – if you use standard muffin tins, you will end up with 11 muffins. Now ordinarily, I would have gone back to the drawing board, messed with some quantities, and presented you with a recipe that yields a perfect 12. But, thanks to this podcast from Radiolab, I decided to embrace the number eleven – as it turns out, it's a very attractive number! Some (like the folks at Radiolab) would even call it mystical. So…inverted baker's dozen, anyone??
A couple notes about the recipe:

-For those bakers out there who are wondering why I used both baking soda and baking powder, yes, this is intentional. For anyone who isn't familiar with the difference between baking soda and baking powder, baking powder is simply baking soda with cream of tartar, an acid that activates the leavening action in the baking soda. If you just use baking soda, you need to add an acid to activate it (in this recipe, that's the apple cider vinegar!) Baking powder, in addition to having the acid built in, also often has another added starch. As such, baking powder is much weaker than baking soda. We were actually taught in cooking school to be wary of recipes that use both baking powder and baking soda, as it was speculated that the recipe originator might just not know the science behind how they work. However, when I made these with 1/2 a teaspoon of baking soda and 1/4 teaspoon of apple cider vinegar, they were almost perfect – I just wanted a TINY bit more leavening action. Thus, I opted to use a small amount of a weaker leavener with a built-in acid since that's much easier than ever so slightly increasing the baking soda.
-I baked these in silicone muffin tins on top of an aluminum sheet tray. If you use a different type of muffin tin, keep in mind that the baking time may be different.
-Almond flour varies greatly across brands. Bob's Red Mill almond flour, especially, is much coarser than other almond flours and may change the recipe significantly. I use Honeyville almond flour in all my recipes, because I can order it fairly cheaply in bulk. (I definitely recommend this way of purchasing almond flour because one bag of Bob's Red Mill is usually over twelve bucks!) Please feel free to try this with other brands of almond flour, but keep in mind that you may need to make some adjustments.
Mystical Applesauce "Bran" Muffins
Dry Ingredients:
½ cup blanched almond flour
1/3 cup teff flour
1/3 cup millet flour
1/8 cup arrowroot starch
pinch of salt
1 tablespoon flax meal
1/2 teaspoon baking soda
¼ teaspoon baking powder
Wet Ingredients:
2 large eggs
1/2 cup unsweetened applesauce
1/3 cup raw blue agave nectar
2 teaspoons vanilla extract
3 tablespoons neutrally flavored vegetable oil of your choosing (I use grapeseed)
3 tablespoons full-fat yogurt or sour cream
1/4 teaspoon apple cider vinegar
Directions:
Preheat the oven to 325°F.
Combine the dry ingredients in a small bowl. In a separate bowl, whisk together the wet ingredients. Pour the dry ingredients into the wet ingredients and stir well to combine. Pour into lined silicone muffin tins, leaving about 1/2 an inch of the liner unfilled. Bake for 20-22 minutes. The muffins will still be cakey on top and soft to the touch – don't worry, they will firm up as they cool. Do not overbake. Remove from oven and let cool in pan for 10 minutes. Serve warm or remove liners and continue to cool.
Enjoy!