I guess I haven't been to the Greenmarket in a while because it's suddenly changed – the spring produce is out in force! And these hakurei turnips were calling my name.
Have you heard of them? They look like radishes, and in fact – I almost passed them by altogether for this reason (I do love radishes, but they always manage to go bad before I can use them all up!) Then I realized they were about the cutest little turnips I'd ever seen. So I snatched them up.
Whenever I buy full-sized turnips, I always end up roasting them, so that's what I decided to do. I've also recently become obsessed with this Alder smoked salt grinder (Frontier brand) which is the exact same type of smoky as Laphroaig whiskey – in other words, the type I like. (See more about my love-hate relationship with smoky flavors here.)  My original thought was to toss in some fresh-squeezed citrus – preferably orange – but I was out and too lazy to go to the store. Luckily, it's a pretty quick cognitive leap from whiskey to tequila, which led me to the answer – lime and salt!
Well, I'm happy to say this was a complete home-run. The turnips are so tender you don't even have to peel them; just wash them and cut them in half, toss them with some olive oil, lime juice, and smoked salt, and roast them for 20 minutes at 425°. The result will amaze you! They were so flavorful I was almost sorry I had made the chimichurri sauce – until I tasted them together, of course :p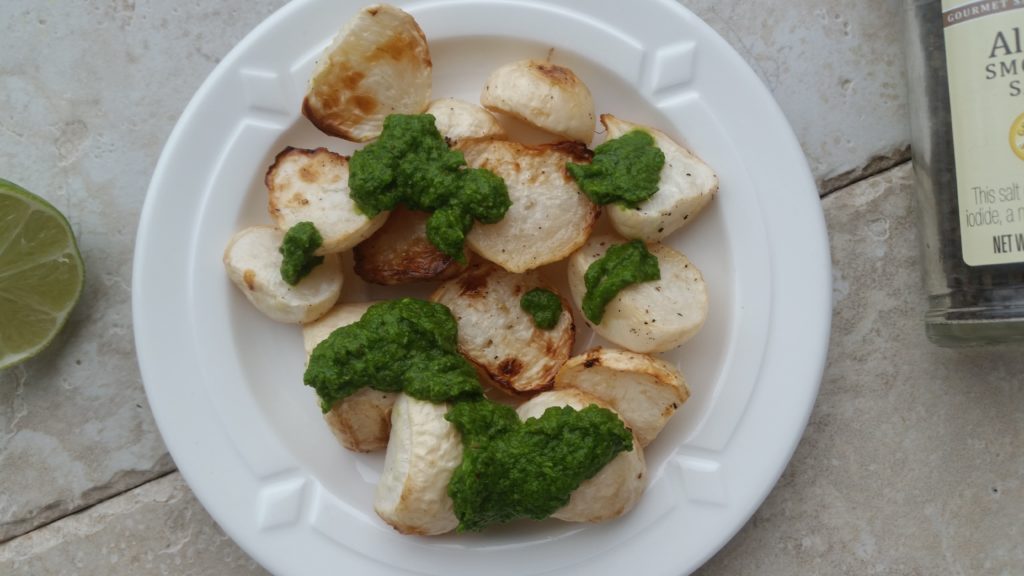 A couple notes about the recipe:
-Don't throw out your turnip greens! Lightly saute them with butter, olive oil, or both. If you like broccoli rabe, you will definitely enjoy them. Baste a couple eggs on top, and it's dinner :)
-The chimichurri sauce recipe will yield about 1/2 a cup. Since both the turnips and the sauce are very flavorful, you won't need to drizzle a lot. Store the sauce in an airtight container and use it on pretty much anything you can think of …
-This recipe yields enough for a side or appetizer for 1-2 people.
Lime-Roasted Hakurei Turnips with Chimichurri and Smoked Salt
Turnips
1 ¾ cups hakurei turnip bulbs, cut in half (the bulbs from 2 bunches of turnips)
2 tablespoons extra-virgin olive oil
1 tablespoon freshly-squeezed lime juice
a few generous grinds of smoked salt
a  couple generous grinds black pepper
Directions: Preheat the oven to 425° F and line a sheet tray with parchment paper. Whisk together the olive oil, lime, salt, and pepper and toss with the turnips. Lay in a single layer on the sheet tray and place in the oven for about 20 minutes, until golden and tender. Finish with a couple additional grinds of smoked salt. Serve as is or with chimichurri sauce (recipe below).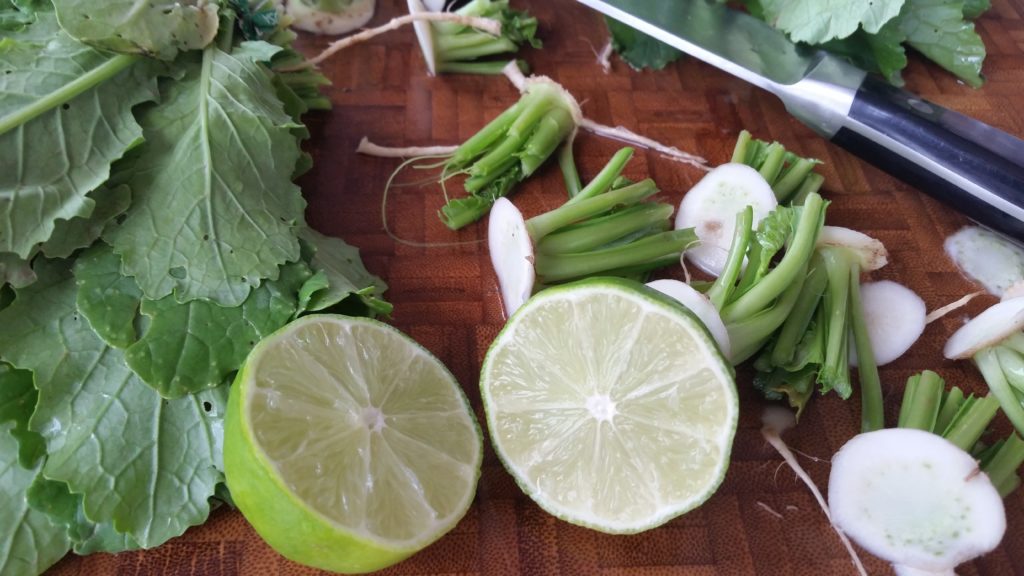 Chimichurri 
¾ cup firmly packed cilantro
1 cup firmly packed parsley
3 tablespoons olive oil
1 ½ teaspoons white wine vinegar
1 teaspoon freshly-squeezed lemon juice
¼ teaspoon crushed red pepper flakes
¼ teaspoon celtic sea salt
Directions: Place all ingredients in a blender and blend until incorporated.