Horchata is a delicious, creamy beverage that originates in Valencia and is popular in many parts of Latin America. The version I'm familiar with is served in Mexican restaurants and usually made from rice, but this "imitation" version uses boxed almond milk for simplicity's sake. In fact, I almost didn't want to post this recipe, since it's laughably easy! However, I realized that if I was making it all the time, maybe others would want to do the same – especially since drinking something cold, sweet, and creamy on a summer day just can't be beat. Boy does it hit the spot! So I decided to share.
All you need is some unsweetened almond milk, maple syrup, and a light sprinkle of spices. Mix it all together and it tastes like…well…horchata! So easy!
This drink is a perfect afternoon pick-me-up, especially if you've been out in the sun all day. It's also fantastic as a dessert craving quencher or the sweet ending to a spicy meal. You'll be amazed how something so easy can taste so delicious.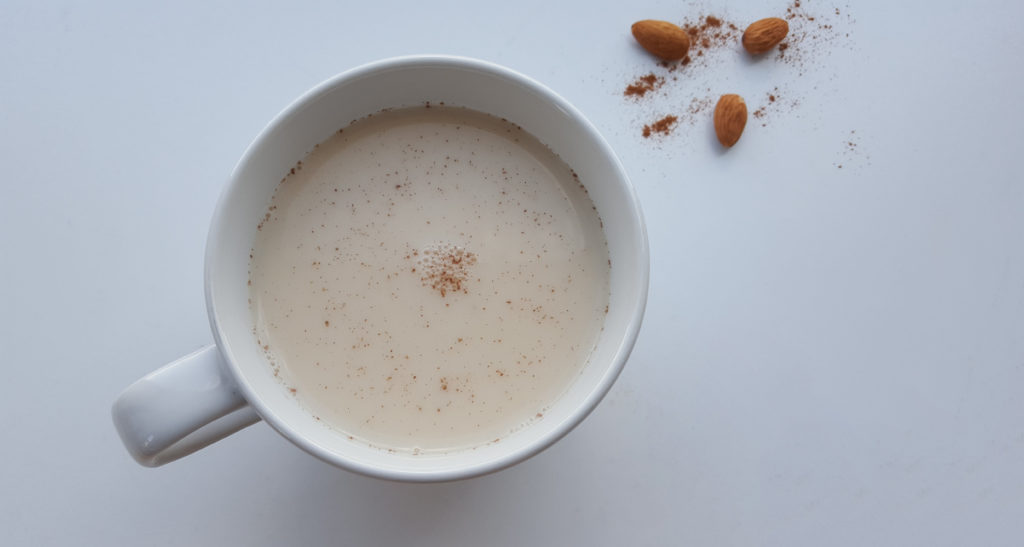 A couple notes about the recipe:
-This recipe makes one 12-oz serving.
-Don't overdue it on the spices – just a light sprinkle of each one! (Too little to measure.)
-I am not in any way being compensated by the folks at Almond Breeze; I just happen to like the consistency and flavor of that brand for this drink!
Imitation Horchata
1 ½ cups chilled, unsweetened almond milk (Almond Breeze has the right consistency and flavor.)
1 tablespoon + 1 teaspoon maple syrup
A light sprinkle of cinnamon, nutmeg, and allspice
Directions:
Place the maple syrup in the bottom of a glass or mug and pour in the almond milk. Sprinkle the spices over the top and whisk thoroughly with a fork to combine all ingredients. Enjoy!