This salad is ridiculous. No, seriously, I don't even mean ridiculously delicious (though it's that too.) I mean ridiculous in that I can't even categorize it accurately. I wanna say it's Asian-inspired, because it's got toasted sesame oil, grated daikon, and cucumber. But there's also quinoa, harissa, and lemon juice – middle eastern?? Then we add toasted sunflower seeds and avocado – California? New American? Aaahhh. I don't know WHAT this salad is but I can promise you that it's great. Like really great. It's one of those salads that manages to hit the perfect balance of textures and flavors – creamy, spicy, crunchy – it's all there. It also happens to be packed with superfoods. And, it hits all three of the macronutrients we need to function properly- protein, carbs, and fat – in one dish, which is always a plus. (This also means if you become completely obsessed with this salad and start eating it for breakfast, lunch, and dinner, you'll probably be okay for at least a couple days…not that I know this from experience or anything :p)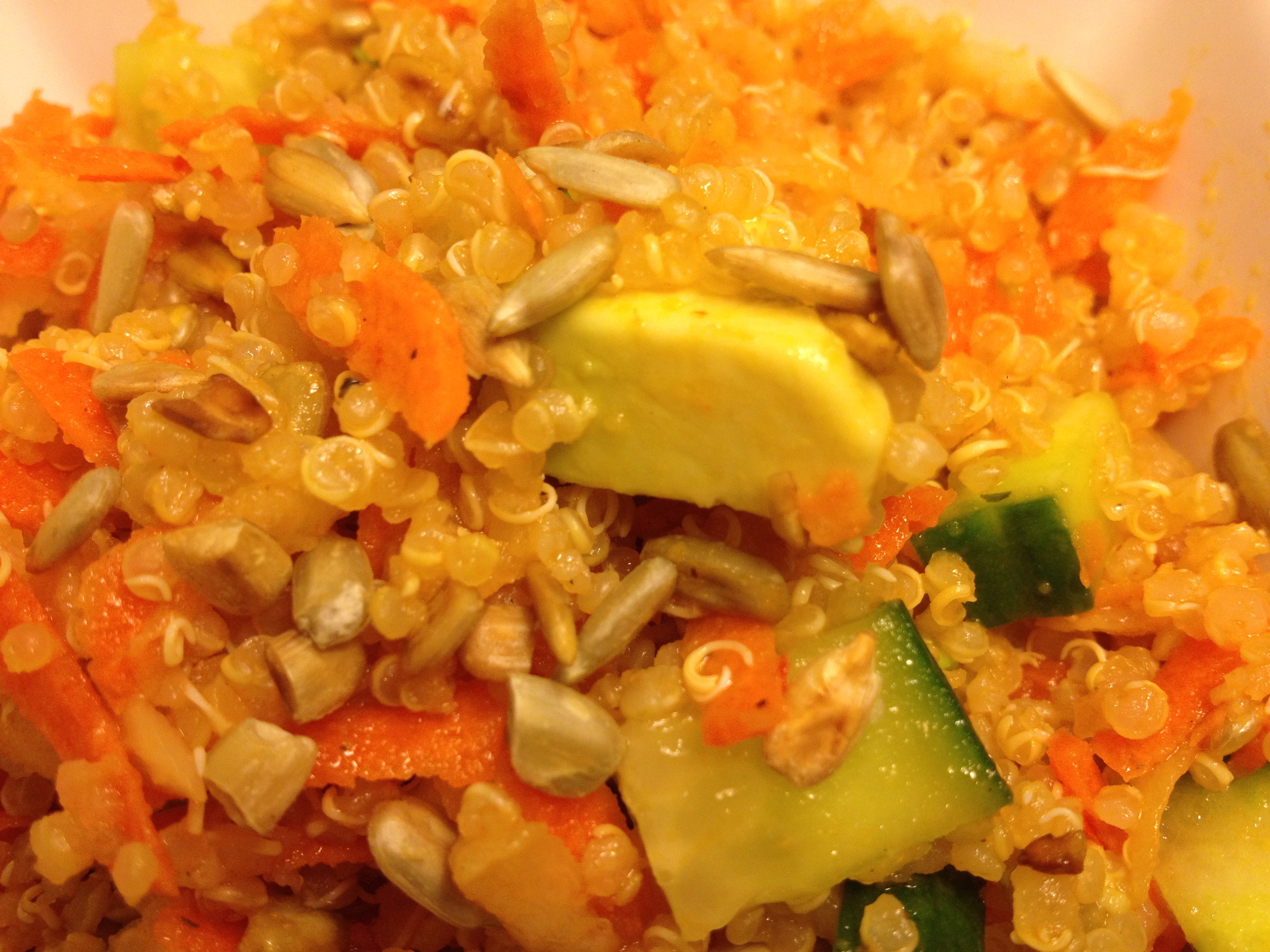 Just in case you do become obsessed with this salad (and I'm telling you right now, there's a definite risk of that happening) I should probably tell you more about its "super" cast of characters:
Quinoa – Quinoa is one of my favorite "grains." I say "grains" because quinoa isn't actually a grain – it's technically a seed. And a darn powerful one at that. Quinoa has all nine essential amino acids, which makes it a complete protein. It's also rich in vitamin B, magnesium, and manganese (an antioxidant), and has nearly twice the fiber of most other grains.
Daikon – Daikon is a type of radish most often seen in Asian cuisine. It's often used as a digestive aid, especially to help break down fats or treat GI discomfort after a heavy meal. Daikon is also used to soothe sore throats and help with sinus congestion. Since radishes are high in vitamin C, eating them regularly can help your body fight off free radicals.
Avocado – Avocado is one of those cholesterol-lowering "good fats." It's also extremely high in potassium; believe it or not, an avocado actually contains more potassium per weight than the classic potassium icon, the banana, as well as a lot less sugar. An average avocado has 4 grams of protein and 11 grams of fiber, which is pretty impressive for such a small fruit. And let's not forget its high levels of vitamin K, C, and E, and B.
Sunflower Seeds – With twice as much protein as walnuts or pecans and a whole slew of micronutrients, these little seeds can battle it out with quinoa in terms of who packs a bigger nutritional punch inside a smaller package. Eating just an ounce of these guys will put you at half the recommended dietary allowance of Vitamin E, which is great for your immune response, skin, and eyes.
And while the rest of our ingredients might not be considered "superfoods," they're still worth mentioning. Carrot gives you Vitamin A and betacarotene, cucumber's high water content makes sure your tissues are nice and hydrated, and cilantro is antimicrobial (I always like to remember that when I get tacos from a previously untested street vendor – "extra cilantro, please!")
Ok, that's enough about health benefits. Because in all honesty, even if this salad had nothing going for it nutritionally, the marriage of harissa and toasted sesame oil is not something you should miss out on. In fact, you might want to double the dressing recipe so you'll be sure to have a lot left over for future use – it's a great one to have on hand!
A couple notes about the recipe:
-I strongly recommend following the instructions below for cooking the quinoa, even if you normally just throw it in a pot with water and let it cook. I promise you that the fluffiness and toasted flavor of this quinoa will be worth the extra step of boiling some water! I also advise against Trader Joe's brand quinoa, as I've found it to have a very strange texture. I generally buy the white quinoa in the bulk section of Whole Foods and this method of cooking it always yields perfect results. If you're following the quinoa directions below just to cook up some quinoa to eat and are not planning to make this salad, 1/2 teaspoon of celtic sea salt is too much; I'd use closer to 1/4 teaspoon.
-There are many different brands of harissa paste, and you can also make your own. For this dressing, I used 1 tablespoon of Cava brand harissa paste and it yielded a pleasantly (but not overly) spicy dressing. Depending on the harissa paste you choose along with your preferred level of spiciness, you may want to adjust the quantity.
-The dressing recipe yields just a little bit more than you probably want to put on your salad, but not a lot more. As I mentioned above, I suggest doubling it so that you'll have a good amount to keep on hand in the fridge. It's great on both cooked and raw veggies!
Fusion Superfood Salad with Harissa Sesame Dressing
Quinoa:
Veggies:
1 1/2 cups grated carrots
½ cup grated daikon
1 cup diced (1/4-1/2 in) cucumbers
1 avocado, diced
¼ cup raw sunflower seeds
roughly chopped cilantro to garnish (optional)
Dressing:
1 level tablespoon harissa paste
1 tablespoon toasted sesame oil
¼ cup + 1 tablespoon olive oil
1 tablespoon apple cider vinegar
juice of half a large lemon
1 teaspoon agave nectar
pinch of sea salt
Directions:
1. Make the quinoa.
Rinse the quinoa very well in a fine mesh strainer, until the soapy bubbles are gone. (If you don't rinse your quinoa well, it can be bitter.) Once your quinoa is rinsed, place it in a saucepan and toast it for a couple minutes, stirring constantly, until you start to smell a slight aroma and most of the residual rinsing water has evaporated. Add the boiling water and salt and return to a boil. Then cover and simmer for 18-20 minutes, until the water has evaporated and the quinoa is cooked. If, at the end of the cooking time, the water has evaporated but the quinoa is still a tad bit too crunchy for your liking, leave the quinoa covered on the stove (with the burner off) for 5-10 min. When the quinoa is done, spread it out on a sheet pan to cool.
2. Toast the sunflower seeds
Place the sunflower seeds in a shallow pan over medium heat. Toast until darkened and fragrant, stirring or shaking the pan frequently. This will be a very quick process so don't walk away!
3. Make the dressing
Place all ingredients in a blender and blend until smooth.
4. Assemble the salad
Place the cooled quinoa in a bowl. Add the carrot, daikon, cucumber, toasted sunflower seeds, and avocado. Add the dressing (you won't quite use all of it) and toss to combine. Garnish with chopped cilantro.
5. Eat!