There is something about the word "breakfast" that is just downright appealing. It implies something well beyond the "crap, I have to leave right now, I guess I'll just grab this package of instant oatmeal" meaning of the word. No, in its natural state, I would argue that "breakfast" is the type of affair that's suggested by the phrase "Let's do breakfast." Or better yet, "I made breakfast." You know … the meaning of the word that triggers images of steaming tea and coffee mugs, wonderful smells wafting out of the kitchen, cozy pajamas, rain patter on the windows, sleeping kittens, etc. (Sleeping kittens?! Okay, maybe I'm alone on that last one, but I do find it to be one of those comforting images the word breakfast evokes.)
Anyway, in case I've completely lost you with the whole "breakfast" thing – consider the word "scone." Are we on the same page now? These date and ginger scones are part 1 of what I consider to be the perfect breakfast – part 2 being a mug of tea. They definitely fit the "wonderful smells wafting out of the kitchen" criteria too. And…if you are having one of those "crap, I have to leave  right now" mornings, they are an excellent grab 'n go option that will allow you to transport the elegance of "breakfast" to the road.
Oh, I should mention that this is a super easy, 1-bowl recipe!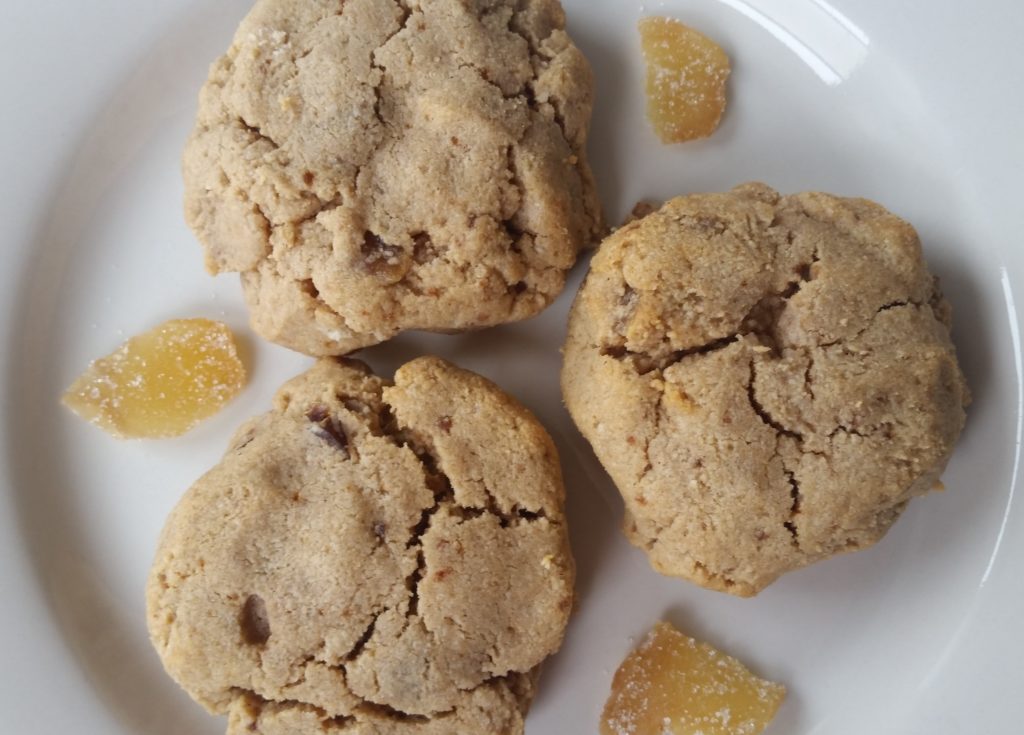 Guess what else? These scones are completely dairy-free and grain-free. Since they are made with almond flour, they are WAY more filling than your average scone, which is great because (back when I ate them) your standard gluten-laden scones would leave me hungry again in about an hour (and tired, too.) Almond flour is packed with protein, which means it will both give you a nice energy boost and keep you satiated until lunch time.
By the way, I'm focusing on breakfast here, but these scones are also great for an afternoon snack/tea time!

A couple notes about the recipe:
-Almond flour varies greatly across brands. Bob's Red Mill almond flour, especially, is much coarser than other almond flours and probably would not work in this recipe. I use Honeyville almond flour in all my recipes, because I can order it fairly cheaply in bulk. (I definitely recommend this way of purchasing almond flour because one bag of Bob's Red Mill is usually over twelve bucks!) Please feel free to try this with other brands of almond flour, but keep in mind that you may need to make some adjustments.

-This recipe calls for coconut cream. To get this, refrigerate a can of full-fat coconut milk overnight. This will cause the cream to separate from the liquid and you'll be able to measure it out quite easily. If you don't want to plan ahead, they also sell coconut cream separately in some stores  – it will be in a smaller can next to the coconut milk. (Ex. Whole Foods).
-These guys are good warm, but I prefer them at room temperature or – my absolute favorite – cold from the fridge.
-This recipe will yield 8 scones.
Date and Ginger Scones
2 cups blanched almond flour (see note)
¾ teaspoon baking soda
pinch of salt
1 teaspoon cinnamon
2 tablespoons coconut sugar
1 large egg
3 tablespoons (slightly higher than leveled) coconut cream (see note)
3 tablespoons neutrally-flavored vegetable oil (I used grapeseed)
¼ teaspoon apple cider vinegar
½ cup chopped candied ginger pieces
½ cup chopped medjool date pieces
Directions:
Preheat the oven to 350°F and line a sheet tray with parchment paper.
Combine dry ingredients in a bowl. Make a well in the center and add the egg, coconut cream, oil, and apple cider vinegar. Beat together, slowly incorporating the dry ingredients until a batter is formed. Stir in the dates and ginger.
Form into rounds about 2 inches wide and 1 inch thick and place on the lined sheet tray. Bake for about 13 minutes, until scones are cracked on top and are golden brown in places. The scones will be firm on the outside but will be VERY delicate when they are first removed from the oven. Don't worry – the middle IS cooked. Just allow them to cool for a few minutes (until firm) before handling.