Uh-oh: it's eating season again. We had January to recover from the Thanksgiving and winter-holiday pile of sweets and treats that followed us everywhere, but tomorrow is February 1st and detox time (if you managed to squeeze any in) is over already. The Super Bowl is this weekend, then Valentine's Day, and then we've got St. Patty's pretty soon after that.
Not that eating season is anything to complain about. We are lucky enough to live in a society where significant events (even those involving sports) are marked by food, which sure makes the Super Bowl more palatable for those of us who still haven't managed to grasp the rules of football (1st down, 2nd down is referring to the number of chips I'm eating, right?) Just kidding …
In all seriousness, I wanted to share this Super Bowl recipe with you because it manages to feel like junk food while actually being pretty good for you. (Provided you don't binge on the spicy jalapeño-feta dip, which could be a tall order, actually :p) But let's focus on the parsnips, which feature a range of vitamins and minerals like folate, potassium, and vitamin C. They also have about 3 grams of dietary fiber (mostly soluble) per 1/2 cup cooked serving. Best part: when they are baked, they become wonderfully sweet and starchy, which makes covering them in a crunchy, savory cornmeal crust and dunking them in a spicy jalapeño-feta dip all the more satisfying. And there's no deep-frying required to get that lovely golden color.
So are you ready? Let's do this!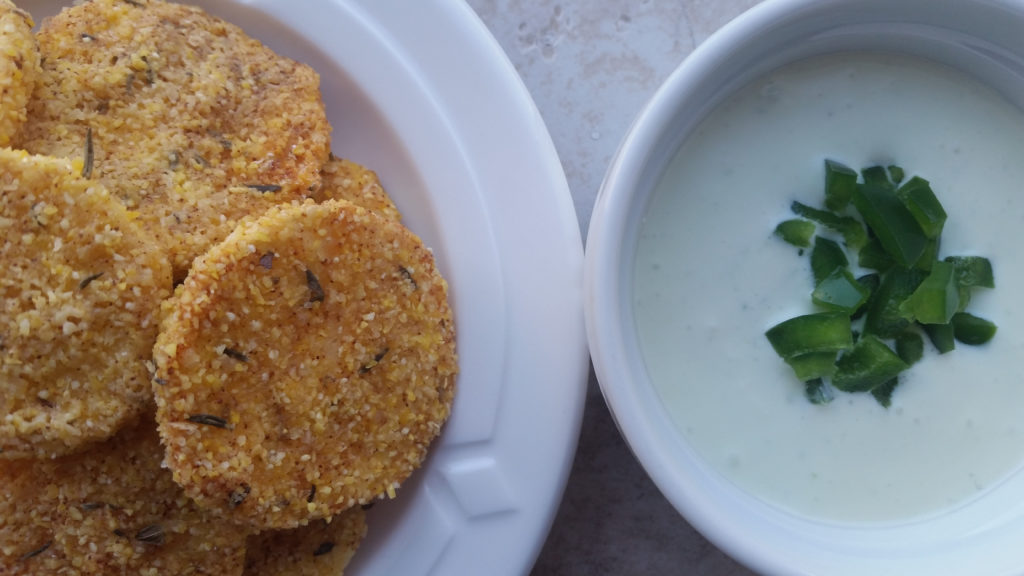 A couple notes about the recipe:
-I did not specify a quantity for the parsnips because that depends on how many medallions you wish to make! The cornmeal crust proportions will yield enough for one full sheet tray of medallions, but you can always half or double it as you see fit. When choosing parsnips for the medallions, try to choose ones that have a thick end and reserve the thinner end for a different dish. This way, you'll get nicely sized medallions!
-The quality of your feta makes a significant difference here. I find the Organic Valley brand to be particularly flavorless. Try to choose Greek or Israeli style feta that is nice and flavorful; I used this one, which they sell at my local grocery.
Cornmeal-Crusted Parsnips with Jalapeño-Feta Dip
Cornmeal-Crusted Parsnips:
2 tablespoons corn meal
2 tablespoons corn grits
2 tablespoons arrowroot starch
½ teaspoon dried thyme
½ teaspoon paprika
½ teaspoon celtic sea salt
1 egg, beaten
Parsnips (quantity depends on how many you wish to make)
Grapeseed oil (or other neutrally-flavored oil) for baking the medallions
Directions:
Peel the parsnips and cut the thicker end into 1/8 inch thick discs. (Reserve the thin end for later use: it will yield medallions that are too tiny!) Combine the corn meal, grits, arrowroot, thyme, paprika, and salt in a bowl.
Next, set up your dredging station: line a sheet tray with parchment paper, lay a paper towel or dish towel next to you, and make sure your sliced parsnips, bowl with the beaten egg, and bowl with the corn mixture are in close proximity.
Take a parsnip disc and submerge it in the egg, letting any excess drip off. Then coat both sides in the cornmeal mixture, again shaking off any excess, and lay on the lined sheet tray. Wipe your hands with the napkin and repeat this process until you've made all the parsnip medallions you wish to make! (It's important to wipe your hands each time so the bits of eggy cornmeal on your fingers don't cause your new medallions to clump.)
Finally, generously drizzle grapeseed oil over the top of each medallion (about ¼ teaspoon– or more for very large medallions – on each disc.) Bake in a 350 degree oven for 15-18 minutes and then drain on a paper-towel lined plate for 3 minutes.
Jalapeño-Feta Dip:
Yield: 1¾ cups
½ cup finely chopped jalapeños (about 6 peppers), veined and mostly deseeded – you can leave a few in for heat!
2/3 cup crumbled feta
¾ cup + 1 tablespoon sour cream (lactose-free for Low-Fodmap)
1 tablespoon chopped chives
2 teaspoons white wine vinegar
¼ teaspoon celtic sea salt
1 rounded tablespoon + 1 level tablespoon mayonnaise
Directions:
Place half of the jalapeños, half of the feta, ¾ cup of the sour cream, and the rounded tablespoon mayonnaise in a blender along with the chives, vinegar, and salt. Blend until smooth. Transfer to a bowl and stir in the remaining tablespoon sour cream and mayonnaise, and the remaining feta and jalapeños.
The dip will thicken as it stands. If you want it thicker, cover and place in the fridge for a few hours before serving.
Enjoy!