Collard greens are one of my absolute favorite vegetables. They do take a bit of work to prepare properly (blanching is a must, IMO) but when you do so, they have a wonderful, sweet flavor that lends itself to all sorts of spice mixes and dishes.
If you've ever had Ethiopian food, you've probably had collards sautéed with copious amounts of garlic and ginger (delicious). They are also great with cumin, cayenne, paprika — all the strong, bold spices. After they've been spiced like there's no tomorrow, I like to throw in a sweet vegetable or two like carrot or sweet potato. But most importantly, they are amazing with creamy, zesty, coconut-peanut sauces like this one.
This dish is uber satisfying: warming, nourishing, and flavor-packed. The creamy, nuttiness of the collards combined with the sweet, crisp, and wonderfully starchy fried plantains is divine. It can easily be an entree or a side – if you want to make it a heartier entree, throw in some chickpeas and/or serve it with your favorite grain (though I think the plantains provide the perfect grain-free starch element). Finally, it fits the bill for all kinds of diets: gluten-free, vegan, grain-free, and Low FODMAP. If you wanted to make it Paleo, I'm pretty sure you could just use almond butter in place of peanut and you'd be all set. Yay for deliciousness that almost everyone can eat!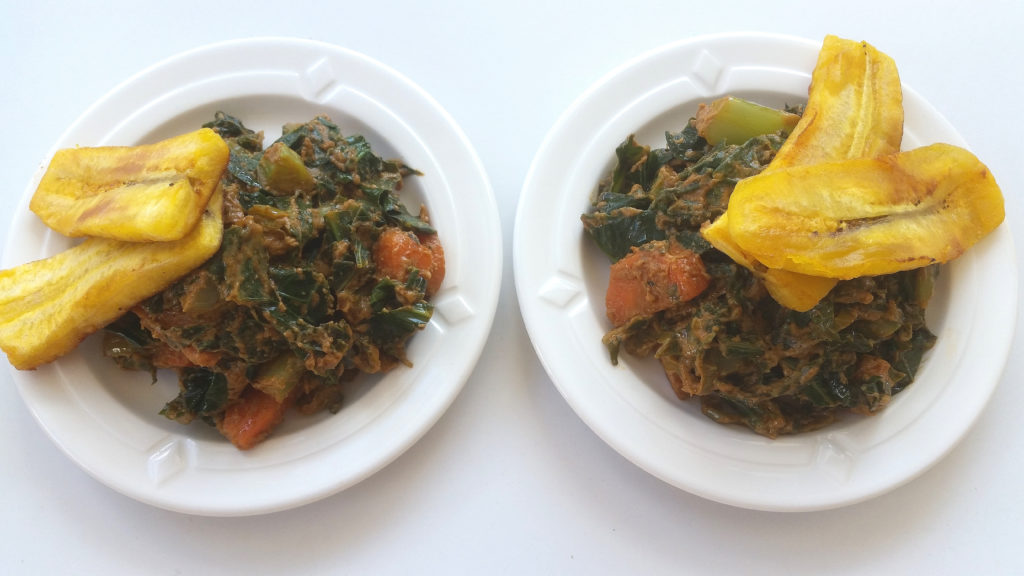 A couple notes about the recipe:
-This recipe serves two, but can easily be doubled.
-I used peanut butter from the bulk grinder, and hence my peanut butter consisted of unadulterated freshly ground peanuts — no other ingredients. I haven't tried this with jarred peanut butter, but I expect it would still work if you choose a brand that is as unadulterated as possible. The texture of the sauce might be a little different, however.
-Long hot peppers are available at both of my local grocery stores (lucky me!) and look like this. If you can't find a long hot pepper, use a cubanelle instead.
Coconut-Peanut Collards with Fried Plantains
1 bunch collard greens, roughly chopped into ribbons for easy blanching
2 tablespoons coconut oil
2 teaspoons minced ginger
1 long hot pepper or cubanelle, deveined, deseeded, and chopped
¾ cup chopped carrots
1 teaspoon paprika
¾ teaspoon ground cumin
½ teaspoon ground coriander
½ teaspoon ground fenugreek
¼ teaspoon ground allspice
¼ teaspoon cayenne
heaping ¼ teaspoon celtic sea salt
Plantains (however many you want to eat!)
Sauce:
½ cup full-fat coconut milk
¼ cup fire roasted crushed tomatoes
2 tablespoons chopped chives
2 tablespoons peanut butter (no sugar, oil, or salt added)
1 teaspoon red wine vinegar
¼ teaspoon celtic sea salt
Directions:
1. Prep the collards
Bring a large pot of water to a rolling boil and heavily salt it. Add the roughly chopped collards and let cook for about 4 minutes, until tender. Transfer to a bowl and let sit until cool enough to handle. When cool enough to handle, squeeze out excess liquid (you don't need to go overboard, just make sure they aren't water logged) and then finely chop. You should end up with about 2 ¼ cups chopped, blanched collards.
2. Prep the sauce
Combine all sauce ingredients in a blender and blend until smooth. Transfer to a small saucepan and let simmer, stirring frequently, for about 10 minutes, until flavors are nicely melded.
3. Make the stew
Prepare the spice mix by combining the paprika, cumin, coriander, fenugreek, allspice, and cayenne.
Heat the coconut oil in a skillet over medium heat. Add the ginger and hot pepper and sauté for about 2 minutes. Add the carrots and sauté a couple minutes more, until carrots are cooked; then add the spice mix, stir to distribute, and let fry for a few seconds in the coconut oil. Quickly add the collards and mix well. Sauté for a few more minutes; then stir in the blended peanut sauce. Let cook on low a couple minutes more until all the flavors have melded.
4. Fry the plantains
To peel the plantains, cut off each end. Then use your knife to score the peel of the plantain straight down the center. Cut the plantain in half horizontally. Now you should be able to easily peel the plantain with your fingers.
Cut into slabs, and fry in neutrally-flavored oil  over medium heat until golden brown and crisp on both sides. Don't overcrowd the pan. Sprinkle with salt and drain briefly on paper towels.