If you've ever taken any sort of culinary or food science class, you may know that there are two types of cooking methods: dry-heat cooking and moist-heat cooking. Dry-heat is where your sautéing, roasting, baking, and frying lie. And moist heat is your boil, steam, simmer, and stew! (That's by no means an exhaustive list of all moist/dry heat cooking methods, but it gives you a general idea.)
Anyway, it turns out I'm a dry-heat girl by nature. My go-to cooking methods are sautéing, roasting, baking, and pan-frying. Sure, I steam and boil on occasion (fried pasta would be pretty gross and I do like to blanch my greens and boil potatoes for mash now and then) but on the whole, my cooking routine generally begins with a skillet, some oil, and an onion.
In this heat, however, standing by a hot skillet babysitting a stir-fry is just not appealing. So when the craving for some tofu hit, I decided to boil it. Now if you're like me, and you've spent your entire tofu-eating life baking, frying, or sautéing it, you may have some doubts about whether boiling is even possible. I know I did. But guess what?! It is! And it's quite delicious and refreshing when seasoned well, chilled, and made into an Asian tofu salad like this one. In fact, taking foods I'm used to cooking one way and giving them a completely different treatment is definitely something I'd like to do more of. It helps me stay inspired, be creative, and not get stuck in any cooking ruts (which 90 degree weather can definitely precipitate!)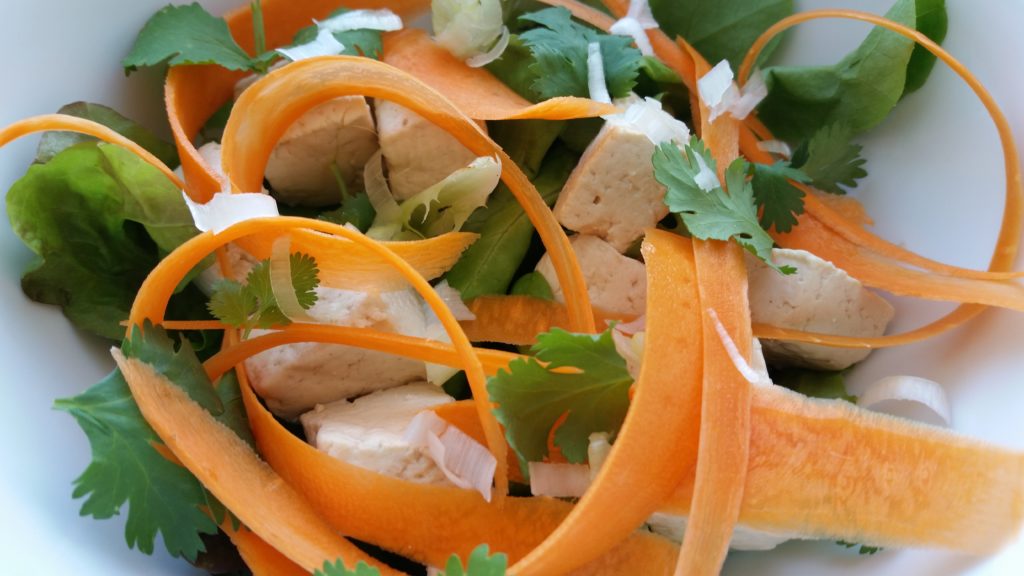 This salad is perfect for hot summer days. It's light, refreshing, tangy, and fresh. I also love the colors – the three different greens of the scallion, lettuce, and cilantro are a really nice background for the tofu and carrot to pop. It's also very customizable. Try it with arugula instead of lettuce, change up the dressing so it's perfect for you and you alone, throw in some toasted black sesame seeds for a bit of additional protein…experiment and have fun! You don't have to be anywhere near the stove for most of the preparation, so you'll have plenty of energy to be creative.
A couple notes about the recipe:
-This recipe will give you five individual-sized portions of salad. If it's the sole component of your meal, you'll probably want to eat two portions.
-Feel free to improvise when it comes to assembling your salads – I've just given approximate measurements to give you an idea of the proportions I like. You can also just make one big salad, instead of individual ones.
-I've categorized this recipe "Low FODMAP" but please note that the FODMAP content of umeboshi vinegar and coconut aminos is currently unkown, since they have not yet been tested by Monash.
Asian Tofu Salad
1 14-oz package extra-firm tofu, drained and cubed
1 teaspoon umeboshi vinegar
1 teaspoon gluten-free tamari
3-4 ounces mixed lettuce (I used a local, greenhouse-grown "Gourmet Lettuce Medley" from Gotham Greens, about 3/4 of a package)
1 large carrot, peeled and shaved into thin ribbons (you can do this with your vegetable peeler)
1 tablespoon chopped scallion (for low FODMAP, use green part only.)
Heaping ½ cup cilantro leaves, or to taste
Dressing:
Directions:
Bring a pot of generously salted water to a rolling boil. Add the cubed tofu, return to a boil, and set your timer for 20 minutes. Drain, rinse quickly with cold water, then pat dry to remove excess liquid. Turn into a bowl and toss with the umeboshi vinegar and tamari. Let sit at room temperature until cool enough to refrigerate, then cover and chill in the fridge until cold.
Assemble your salads: Get 5 standard soup/cereal-sized bowls. Fill each bowl about halfway with lettuce, add 7- 8 tofu cubes and between ⅛ – ¼ cup carrot ribbons. Scatter in some cilantro leaves and a generous ½ teaspoon of chopped scallions. Drizzle each salad with about 1 tablespoon of dressing. Enjoy!
Note: You don't really need to measure if you don't feel like it: see above.