Thanksgiving has come and gone, and with it, my capacity to eat heavily, heartily, and indulgently. Luckily, that ability lasted just long enough to use up all the delicious Thanksgiving leftovers. But Friday's pie for breakfast and let's-eat-every-hour-because-we-can mentality has left me craving something nourishing, cleansing, and light. Something to banish the sluggishness that comes from two straight days of overindulgence.
This hot and sour noodle soup is the perfect antidote to the Thanksgiving hangover. I've never been one for wavering between indulgence and deprivation (I think that's pretty silly) so this soup is in no way deprivation food. It's deeply flavorful, and provides everything your palate could want – saltiness, sourness, sweetness, crunch – it's all there.
And it's there with a nourishing quality that is most welcome right now.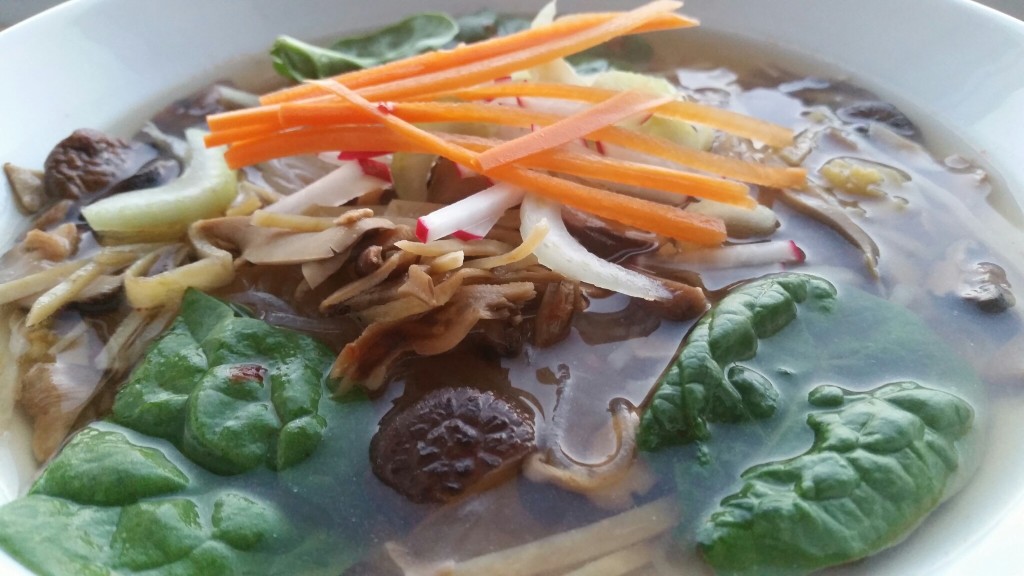 I also love this soup because it's so gorgeous. There is something aesthetically pleasing about noodle soups – the way the veggies poke out of the broth, the pleasing shape of the noodles, the mixture of textures and colors. It's not only nourishing – it's elegantly nourishing.
This soup uses dried mushrooms and kombu – a type of seaweed with a ton of health benefits – as a base. The maitake-shitake combo provides a broth with a subtle smokiness and just the right amount of depth. Kombu, sweet potatoes, gluten-free tamari, and umeboshi vinegar are also very alkalizing to the body, which is  quite balancing since most of our Thanksgiving-day staples are much more acid-forming. (If you're not familiar with the acid-alkaline scale, google it! It's really interesting!) In any case, I recommend trying out this soup – you won't be disappointed.
Despite the long list of ingredients, this soup is actually pretty simple to prepare! You soak some dried mushrooms with kombu and spices to make a stock, sauté some matchsticked carrots and sweet potatoes with garlic, and then combine everything along with some tamari, umeboshi vinegar, chili-paste tossed bean threads, and spinach leaves. So don't be intimidated – it's easier than it looks, I promise!
A couple notes about the recipe:
-This does not have the gelatinous texture of a traditional hot and sour soup. There is no thickener at all – it is more of a cross between an Asian noodle bowl and a hot and sour soup.
-Dried maitake mushrooms can be found at most health food stores, but I haven't been able to locate them at Whole Foods. If you have trouble finding them, you can use two ounces of shitake and scratch the maitakes. If you do this, you'll end up with something more reminiscent of an Asian noodle bowl – it will lose much of it's hot and sour soup quality because you won't get that smoky depth of flavor. It will, however, still be delicious and nourishing.
-This soup is on the salty side, as are most Asian noodle soups! If you tend not to like a lot of salt (I LOVE it) go slowly with the umeboshi and tamari. Feel free to add less than the recipe calls for and then add more, as you see fit. My measurements reflect MY idea of the perfect salt level, which is definitely subjective.
-I've used both Korean sweet potatoes which are light in color (as shown in the picture) and your standard orange sweet potatoes to make this soup. Both are delicious!
Asian Hot and Sour Noodle Soup
1 oz dried shitake mushrooms
1 oz dried maitake mushrooms
8 inch piece of dried kombu, broken into a couple pieces
1 teaspoon fennel seeds
2 star anise pieces
1 teaspoon coriander seeds
4 cups boiling water
2 tablespoons untoasted sesame oil
1 tablespoon minced garlic (2-3 cloves)
⅔ cup sweet potato matchsticks
⅔ cup carrot matchsticks
1 tablespoon gluten-free tamari, plus ½ teaspoon extra, or to taste
2 tablespoons umeboshi vinegar, or to taste
1 ¼ cups cooked bean thread noodles
½ teaspoon chili paste, or to taste
1 radish, thinly sliced
bok choy stems, thinly sliced or 1 celery rib, thinly sliced
spinach leaves
Toasted sesame oil, for drizzling (optional)
Toasted sesame seeds, for garnish (black, white, or a mix!) (optional)
Directions:
Place the dried mushrooms, kombu, fennel, coriander, and star anise in a pot and cover with the boiling water. Cover the pot tightly and let steep for 1 hour. Strain stock, and set aside. Rinse the seeds off the mushrooms,  and slice into strips. Discard the seeds, star anise, and kombu, or save for later use.
Toss the cooked bean threads with the chili paste. Set aside.
Heat the sesame oil in a stockpot over medium heat. Add the garlic. When it starts to sizzle, add the sweet potato and carrot matchsticks, 1 tablespoon of the tamari, and the umeboshi vinegar. Cover the pot, lower the heat, and let simmer until the sweet potato and carrot matchsticks are cooked through but still retain a pleasant bite, about 4-5 minutes. Keep your heat low and stir occasionally to make sure the garlic doesn't burn. Add the sliced mushrooms and stock to the pot and bring to a generous simmer. Stir in the remaining ½ teaspoon gluten-free tamari, or to taste. Place a portion of bean threads into each bowl (¼-½ cup) along with a couple spinach leaves. Ladle the soup on top, then arrange the radish and bok choy/celery slices in the center. Finish with the optional toasted sesame oil/sesame seeds.
Serve immediately.